Improving skin tone representation across Google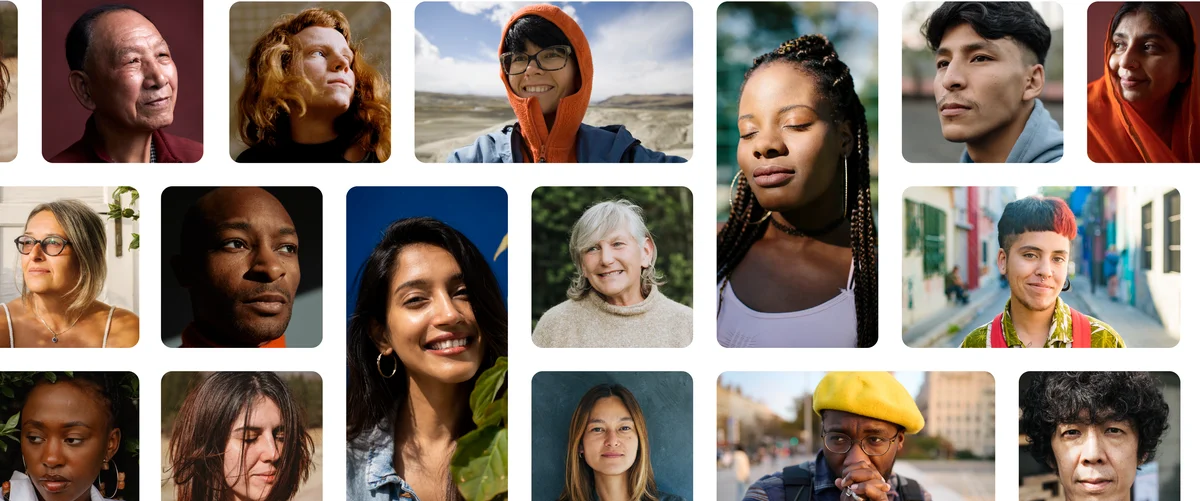 Seeing yourself reflected in the world around you — in real life, media or online — is so important. And we know that challenges with image-based technologies and representation on the web have historically left people of color feeling overlooked and misrepresented. Last year, we announced Real Tone for Pixel, which is just one example of our efforts to improve representation of diverse skin tones across Google products.
Today, we're introducing a next step in our commitment to image equity and improving representation across our products. In partnership with Harvard professor and sociologist Dr. Ellis Monk, we're releasing a new skin tone scale designed to be more inclusive of the spectrum of skin tones we see in our society. Dr. Monk has been studying how skin tone and colorism affect people's lives for more than 10 years.
The culmination of Dr. Monk's research is the Monk Skin Tone (MST) Scale, a 10-shade scale that will be incorporated into various Google products over the coming months. We're openly releasing the scale so anyone can use it for research and product development. Our goal is for the scale to support inclusive products and research across the industry — we see this as a chance to share, learn and evolve our work with the help of others.
The 10 shades of the Monk Skin Tone Scale.
This scale was designed to be easy-to-use for development and evaluation of technology while representing a broader range of skin tones. In fact, our research found that amongst participants in the U.S., people found the Monk Skin Tone Scale to be more representative of their skin tones compared to the current tech industry standard. This was especially true for people with darker skin tones.
"In our research, we found that a lot of the time people feel they're lumped into racial categories, but there's all this heterogeneity with ethnic and racial categories," Dr. Monk says. "And many methods of categorization, including past skin tone scales, don't pay attention to this diversity. That's where a lack of representation can happen…we need to fine-tune the way we measure things, so people feel represented."
Using the Monk Skin Tone Scale to improve Google products
Updating our approach to skin tone can help us better understand representation in imagery, as well as evaluate whether a product or feature works well across a range of skin tones. This is especially important for computer vision, a type of AI that allows computers to see and understand images. When not built and tested intentionally to include a broad range of skin-tones, computer vision systems have been found to not perform as well for people with darker skin.
The MST Scale will help us and the tech industry at large build more representative datasets so we can train and evaluate AI models for fairness, resulting in features and products that work better for everyone — of all skin tones. For example, we use the scale to evaluate and improve the models that detect faces in images.
Here are other ways you'll see this show up in Google products.
Improving skin tone representation in Search
Every day, millions of people search the web expecting to find images that reflect their specific needs. That's why we're also introducing new features using the MST Scale to make it easier for people of all backgrounds to find more relevant and helpful results.
For example, now when you search for makeup related queries in Google Images, you'll see an option to further refine your results by skin tone. So if you're looking for "everyday eyeshadow" or "bridal makeup looks" you'll more easily find results that work better for your needs.
Seeing yourself represented in results can be key to finding information that's truly relevant and useful, which is why we're also rolling out improvements to show a greater range of skin tones in image results for broad searches about people, or ones where people show up in the results. In the future, we'll incorporate the MST Scale to better detect and rank images to include a broader range of results, so everyone can find what they're looking for.
Creating a more representative Search experience isn't something we can do alone, though. How content is labeled online is a key factor in how our systems surface relevant results. In the coming months, we'll also be developing a standardized way to label web content. Creators, brands and publishers will be able to use this new inclusive schema to label their content with attributes like skin tone, hair color and hair texture. This will make it possible for content creators or online businesses to label their imagery in a way that search engines and other platforms can easily understand.
Improving skin tone representation in Google Photos
We'll also be using the MST Scale to improve Google Photos. Last year, we introduced an improvement to our auto enhance feature in partnership with professional image makers. Now we're launching a new set of Real Tone filters that are designed to work well across skin tones and evaluated using the MST Scale. We worked with a diverse range of renowned image makers, like Kennedi Carter and Joshua Kissi, who are celebrated for beautiful and accurate depictions of their subjects, to evaluate, test and build these filters. These new Real Tone filters allow you to choose from a wider assortment of looks and find one that reflects your style. Real Tone filters will be rolling out on Google Photos across Android, iOS and Web in the coming weeks.
What's next?
We're openly releasing the Monk Skin Tone Scale so that others can use it in their own products, and learn from this work — and so that we can partner with and learn from them. We want to get feedback, drive more interdisciplinary research, and make progress together. We encourage you to share your thoughts here. We're continuing to collaborate with Dr. Monk to evaluate the MST Scale across different regions and product applications, and we'll iterate and improve on it to make sure the scale works for people and use cases all over the world. And, we'll continue our efforts to make Google's products work even better for every user.
The best part of working on this project is that it isn't just ours — while we're committed to making Google products better and more inclusive, we're also excited about all the possibilities that exist as we work together to build for everyone across the web.