Plan, travel and shop this summer with help from Search Labs experiments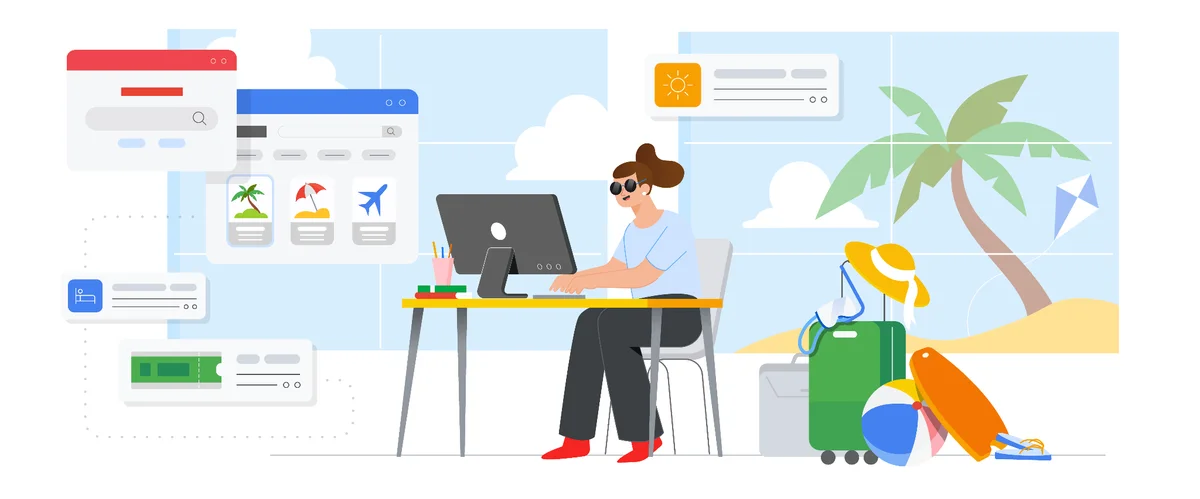 If you're traveling this summer, there's a lot to consider. First up, where are you going? Are you driving, hopping on a train or taking a plane? Camping or glamping? And most importantly, what's on your packing list?
Fortunately, Search has a few tools to help you put the pieces together, wherever you may be headed, with some help from AI.
Explore the world around you
With generative AI, we're exploring new ways to take some of the work out of searching, helping you uncover useful insights and make sense of information. While this technology is still experimental, we're continuing to incorporate feedback and fine-tune our generative AI experiences to introduce new and improved capabilities. Whether you're booking far-away travel or making local plans for the weekend, our generative AI-powered experience (SGE) in Search Labs is now better equipped to help you research places like restaurants, hotels, or tourist attractions, just in time for summer.
We've added new capabilities to SGE for local and travel searches, so if you ask detailed questions about a place or destination in Search, you'll see an AI-powered snapshot that brings together the most helpful information available — not only from across the web, but also from the reviews, photos and Business Profile details that people have submitted to Google for more than 200 million places in the real world. And with all these links and resources right at your fingertips, it's easy to dive deeper on relevant sites and hear perspectives from a wide range of creators.
For example, you might ask if a certain restaurant is good for large groups or whether they're vegetarian-friendly. Or maybe you want to know when people recommend visiting a particular landmark, so you can avoid the crowds. With this improved experience in SGE, you'll get useful insights to guide you along the way, so you can spend less time planning and more time enjoying the plans you've made.
Shop smarter
And if you need to buy something that requires extensive research ahead of your summer travels, generative AI in Search can be particularly useful. Maybe you're looking for a Bluetooth speaker to take on a beach vacation that's effective, yet portable enough to pack in a carry-on suitcase.
There are dozens of options and considerations, but with a quick search, the AI-powered snapshot will show you noteworthy factors to consider for bluetooth speakers, along with insights and products that fit the bill. You can see product descriptions that include relevant reviews and ratings, up-to-date prices and product images. That's because this experience is built on Google's Shopping Graph, which has more than 35 billion product listings — making it the world's most comprehensive, freshest dataset of constantly-changing products, sellers, brands, reviews and inventory out there. In fact, every hour, more than 1.8 billion listings are refreshed in our Shopping Graph to give you fresh, reliable results.
Get organized with Add to Sheets
As you're planning your trip or keeping track of potential purchases, save some of that "copy and paste" time with our Add to Sheets experiment.

Add to Sheets helps you insert a search result directly into a spreadsheet and share with friends, family or anyone you're collaborating with. It's your perfect research companion for plotting your summer plans, or keeping track of other information you've found on Search.
Sign up for Search Labs to access the latest experiments
If you want to test these experiences, simply sign up to access Search Labs, available in English in the U.S. Just tap the Labs icon in the latest version of the Google app (Android and iOS) or the Chrome desktop new tab page.
You can use generative AI in Search for help with travel research and shopping today. And, as we announced at I/O, in this new experience, Search ads will continue to appear in dedicated ad slots throughout the page.