Ramadan Kareem! Get in the Ramadan spirit with Google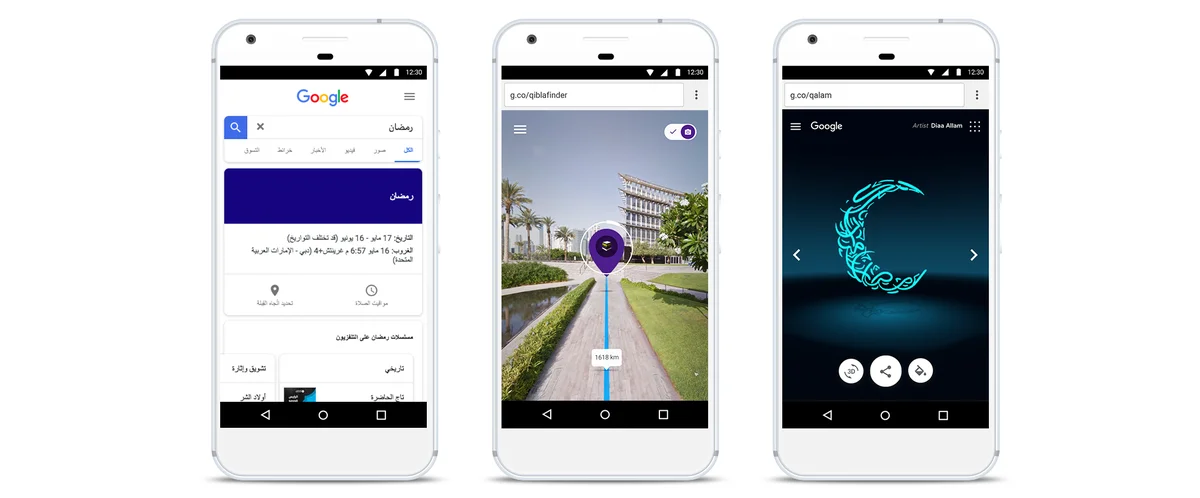 Ramadan starts today, and we're helping you access the information you need to make the most of it. More than 1.7 billion Muslims around the world will observe this time of fasting, gratitude, giving back and connecting with family and friends. We've put together a few special experiences across Google to help, from relevant information right in Search to a new way to share Ramadan greetings, made using virtual reality technology.
Searching for... prayer times, recipes and entertainment
During Ramadan, information needs change, from people wanting to know when to start and end their fast, how to prepare Ramadan dishes, and when restaurants and places open during Ramadan . To make it easier to find everything you need, we've created a special tool in the Middle East and North Africa and Indonesia that appears when you search for "
Ramadan
" on Google. You'll find customized, locally relevant information—everything from tips and prayer timings to the most popular recipes —all right in your Search results.
Given people are fasting all day, and large families gather during Iftar, preparing delicious food for the people that matter in our lives takes on a new importance. During Ramadan, searches for recipes spike 50 percent higher and watch times on YouTube for cooking videos peak at almost 30 percent higher. You can now explore top recipes and YouTube cooking videos directly through the Ramadan search experience.
Cooking videos aren't the only content people look for on YouTube. Ramadan is the key entertainment season in the Middle East and North Africa and users go to YouTube to catch up on their favorite TV drama or comedy shows. YouTube watch time for "TV series" rises a staggering 151 percent in Ramadan compared to any other period in the year. This Ramadan, you can keep up with the latest Ramadan dramas and comedies directly through Search.
Searching for the Qibla anywhere in the world
Millions of Muslims around the world turn to Mecca every day for prayer. To help you answer another top question, "What's the direction of the Qibla?", last year we launched
Qibla Finder
, a web app that uses augmented reality to show you the direction of the Qibla wherever you are in the world. We've now enabled offline usage and a shortcut to add Qibla Finder to your Android homescreen, so you can locate Mecca when you're on the move.
Searching for greetings
Ramadan and Eid greeting cards are the top trending searches before, during and after Ramadan, with queries like "How to wish someone a happy Ramadan" and "How to make an Eid greeting card." So to help you create beautiful personalized messages to share during Ramadan, we're launching
Qalam
from Google.
For centuries, writers and artists have created calligraphic art—ranging from ceiling art and intricate passages to everyday items like cups. Now Qalam brings this timeless heritage of calligraphy online. We collaborated with nine artists from around the world to create more than 35 unique digital Ramadan and Eid greetings (with hundreds of customizable artwork possibilities) using Tilt Brush, a virtual reality app. You can customize and share your own 3D Ramadan card now at g.co/Qalam.
Featured artists include the internationally renowned eL Seed, whose designs incorporate calligraphy with graffiti ("calligraffiti"), Tolga Girgin from Turkey who mixes calligraphy and typography to challenge the sense of perspective with clever shading and Soraya Syed, one of the first female calligraphers in Pakistan. She's created a classic Arabic calligraphy piece which places the traditional art form in a contemporary context. We've been inspired by what we've seen so far, and we'll continue working with more artists to add more creations to Google Qalam over time.
Be sure to come back to Google Search every day to find new ways to celebrate Ramadan. And remember to customize and share your own unique greeting card at
g.co/Qalam
. From all of us at Google, Ramadan Kareem!