Search
Through the Google lens: Search trends May 15-21
Between finding out what everyone has always wanted to say to Dave Letterman, and singing along to Taylor's "Bad Blood," here's a look at what everyone was searching for this week:

Deadly biker brawl
A shooting between rival motorcycle gangs in Waco, Texas, left nine dead and more than 170 people in jail this week. There were more than 500,000 searches for "Waco shooting" on Sunday as people asked questions like "What biker gangs are in Texas?" and "What county is Waco, Texas in?" to try to understand why the shooting may have happened.

An NBA family affair
The NBA playoffs continue to be a top topic in search as the conference finals began this week, with the Golden State Warriors and the Houston Rockets matchup garnering the most attention. (The Cavaliers made the trends charts on Wednesday, but otherwise all eyes are on the West.) After going down 2-0 to the Warriors, the Rockets are in the spotlight, with 200,000+ searches following their game 1 loss. But the search standout, not surprisingly, is NBA MVP and Warriors point guard Stephen Curry. And not just for his sweet three-point stroke. There were 50,000+ searches for his mom, Sonya Curry, after she appeared looking ageless at Tuesday's game, while others were interested in his daughter Riley's post-game press conference hijinks. In fact, three out of the top five Curry-related searches on Wednesday were about his family.

Thanks, Dave
David Letterman ended his 33-year career in late-night TV on Wednesday night. His farewell show featured favorite clips from the past, some classic Dave self-deprecation and a Top 10 list to top all Top 10 lists starring celebs like Steve Martin, Julia Louis-Dreyfus and (Dave's apparent favorite) Peyton Manning. Dave was at the top of the search list, too, with more than 500,000+ searches—consider it a small consolation for not getting "The Tonight Show." Top questions leading up to the last show included "How tall is David Letterman?" and "Who is taking over for Letterman?" (Answer: someone else who brought a crew of celebs to his final show last December.)

Billboard stars
The Billboard Music Awards swept the search charts on Sunday, with big-time winner Taylor Swift at the top of the pack. Swift had a big night, taking home eight trophies and a million searches. She also debuted her much-buzzed-about music video for "Bad Blood," which featured Kendrick Lamar and a full squad of Taylor's celebrity friends, including Cindy Crawford, Lena Dunham and Karlie Kloss. The video broke the Vevo record with more than 20 million views in 24 hours, and appeared in Hot Trends twice. But even Taylor has to share the spotlight sometime: people were also searching for show performers Iggy Azalea, John Legend, Kelly Clarkson and Wiz Khalifa.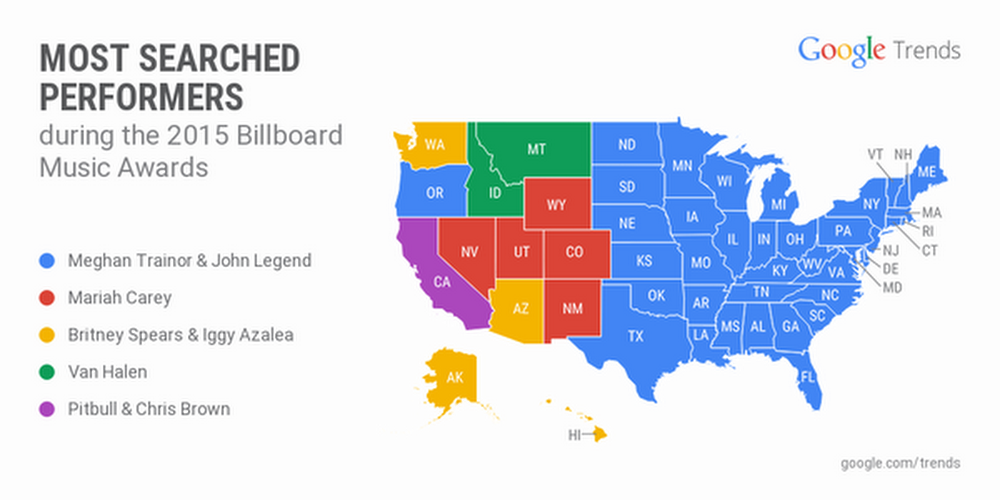 Elsewhere in Billboard news, the soundtrack for "Pitch Perfect 2" climbed to No. 1 on the Billboard 200 this week as fans became hooked on the fun cover songs and mashups. The movie has been big in search over the past week, with lots of interest in the cast, particularly Rebel Wilson.

Tip of the week
Now you can find real-time content from Twitter in your Google search results on mobile. So if you want to see what others are saying about tonight's Cavaliers/Hawks game, just ask Google.
Emily Wood searched this week for [leighton meester] and [how many cows are there in the world].