Six ways Google can keep you up to speed in PyeongChang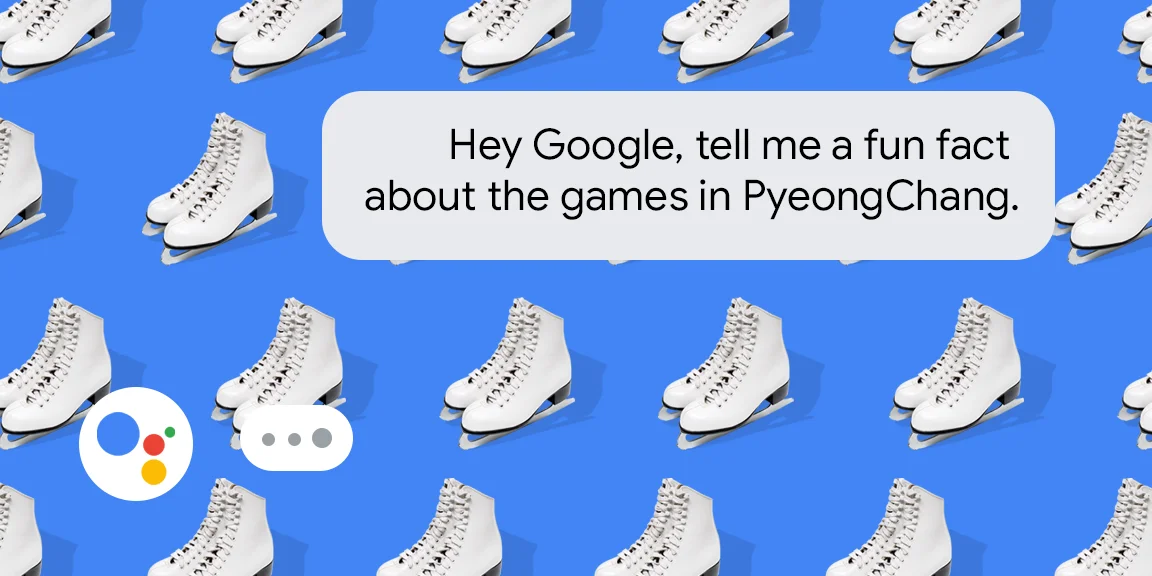 Tomorrow thousands of athletes will come together in PyeongChang to represent their countries with the world as their audience. While the athletes are getting ready for the gold, we're getting a few of our products ready, too. Here are six ways Google is helping you stay connected to what's happening on the ground (and on the ice) during the PyeongChang 2018 Olympic Winter Games:

1. Stay in the snow know with Google Search

When you search for the Winter Olympics, you'll find the latest information about your favorite events at the top of Search results. You'll be able to see your country's rank in the race for gold medals, or dive into a specific sport to check out which athletes have won. When you're not tuning into the Winter Games live, you can watch a daily recap video, see top news related to the Olympic Games, and find verified updates from official broadcasters around the world.
2. Tune in with YouTube
Starting February 8, if you miss a competition, you can watch select Olympic Winter Games video highlights from official Olympic broadcasters on YouTube in more than 80 countries around the world including from NBCUniversal (USA), BBC (UK), NHK (Japan), France TV (France), and Eurosport (Rest of Europe). In the U.S., YouTube TV will also show NBCUniversal's live coverage of the Olympic Winter Games. In India, Pakistan, Bangladesh, Sri Lanka, Bhutan, Maldives and Nepal the Winter Games will be for the first time live and free on the Olympic Channel on YouTube.
3. Keep up with these apps on Google Play
Don't miss a single jump (ski, axel, or otherwise) with these apps in the Google Play Store. Just download and follow along with the athletes and watch the action live:
4. Explore South Korea in Street View and Google Earth
Check out the new "sports" category in Google Earth Voyager with five stories about the Winter Games that take you from
epic ski jumping
destinations to the
Olympic Torch relay
. These
travel itineraries
will help you explore South Korea's capital city, and on Street View, you can see the new imagery of stadiums, cities and towns close to PyeongChang.
Torch 

Follow highlights of the torch relay in Google Earth, a journey that takes 101 days and travels through 17 Korean cities and provinces along the way.

Ski Jumps

From Zaha Hadid lookout towers to the world's oldest ski museum, explore the globe's monumental ski jumping destinations.

Gangneung Ice Arena


Take a few virtual strides on the Gangneung Ice Arena before the games begin

Kwandong Hockey Centre

Don't miss the Kwandong Hockey Centre A site to be seen on the inside and out. 

Jeongseon Arirang 5-day Market

Vegetables, Korean chili peppers, bellflower root and more don't miss the bustling Jeongseon Arirang Market

Wondae-ri Birch Forest

A wonder you'd expect only from a fairy-tail - wander through the beautiful Wondae-ri Birch Forest
5. Get your head in the game with the Assistant
Your Google Assistant can help you stay up to date throughout the games. Curious about winners? Just say "Hey Google, who won women's 1000 meter speed skating in the Olympics?" Rooting for a specific country? "Hey Google, how many medals does Iceland have in the Olympics?" You can even say "Hey Google, tell me a fun fact about the games in PyeongChang." No matter how you're asking—on your phone, speaker, TV or other enabled device—the Google Assistant can keep up with all the important Olympic details.
Plus, in the U.S., NBC is bringing an exclusive game to the Google Assistant across devices. It's already live, so test your winter sports knowledge with dozens of trivia questions. Just say "Hey Google, play NBC Sports Trivia" to start your quest for Olympics' trivia gold.

6. VR gets you closer to the action
Stream more than 50 hours of NBCUniversal's live coverage—from the Opening Ceremony to alpine skiing, ice hockey, figure skating, snowboarding, curling and more—in virtual reality by using your YouTube TV credentials to log in to the
NBC Sports VR app
, powered by Intel True VR. In Europe, multi-camera live VR coverage is available via the
Eurosport VR app
.
Let the games begin.