The Doodle for Google student contest turns 15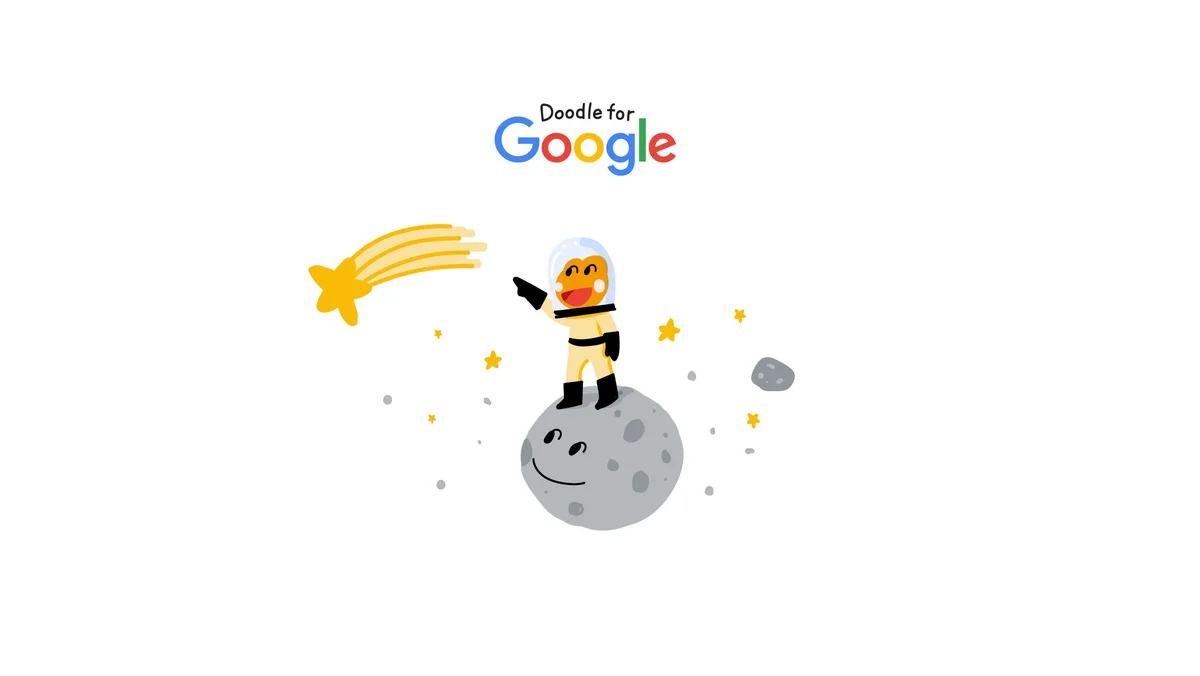 Since the Doodle for Google contest launched back in 2008, we've seen hundreds of thousands of amazing Doodles. Students have submitted artwork celebrating everything from self-care and inner strength to their dreams about the future. Our annual student art contest has become a highlight for so many of us at Google, because it's an opportunity to experience the creativity, thoughtfulness and talent of younger generations.
This year's contest prompt is "I am grateful for…". We're encouraging students to take a step back from their busy lives to refocus on what's most important to them.What moments, people, places and things are special to them? What or whom can they not imagine living without? What are the things that get them through the day? Our theme this year is all about promoting mental health, by focusing on the positive impact of gratitude.
This year's judges will help us to decide on our 54 state and territory winners and five national finalists, one of whom will go on to be the National Grand Prize Winner. The winning artist will have their work on the Google homepage for a day, receive a $30,000 college scholarship and the winner's school will receive a $50,000 technology grant.
Noah Schnapp is an actor and college student who is most known for playing Will Byers in the Netflix series "Stranger Things." Beyond his acting career, Noah has multiple business ventures and is a student at Wharton School of the University of Pennsylvania. "I'm grateful for my family, friends, co-stars and fans for the overwhelming support that they've given me over the past month" Noah says. "I've been so blown away by the positivity and love. I hope we can treat everyone with so much kindness."

Our second judge, Kurt Russell, is the 2023 National Teacher of the Year. A 25-year veteran of the classroom, Kurt was first inspired to become a teacher in middle school, when he encountered his first Black male teacher. Kurt currently teaches history at Oberlin High School in Oberlin, Ohio.His mission is to advocate for classrooms to better reflect the students within them — from a curriculum that reflects their backgrounds and identities to a more diverse teaching profession."I am grateful for dedicated teachers," Kurt says. "From Mr. Larry Thomas, my first Black male teacher who inspired me to become a teacher, to the teachers I've had the opportunity to meet as National Teacher of the Year, I am continually grateful for their work to provide an equitable education to all students. I'm also grateful for supportive communities helping those students and teachers, like my own in Oberlin, Ohio."

Our third judge, Brian Selznick, is an author and illustrator best known for his book, "The Invention of Hugo Cabret." His books have sold millions of copies, garnered countless awards worldwide, and been translated into more than 35 languages. "As a writer and illustrator of children's books I've always been drawn to telling stories about kids who are trying to find a safe place for themselves in a world that can feel overwhelming and scary," Brian says. "Maybe I write about this because it's how I feel myself much of the time. But I know that in the darkest of times, it can be helpful to remember the good things around us. That's why this year's theme 'I am grateful for...' feels so meaningful to me. It's a call to be hopeful, to think about positive things, like nature and love, and to celebrate the power of sharing our hope with others"

Our final judge, Jessica Yu, is the Doodle Team Lead at Google, where she oversees the team responsible for the fun and surprising changes made to the Google logo that celebrate events, people, places and things that impact/have impacted local culture."I am grateful for this job on the Doodle team which allows us to bring moments of inspiration and joy to the world—and this contest is no exception!" Jessica says. "Every year we are blown away by the creativity, talent and passion that goes into the submissions."
How to submit artwork for the Doodle for Google contest
The 2023 Doodle for Google contest is now open to students based in the United States, Guam, Puerto Rico and the U.S. Virgin Islands through March 14. For details on how to enter the contest, resources for educators and parents, as well the contest rules, head to our website. We are looking forward to seeing some amazing Doodles!