Unlock your superpowers with Android Pay and Justice League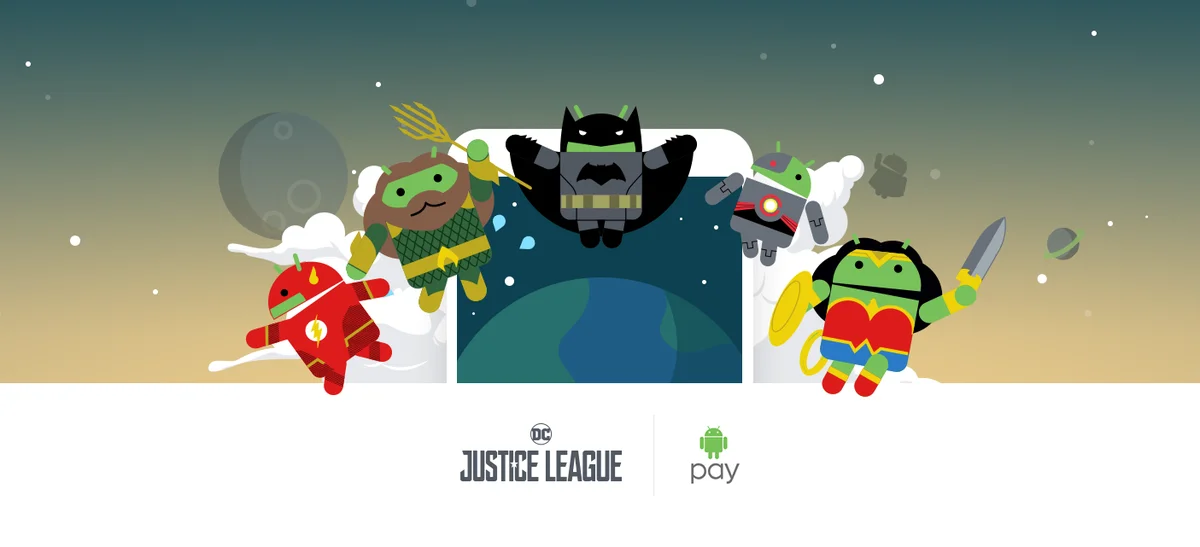 If you use Android Pay today, you're in for a surprise. Like our beloved animations of space explorers, Halloween haunts, and Wimbledon players in the past, five of our Android bots have channeled their superpowers to become Justice League Super Heroes in celebration of the movie. Starting in the next few days through December 31, you can see them sprint, soar, and fight to defend the planet when you pay with your phone.
How did these heroic characters make their way into the app? It began back in 2016, when the Android Pay team designed an animation–an Android bot dressed up as a space explorer–to surprise our fans. This little space traveler sparked so much delight that the team created more, drawing inspiration from Diwali, Halloween and Chinese New Year, among other celebrations.
So far, these charming bots have always been fleeting, but our fans liked them so much we wanted to find a way to let you keep them beyond the checkout line. And with these action-packed animations, you can do just that–by collecting them in your app after you pay in stores. Here's how it works.
1. Pay in stores with Android Pay
Make sure you've downloaded the latest version of the Android Pay app and added a credit or debit card. Then you'll have the chance to collect Batman, Wonder Woman, The Flash, Cyborg or Aquaman when you pay in stores–you won't know who until you try.
2. Unite the Justice League
Keep using Android Pay to recruit all the characters. You can see how you're doing in the app.  
3. Share with friends and family
You can't save the world alone! Tap on your bots to share them with friends and family–and invite them to join in.
Ready to unlock your superpowers? You'll find them starting in the next few days in the following countries: United States, United Kingdom, Australia, Poland, Russia, Canada, Spain, Taiwan, Hong Kong, and Singapore.
JUSTICE LEAGUE © 2017 Warner Bros. Ent. All Rights Reserved TM & © DC Comics