New AR beauty tools for shoppers and brands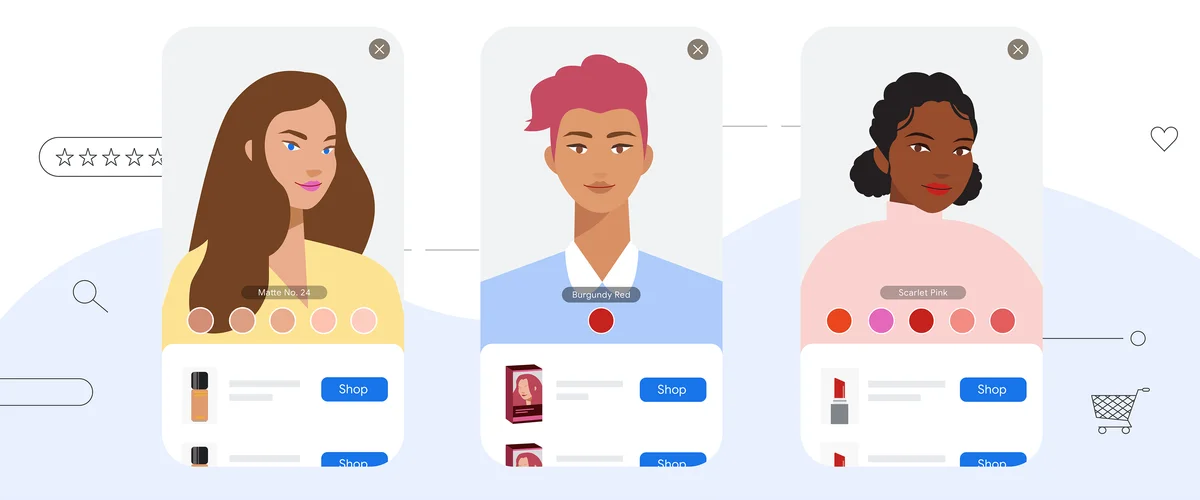 Beauty products are some of the trickiest items to shop for, especially online. The beauty category is highly nuanced and personal, so tasks like finding the right shade can be challenging — and even discouraging.
We introduced AR beauty features nearly three years ago to help shoppers easily and confidently find the right product for them. And people are continuing to gravitate toward these tools: In fact, shoppers interact with beauty products 10% more when AR is present.1 (This fall's most popular try-on shades? Raspberry-reddish lipsticks, like MAC's Matte Lipstick in Chili, and dusty rose and mauve eyeshadows: Urban Decay's Naked 3 Palette is a favorite.)
Now, we're helping more beauty shoppers and brands embrace this new way to shop. Starting today, we're bringing AR beauty features to mobile browsers, introducing new ways to try on hair color and foundation, and giving beauty brands the opportunity to advertise with AR.
New ways to try on hair color and foundation
In addition to lips, eyes and foundation, today we're rolling out a new AR beauty category: hair color. Now, if you're shopping for at-home hair color, you can see what different shades from the L'Oreal suite of brands might look like on you or a model who resonates with you. Other brands, like Splat and Revlon, will be available to try on soon.
Beauty shoppers also have a new way to try on foundation. While you can still choose to see what a foundation shade looks like on a diverse set of 148 models, you'll also have the option to virtually try it on yourself. Just search for a foundation type or name, select a product you're interested in and tap "try on."
Thanks to advancements in our AR technology, you can now use these features in more places, too. In addition to the Google app, you can access our AR hair and foundation tools from any mobile browser in the U.S. AR lip and eye makeup will also be available on the mobile web in the coming weeks.
Stronger reach and creativity with AR Beauty for brands
When a new tool is helpful for shoppers, it can be helpful for the entire industry. After interacting with AR beauty on Google, shoppers are more likely to spend more time on the brand's site and potentially take action, like researching a new product or making a purchase.1 In the last year we've also made it easier to discover our AR try-on feature in Search so brands can more easily connect with consumers looking for their products. (Just search for something like "pink lipstick" to try out the experience yourself.)
Today, you can shop more than 50 beauty brands — including established brands and independent startups — using AR on Google. In the last six months alone, brands like Covergirl, Dior Beauty, Fenty Beauty, Laura Mercier and Makeup by Mario have made their collections available to try out on Google. We also now accept AR assets from a variety of data providers, including PulpoAR and Perfect Corp.
And now, with AR beauty ads, brands have a new way to promote their lip and eye products (with foundation coming soon). Shopping ads are now eligible to feature a new, inclusive try-on experience in place of the ad's product image. Paired with relevant product information, AR beauty ads help our beauty brand partners showcase their products in a more interactive way to capture demand.
AR features can help make online shopping a better experience for everyone — shoppers and brands alike. Try them out today, right in Search.