Find back-to-school deals for 2000s throwback trends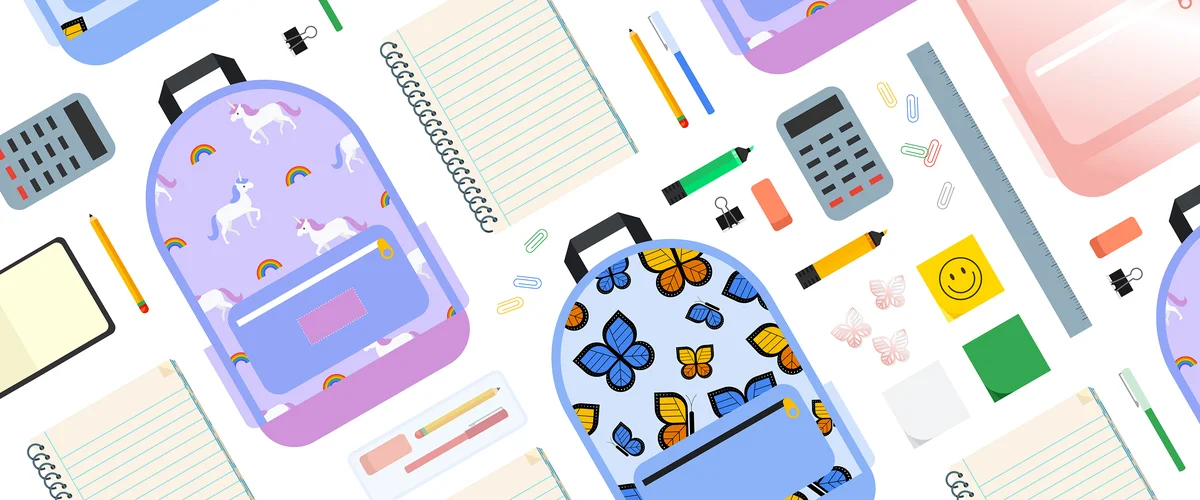 This fall, for the first time in years, many students across the U.S. will return to the classroom in person. With a new (in-real-life) school year fast approaching, students and their families are already on the lookout for new gear: In fact, searches for "back to school supplies'' increased by 80% in the last month versus the same period last year, while searches for "back to school deals" grew 40%.
We looked into what items back-to-school shoppers are searching for and found that the early 2000s are having a moment. One of this season's hottest shopping trends is the Y2K aesthetic — with butterfly hair clips, trucker hats and inflatable dorm furniture making a comeback.
So as you get ready for the school year, we're sharing the top-trending Y2K back-to-school items and Google tools to help you get the most bang for your buck.
Top Y2K trends
Search interest for school supplies spikes every August in the U.S., and it's driven by searches for the usual suspects: file folders, pencil cases, notebooks and three-ring binders. This year, trending product searches are leaning into the Y2K style.
Back(pack) to the 2000s
As students head to the physical classroom, they're ready to shop for the back-to-school staple: a brand new backpack. Searches for playful Y2K styles like "butterfly backpacks" spiked 190% over the last month and "metallic backpacks," another iconic Y2K look, grew by 90% during the same period. Meanwhile, searches for "vintage backpack" reached a record high in the U.S. this month.
A clear favorite
Translucent and clear accessories were a trademark of early 2000s style. Now, the clear aesthetic is finding its way into school supplies: Searches for "clear post it notes" increased by more than 250% ahead of the back-to-school season, "clear bento boxes" are currently trending and searches for "clear pencil case" are at an all-time high.
Throwback threads
Y2K is also breaking through in back-to-school apparel trends. Search interest for "baggy jeans outfits" is up 650% this month, while searches for "claw clips," "crochet top" and "trucker hats" are at an all-time high. You can also expect to see students sporting other early 2000s classics — like the "baby tee," up 40% this year, and "butterfly hair clips," up 80%.
Funky dorm decor
For students headed off to college, dorm room decorations are top of mind. Search interest for "Y2K room decor" increased 80% in the last month versus the same time period last year. Classic styles from the early 2000s are showing up in home goods — for example, searches for "smiley face rugs" increased 15% in the past month. Playful decor is on the rise too, with "inflatable furniture" searches up 10%, and "glow in the dark stars for ceiling" searches more than doubling over the past month.
Get the best back-to-school deals
Shoppers aren't just looking for the coolest styles, they're looking for the best deals. When you start back-to-school shopping on Google, our tools can help you find inspiration, research and compare products for the best value.
On sale filter
Tap the "on sale" filter when you're searching for a back-to-school product on the Shopping tab to see recent price drops, deals and products on sale — making it simple to factor price into your search from the start.
Price insights
Ever wonder if you're getting a good deal? Click into the product details page on Google Shopping for a price insights graph. It'll show you whether a product price is high, low or typical compared to others across the web and in nearby stores.
Price tracking tool
If you're getting a head start on shopping, our price tracking tool can help you monitor price changes leading up to the school year. When you find a product you're interested in, tap the "Track Price" toggle on Google to get a notification when the price drops.