New features to help merchants stand out this holiday season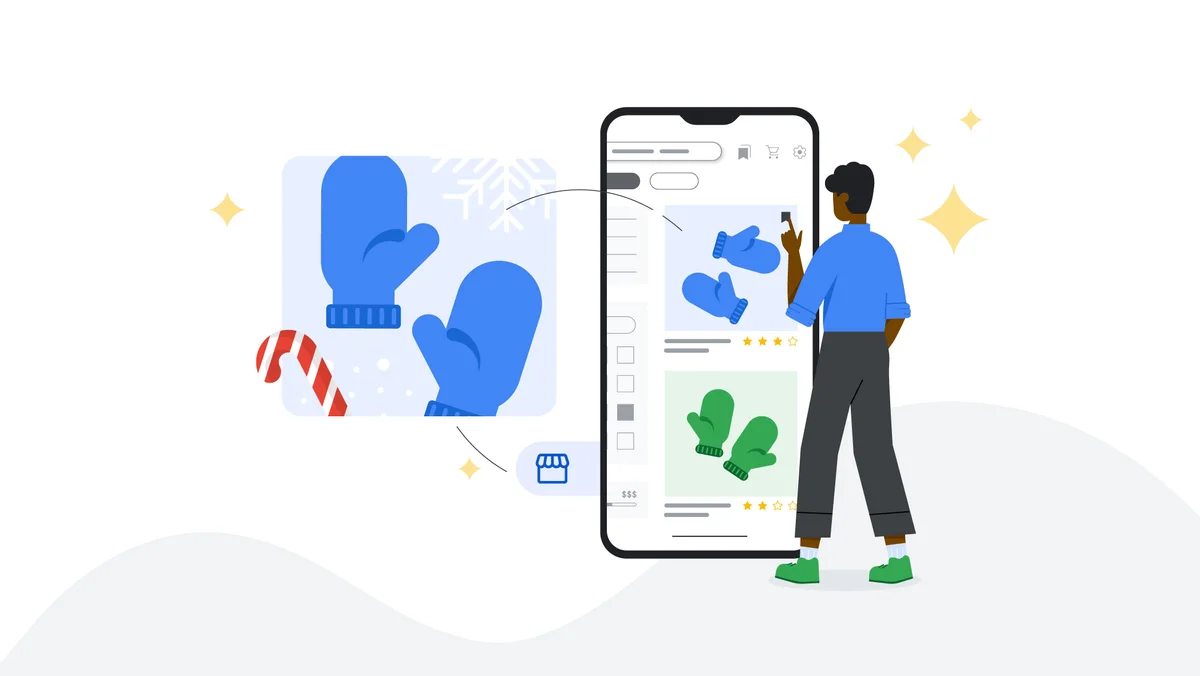 The holidays are one of the biggest opportunities for merchants to connect with new shoppers — so showing up strong and authentic to your brand is key. This year, we're introducing new features to help you stand out to customers, just in time for the busy holiday shopping season.
Add the new small business attribute
Shoppers are looking for small businesses: In fact, 84% of people say supporting local and/or small businesses is important to them.1 So we're making it easier to find them on Google.
Starting today, merchants can identify themselves with a new small business attribute on Search and Google Maps. Products in Search sold by businesses with that attribute will have a "small business" label on them, as will businesses on Maps. These new labels will make it easier for shoppers to narrow down their searches and be intentional about shopping with their favorite (or soon-to-be-favorite) businesses.
Small merchants using Merchant Center or Business Profile in the U.S., including those using the Google & YouTube app on Shopify, can add the attribute to their account. In Merchant Center, review the "business information" tab, navigate to either "details" or "about your business" and toggle on the "small business" attribute. In Business Profile, navigate to the "more" section within "edit profile." We're also partnering with Etsy to include eligible sellers.
We'll automatically add the small business attribute to some merchants' listings based on factors like how many products they offer, the number of locations they have or how much web traffic they get. You can remove it in Merchant Center or through your Business Profile at any time.
Customize product images in Product Studio
Want to add a holiday twist to your standard product imagery or experiment with a new viral holiday marketing trend? This week we're beginning to roll out Product Studio — our set of AI tools to help merchants create and manage product imagery — to all Merchant Center Next users in the U.S. That includes our experimental AI-powered scene generation feature, which uses a text-to-image generative AI model to help you place products into any creative scene you dream up.
Stumped on where to start with generating a scene? Product Studio will share a few prompt ideas, including holiday-themed scenes, to spark inspiration. It's easy to tweak or reuse prompts that worked well for you in the past. You can also remove distracting backgrounds or improve resolution on your product images in one click.
Early testers have been experimenting with Product Studio over the past few months, including the small business skincare company Doppeltree. Doppeltree had some plain product images they really liked, but they needed more content for social media and e-commerce. Doppeltree co-founder Tony Ouyang says that Product Studio's free generative AI technology "allowed us to diversify our product imagery, and produce high quality images in a fraction of the time it would usually take us to do it on our own or hire a photographer."
Product Studio starts rolling out today, and will be available in Merchant Center Next and the Google & YouTube app on Shopify.
Show more helpful business information on Search
Shoppers can be hesitant to buy from businesses they haven't heard of. But certain key information, like other shoppers' experiences, can help them build confidence to try something new. To help build trust with unfamiliar businesses, we're expanding the type of information shoppers see when they look for businesses on Search.
Starting this month in select countries, the knowledge panel that appears on certain retailer searches — which previously showed details like the location of a business' headquarters or the number of employees — will start showing other helpful shopping information, like current deals, shipping and return policies, customer service information and ratings and reviews. The knowledge panel will also show for more merchants, offering a helpful snapshot of their business. We'll showcase information you're already sharing on Merchant Center, as well as other authoritative information from across the web.
This updated panel is similar to how we help shoppers find local business information on merchants' Business Profiles — which in every month in 2022 helped drive more than 2.3 billion free direct connections, including phone calls, requests for directions, messages, bookings and reviews for American businesses.2
Update your deals
Our Shopping Graph understands more than 35 billion listings from across the web and helps make sure shoppers see the latest and greatest information about your holiday promotions. Be sure to add your promotions to Merchant Center and review your settings if you'd like to make changes to where your deals show up. And stay tuned for new ways we're helping shoppers find your deals this holiday.
Start experimenting with these tools, and check out our other AI-specific tips, to more authentically represent your business and put your best foot forward this holiday.