New tools to help small businesses connect with online shoppers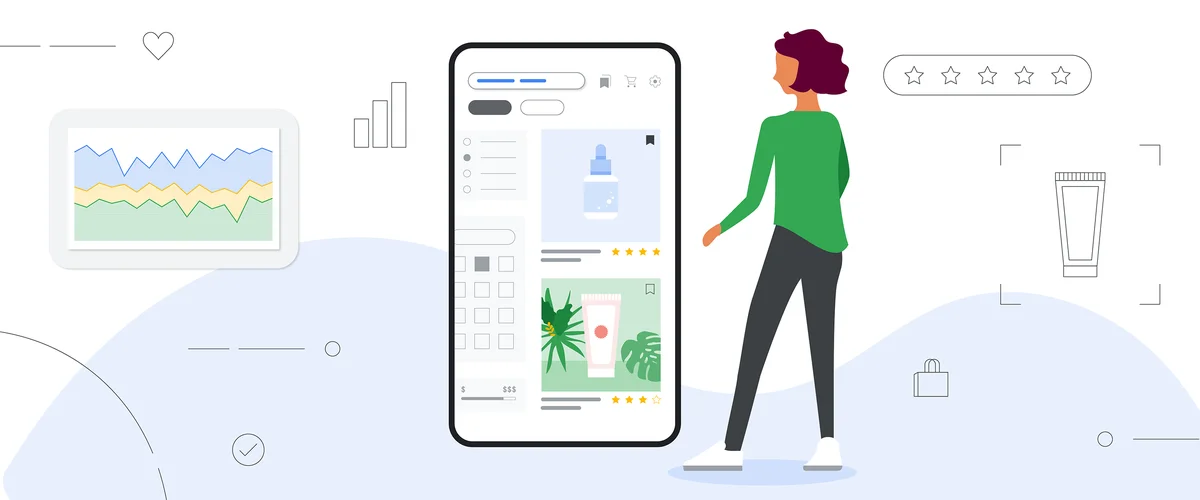 These days, shopping can happen anytime and anywhere. So it can be challenging for businesses to stand out and connect with new customers. Eye-catching, unique imagery helps grab shoppers' attention, but creating that content requires a lot of time and resources.
Today at Google Marketing Live, we introduced Product Studio. This new tool will help merchants easily create unique product imagery using generative AI right from Merchant Center Next, our simplified platform for businesses to manage how their products show up on Google.
Using generative AI to make creative product images
In e-commerce, eye-catching images are a business's digital window displays — and merchants with the right mix of imagery online can get better results. In fact, while many product offers on Google have just one image, we see an increase in both impressions (+76%) and clicks (+32%) for product offers that include more than one image.1
It's not always easy to get a range of high-quality images, though. Businesses tell us creating lifestyle images gets expensive and time consuming.
Our new Product Studio, designed with Google's AI Principles top of mind, brings the benefits of generative AI to businesses of all sizes, helping them easily create unique and tailored product imagery for free and get more value from the images they already have. Let's look at a few key features.
Add custom product scenes: Create new imagery based on changing marketing needs — whether seasonal, campaign-based or simply experimental — without the added cost of new photoshoots. For example, a skincare company could highlight a special seasonal version of a product by requesting an image of the product "surrounded by peaches, with tropical plants in the background."
Remove a distracting product background: Want a plain white background for a product image? Businesses can quickly remove a complex background in Product Studio.
Quickly increase resolution: Improve the quality of small or low-resolution images without having to reshoot a product.
Merchants in the U.S. can access Product Studio from Merchant Center Next, our improved platform to list products across Google, starting in the next few months. These features will also be available to merchants using the Google & YouTube app on Shopify.
Making it easier for businesses to list on Google
The number of businesses using Merchant Center has doubled in the past two years, and we've been working to make it even more helpful. Merchant Center Next is a simplified version of the platform, built to make it easier for smaller merchants to get started, find customers online and grow their businesses. And while we're simplifying, the features that larger retailers rely on aren't going anywhere.
One way we're doing that is simplifying how to set up a product feed. In the past, merchants setting themselves up on Google for the first time had to manually add their products, prices, images, descriptions and other details. In Merchant Center Next, we'll automatically populate a merchant's product feed with the information we can detect from their website (merchants can always edit what gets pulled in, or turn this off) — making it easier to quickly show their products across Google.
We're also making it easier for merchants to access and understand their performance by bringing all insights reports into the Performance tab. Now merchants will have one place to review their best-selling products, what businesses show up next to theirs, and even how shoppers are engaging with their local business on Search and Maps.
For merchants with both online and local brick-and-mortar stores, Merchant Center Next will show all products in one comprehensive view, so it's easier to manage online and in-store product inventory together. We'll also show new insights about the potential benefits of fixing errors in product data, so it's easier to prioritize updates.
Merchant Center Next has already started rolling out for new users. We'll start upgrading smaller businesses over the coming months, with plans to complete the global rollout in 2024. Merchants will be notified when the new experience is ready for them.