How to find holiday shopping deals on Google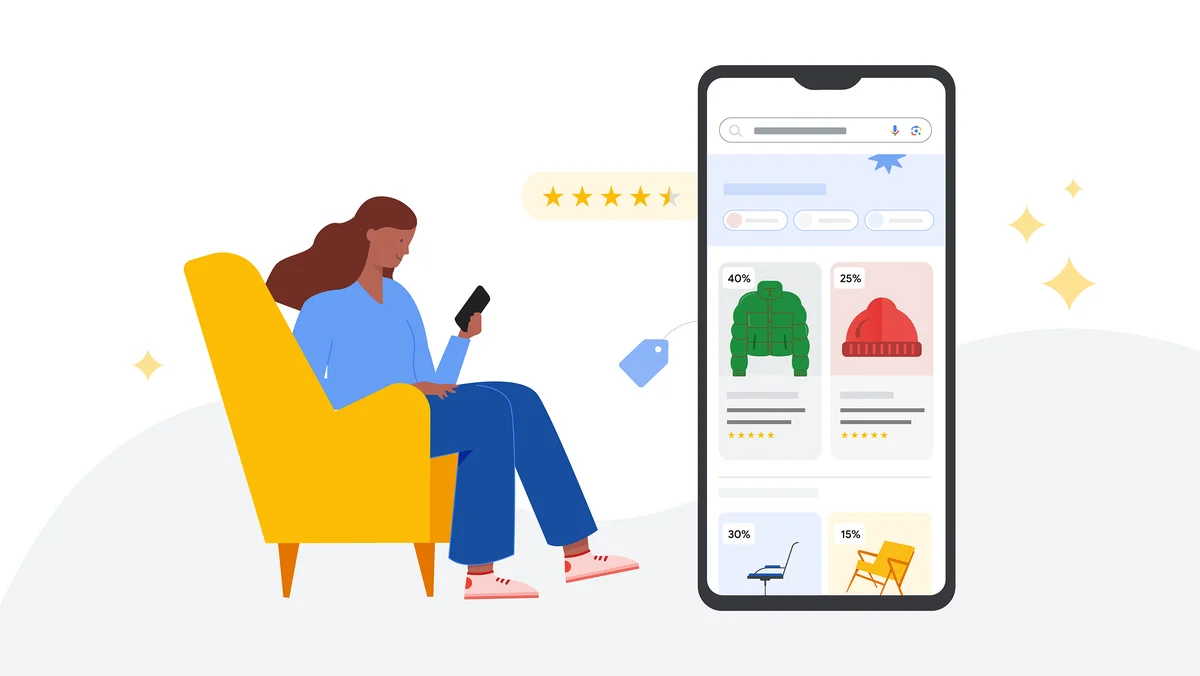 It's officially the holiday season, and smart spending is on many shoppers' minds: Eight in ten holiday shoppers say it's important to them to find a good deal on holiday gifts, and more than half plan to compare prices online to ensure they find a good deal.1
Thanks to the Shopping Graph, our comprehensive data set of the world's constantly-changing products and shopping information, holiday shoppers on Google will have access to double the amount of deals as last year.2 And in the U.S., we're introducing new ways to help you shop those great prices: A dedicated deals page now organizes millions of promotions3 from thousands of brands and retailers4 in one place, while new features in Chrome can help you easily keep an eye on prices.
Access a new deals destination on Search
Twenty-three percent of people say they procrastinate their holiday gift-giving because deals are hard to find.5 Today, we're launching a new deals destination on Search that helps you find on-sale products from across the web all in one spot.
On the deals page, you'll find promotions and markdowns in top holiday categories, such as apparel, electronics, toys and beauty. They'll include deals from a variety of merchants, including big-box stores, direct-to-consumer brands, luxury multi-brand retailers, designer labels and local stores.
You can scroll through carousels of deals by category, which take into account what you usually like to shop for when you're signed into Google, and see popular stores that have deals on what you're looking for. See a product you're interested in? Click into the product or visit the merchant site to learn more.
Search "shop deals" to access the new deals page and start crossing off your holiday list. Or if you're on the hunt for something specific, search for a category like "shop sneaker deals."
Check for discounts in Chrome
Ready to buy a product but want to make sure you're getting the best price? Chrome can proactively look for discount codes to help you save money when you shop.
Starting today, when you open a new tab in Chrome on desktop, we'll show you products you recently viewed on shopping sites in your "Resume browsing" card, and let you know if an active promotion is available. Or when you visit a product page on a shopping site, you can click the new Discount tag icon in the Chrome address bar to see available coupon codes from the site you're visiting. Merchants can manage where their deals show up across Google in their Merchant Center settings.
See price insights in Chrome
It's a common dilemma: You've found the perfect gift, but there's a nagging question in the back of your mind: Will the price drop after I buy? More than a quarter of people say they procrastinate holiday gift-giving because the gift may be available at a lower price later.6
To help settle this predicament, today we're bringing our price insights features, already available on Search, to Chrome on desktop.
When these insights are available on a shopping site, you'll see a "Shopping insights" label in the Chrome address bar. Click on it to open a new section in the Chrome side panel that will show that product's typical price range and a price history graph for up to the last 90 days.
Track prices in more places
We're also making it easier to set price drop alerts from both Search and Chrome. When you're looking at a product on Search from Chrome on your mobile device, you can now click the bell icon next to the product name to get email and push notifications if that product's price drops from retailers across the web. You can also easily bookmark products in a new Shopping list folder in Chrome on desktop, and get price tracking updates if available.
With these new and expanded features, we're making it easier to know what deals are out there so you can shop your savviest this year. And if you're looking for gift inspiration, today we also shared the Holiday 100, our annual gift guide based on the year's trending searches.