Working with merchants to give you more ways to shop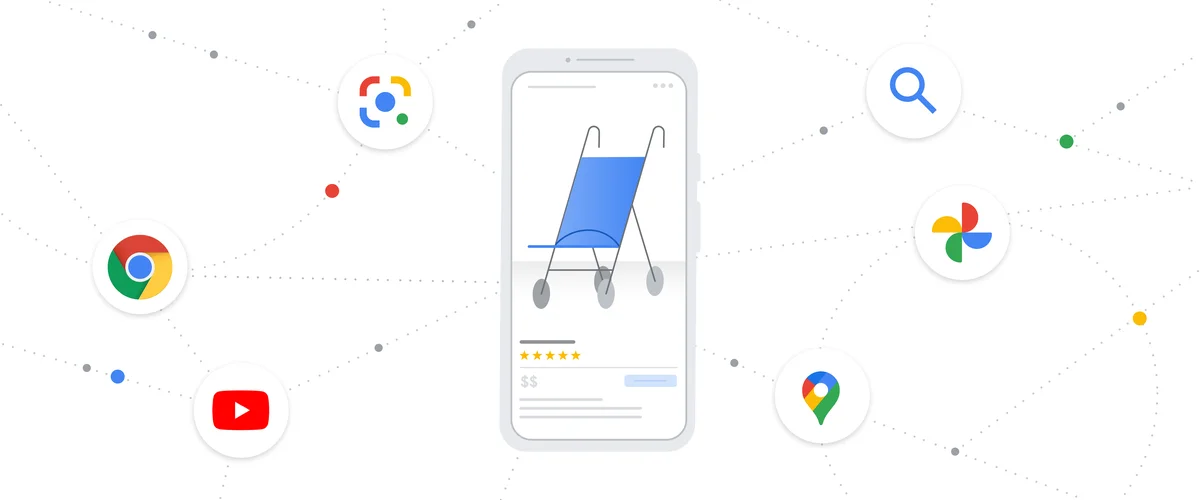 We want to help people discover, learn about and shop for the products they love — whether those products come from a big-box retailer, new direct-to-consumer brands or the mom-and-pop shop down the street. We're supporting an open network of retailers and shoppers to help businesses get discovered and give people more options when they're looking to buy. Two concrete steps we've taken to support discoverability for all merchants are eliminating commission fees and making it free for sellers on Google.
To show you the most relevant shopping information, we must have a deep understanding of the products that appear across Google and in the world around us — from images and videos to online reviews and inventory in local stores. That's why today we shed some light on the technology behind our Shopping Graph: our most comprehensive, real-time dataset about products, inventory and merchants. 
The Shopping Graph is a dynamic, AI-enhanced model that understands a constantly-changing set of products, sellers, brands, reviews and most importantly, the product information and inventory data we receive from brands and retailers directly — as well as how those attributes relate to one another. With people shopping across Google more than a billion times a day, the Shopping Graph makes those sessions more helpful by connecting people with over 24 billion listings from millions of merchants across the web. It works in real-time so people can discover and shop for products that are available right now. 
The Google Shopping Graph.
Having a deep understanding of the world's products is just one piece of the puzzle. To help more merchants get discovered, it's important that we support like-minded partners who share in Google's mission to democratize e-commerce. That's why today at Google I/O, we announced that we're expanding our partnership with Shopify, introducing a new, simplified process that will let Shopify's 1.7 million merchants feature their products across Google in just a few clicks. This new collaboration with Shopify will enable merchants to become discoverable to high-intent consumers across Google Search, Shopping, YouTube, Google Images and more.
As we eliminate barriers like fees and improve our technology, we've seen a 70% increase in the size of our product catalog and an 80% increase in merchants on our platform. But exactly how do these sellers and their products show up across Google? Search, Shopping, Image Search and YouTube are popular ways for people to research and discover products. Today we announced even more ways to get discovered by people shopping every day.  
Discover more with new shopping experiences
We know it's easy to get inspired just by strolling your neighborhood, browsing a magazine or taking note of something online. That's why we're building new, more integrated shopping experiences to meet you where you already are. For instance, one of the most popular ways people take note of things they like is by taking a screenshot — but it's not always easy to take action on those screenshots afterward. Now, when you view any screenshot in Google Photos, there will be a suggestion to search the photo with Lens, allowing you to see search results that can help you find that pair of shoes or wallpaper pattern that caught your eye. 
Using Lens to find that perfect pair of sneakers.
We also know that shopping isn't always a linear experience. You may open your browser intending to shop, but switch your focus to an email or news article or you might not be ready to buy yet. That's why, along with other new modules in Chrome that help you pick up where you left off, we're introducing a new feature in Chrome that works locally on your device to let you see your open carts when you open a new tab. So when you step away or browse on other sites, you can pick up your shopping right where you left off. 
Reminders for your shopping carts in Chrome.

Linking a loyalty program from Sephora.
Once you're ready to make your purchase, we want to make it easy for you to get the best value for the products you're buying. Coming soon, we'll let you link your favorite loyalty programs from merchants like Sephora to your Google account to show you the best purchase options across Google, helping brands and their customers foster a stronger, more direct relationship. 
We'll continue to work toward bringing you a better shopping experience. Be sure to tune into Google Marketing Live (GML) next week to hear more updates.