4 ways Google's Shopping Graph helps you find what you want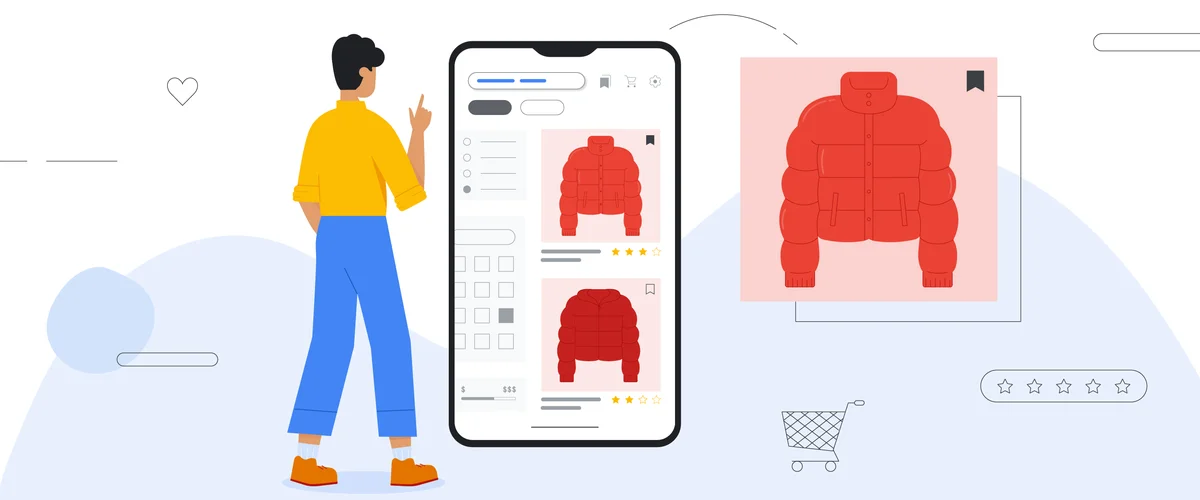 We all shop online, but how and what we each shop for is different. Sometimes it can even depend on the day. One day you might need something basic, like a bar of soap or paper towels. Another day you might need to do more research, like finding inspiration for a new sofa.
We rarely think about the technology working behind the scenes in those moments. Whether it's a simple or complex search, Google sorts through a vast set of products to help you make the perfect purchase. And it's all thanks to the Shopping Graph, our data set of the world's shopping information powered by machine learning.
Here are four things to know about the Shopping Graph and how it helps you find what you're looking for:
1. The Shopping Graph is the ultimate shopping data set.
The Shopping Graph is our ML-powered, real-time data set of the world's products and sellers. It stores billions of global product listings (more on that next), plus specific information about those products — like availability, reviews from other shoppers, pros and cons, materials, colors and sizes. If this sounds familiar, it's because the Shopping Graph is a similar model to our Knowledge Graph, Google's database of facts about people, places and things.
2. It houses more than 35 billion product listings (and counting).
Machine learning powers the Shopping Graph, but it needs a lot of content to bring you the results you've come to expect from Google. That's where product listings come in. Listings show products and their sellers, and they're updated constantly — either through information retailers share directly via Google Merchant Center or from what retailers and brands post across the web. Take, for example, Clinique's Even Better Foundation in the shade "Spice," which is sold at Sephora's Fifth Avenue store in New York City. That's one listing. Now imagine 35 billion of those — that's how many product listings are stored in the Shopping Graph.
3. It helps you find products with specific criteria.
Let's say you're looking for a puffer jacket. That seems easy enough. But what if you have something particular in mind? Maybe you'd love a women's red puffer coat that's cropped, shiny and has a fleece hood. Size medium. And you want it on sale, with free shipping. That criteria is getting complex. What if you also want the coat to be suitable for extreme weather and lightweight? Now this search is really specific.
To narrow down your options, the Shopping Graph scans billions of listings while also pulling relevant data from the web — like images, descriptions, reviews and YouTube videos. From there, it uses machine learning to understand relevant, nuanced characteristics like, in the case of your coat, packability, how it typically performs in cold temperatures and whether it's made from sustainable materials.
4. It powers helpful shopping features.
Because of its vast knowledge base, the Shopping Graph enables many of our shopping features. Let's go back to your hunt for the perfect coat. When you search "shop puffer coat," the Graph helps our shop the look feature show you popular ways to style it — like with a handbag, baggy jeans or combat boots — plus similar products to consider.
The Shopping Graph can also help you with complex purchases through our buying guide feature. Say you're in the market for a new air purifier, but don't even know where to start or what to ask. Using natural language understanding, the Graph will synthesize helpful insights about air purifiers from a wide range of trusted sources on the web — including articles and user reviews — so you can see the most important information at a glance.
There you have it. Now you know a little more about how shopping on Google works, and how it helps you find inspiration and narrow down your options — all with the world's latest shopping information at your fingertips.