Our scholarship to support women in gaming
An interactive experience that puts you in the shoes of a first responder. A multiplayer game that adjusts itself according to each players' capabilities. A drone exploration passion project. These are just a few of the projects created over the past year by recipients of Google's  scholarship for women in gaming.
In addition to my core role as a Partner Manager for the Stadia Global Partnerships team, I'm equally proud to lead my group's scholarship efforts in collaboration with Google's central scholarship and student development team. 
Google is committed to advancing gender equity in technology, and this year Google's gaming platform, Stadia, has sponsored the Generation Google Scholarship: for women in gaming (formerly the Women Techmakers Scholarship for gaming). Stadia's sponsorship broadens the scope of this award. The program now includes students studying video game programming, game engineering, game design and development, games user research or a closely related field in gaming.
Applications for the 2021 scholarship are open now through Dec. 4, 2020 in North America as well as in Europe, the Middle East and Africa. To learn more about who is eligible and how to apply for the Generation Google Scholarship: for the women in gaming program, and for information on all our global programs, please visit our website. 
We asked a few of the inaugural 2020 scholarship recipients to share a bit about what the scholarship has meant to them and what they've been working on since receiving their award this summer. Here's what they said:

Francesca Palamara
University of Southern California, MFA in Interactive Media and Game Design
Favorite game: "Life Is Strange" 
This scholarship has meant everything to me. It meant I was able to pursue my academic and professional goals stress-free. I've met a wonderful group of like-minded scholars, and found a supportive network across creative technology and games. Without the scholarship, I wouldn't be able to pursue my thesis and internship as successfully, and I am extremely grateful.
Right now I am interning at Jam City as a Game Production Intern and working on completing my MFA thesis. My thesis is a case study that examines the overlooked mental and physical exhaustion of first responders. It's a 10-15 minute 2D interactive experience that places players in the role of Alma, a Cuban nurse working at South Florida's Children's Hospital. This project means a lot to me because I hope to humanize the reality of first responders' every day experiences in both pandemic and non-pandemic times and shed light on an often overlooked sacrifice.  

Bex Ruvalcaba
Parsons School of Design/The New School, Dual-degree in BFA Design and Technology and BA Screen Studies
Favorite games: "Dig Dug," "The Legend of Zelda: Breath of the Wild"
Receiving this scholarship made it so I could fully finish my coursework for my dual-degree with confidence! Being in a five-year program does mean I have to pay for one more year of university than many of my undergraduate peers, so being able to have the funds for tuition and technology fees has been a weight off my back.
Lately I've been planning out a drone exploration game. There are a few technical skills I would like to gain through creating this game, like learning more about saving images in-game, but since it's a passion project there isn't a lot of pressure on everything being perfect. I'm also currently interning at Gabb Global alongside my coursework where I'm helping the team create mobile language learning games for a new app they're launching soon.  I'm passionate about creating systems of play both in physical and virtual form, and hope to be creating fun, interactive exhibits in the near future.

Tabea Marzlin 
Dalhousie University, Bachelor of Computer Science, Certificate in Graphics, Gaming, and Media
Favorite game: "The Legend of Zelda: Twilight Princess"
This scholarship enabled me to focus entirely on my education. I was able to invest in new technical equipment to work on games from home efficiently, too. Most importantly, the many incredible women I  met through the scholarship have been a huge inspiration and source of friendship. We've bonded over video calls, sharing helpful industry advice, and having casual game nights together.
Currently, I'm studying online full-time, taking courses to further my game development knowledge in areas related to computer graphics, animation, and digital media. I successfully completed an internship as a Tools Programmer for Ubisoft Halifax over the summer, and look forward to returning to the studio for another work term next year. I believe games can push our technical and artistic limits, and tell new types of stories people can connect with. I want to use my knowledge and creativity to help shape the next generation of games as a lead programmer on a meaningful project.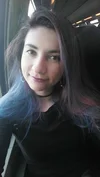 Miri Nudelman
Shenkar College of Engineering and Design, MDes, Video Game Design and Development
Favorite game: "Portal"
It's been an incredible opportunity to meet (virtually) other like-minded influential women who take initiative to increase the number of women in tech and in gaming. The scholarship also allows me to pay for my master's degree and to take extra courses outside the required curriculum.
Currently I work as a data developer at a gaming company. I'm also working on a multiplayer game that focuses on inclusive gameplay. The game collects data about the players' skill while they play. It analyzes this and adjusts the difficulty during the game for each player individually. This way everyone can play together no matter how skilled each player is. We all learn from playing. Even if the game doesn't aim to be educational,  it still teaches you something (a new mechanic for example), and that's what makes it fun.

Adriana Mallary
Brunel University London, PhD in Games Research
Favorite game: "Dragon Age: Origins"
 This scholarship  made it possible to research and pursue my dreams. It has given me access to VR, which allows me to program prototypes and test them at home. It  also supported the overall funding of my degree. Most importantly, however, is that it gave me access to the Google community.
I'm currently beginning my research journey for my PhD, so I've been exploring a number of topics. My primary focus is how the design of VR games can meet our psychological needs. As of now, I'm focusing on embodiment in games, embodied cognition, engagement and mechanics in VR, natural interaction/interaction design, and emotional design. I want to understand how and why certain player affordances in VR can affect our own psychology, which will hopefully make designing effective and impactful VR interactions easier for the industry in the future.