3 things to ask as you prepare for summer travel 2022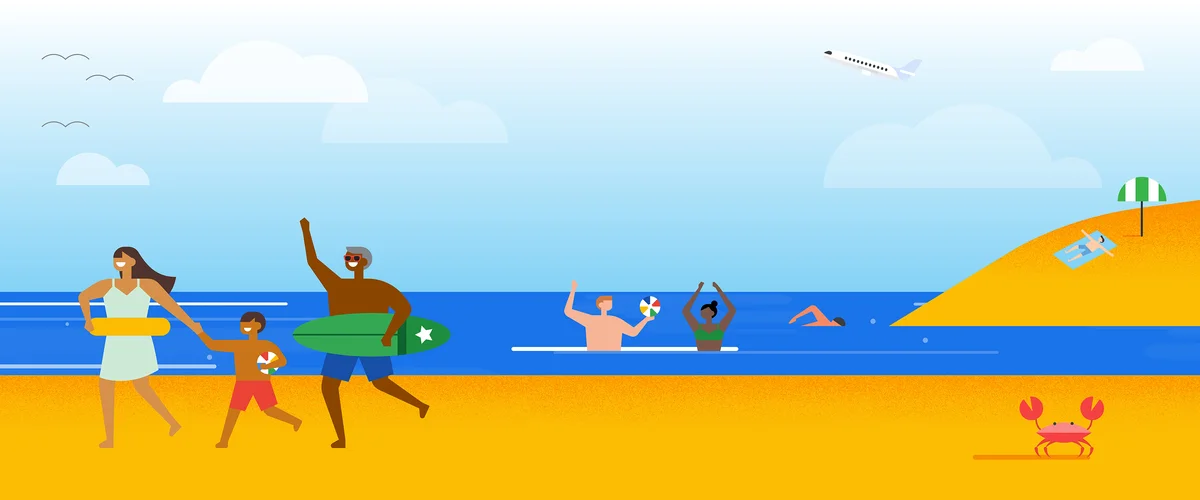 Summer 2022 is nearly here, and vacationing is on many minds. But it's not as easy as deciding you're ready to hit the road — or sky. We took a look at some Google Search and Flight trends and came up with a few questions you can ask yourself as you start planning to go…somewhere, anywhere besides your home. And to help you answer those questions, we've got plenty of travel-related Google trends that can guide you through settling on your next journey.
Who should go on the trip with you?
So far in 2022, search interest in "girls trip destinations" is up 300% and "good bachelor party ideas" is up 200%, so group trips are certainly on our minds. Expecting parents would be wise to take one last couples trip — in fact, in the U.S., search interest in "best babymoon destinations usa" increased 170% in the first four months of 2022. And there's nothing wrong with going solo; look no further than the 600% spike in "singles cruises" from January through April 2022.
What's the goal of your getaway?
Once you've settled on who you want to travel with, the real fun can start and you can decide what kind of trip this will be. Well…is this a trip, or a vacation? Do you want to rest up, or rev up? Are you treating yourself or trying new adventures? Or maybe a little of all the above!
According to Google Trends, lots of people are looking to experience the outdoors: The top-searched summer attractions in the U.S. include Yellowstone and Glacier National Parks, as well as Lake Tahoe and the Grand Canyon.
Glamping is also a popular option for those who want to get outside without totally roughing it (that's glamorous camping, for the uninitiated). From January 2019 to April 2022, search interest in "glamping near me" spiked more than 500%. Florida, Texas, California, Georgia and Tennessee are the most-searched destinations for glamping.
Where should you go?
Whatever kind of traveler you are (or plan to become this summer!), landing on the right destination is key. And if you're excited about an international adventure, you're in great company! Search interest in "passport appointments" increased 300% over the first four months of 2022, and Google Flights trends show that five of the top 20 destinations people in the U.S. are searching for are in Europe — London, Paris, Rome, Athens and Lisbon. Here's a look at the complete list of the 20 top-searched summer destinations on Google Flights:
1) Orlando
2) Cancun
3) Las Vegas
4) London
5) New York
6) Los Angeles
7) Paris
8) Seattle
9) Honolulu
10) Denver
11) Rome
12) Miami
13) San Juan
14) Fort Lauderdale
15) Chicago
16) Boston
17) Athens
18) San Francisco
19) Lisbon
20) Portland
Looking to stay stateside? Domestic travel trends show people looking for flights to Orlando, Las Vegas, New York, L.A. and Seattle, among other great U.S. cities. So if you want to hit the trendy spots, you know where to go…and if you want to avoid the trendy spots, you know where not to go.
Traveling isn't stress-free, and for anyone who's already feeling overwhelmed by the options, there's nothing wrong with indulging in a staycation. In fact, looking at January through April 2022, "luxury hotels near me" has over two times the search interest it had during the same period in 2019. No passport required.