5 ways you can personalize your smartwatch with Wear OS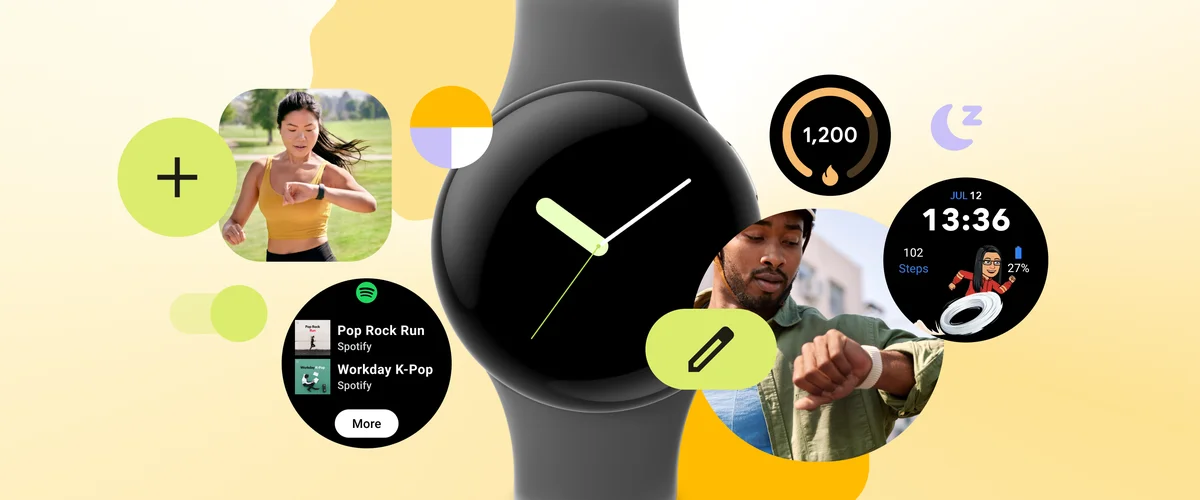 Smartwatches are a great way to stay connected, healthy and productive, but they can also be a great way to express your personal style. With an unrivaled selection of customization features and unique ways to interact with apps, Wear OS empowers you to create a smartwatch experience that is truly one-of-a-kind.
Here are some of the ways you can personalize your watch:
1. Make it yours with a unique watch face.
One of the easiest ways to personalize your Wear OS smartwatch is to change the watch face. Choosing a face that reflects your personal style and mood can give your watch a completely new look. Beyond the variety of watch faces that come with your watch, you can also download new ones from Google Play, where there are thousands more. From seasonal collections to the Watch Faces of the Week, there's a treasure trove of options to make your smartwatch stand out from the crowd. Many watch faces also come with built-in color customization options so you can create a harmonious blend that complements your personal style and mood.
For an even greater variety, you can turn to watch face platforms like Facer. Whether you're a fan of classic watch styles, futuristic sci-fi themes or your favorite movie franchise, Facer has a watch face to match your interests. This platform opens up a world of possibilities and regularly publishes more designs, like their new animated 3D collection, which is exclusively available on Wear OS watches.
And with the recently launched Watch Face Format, built in partnership with Samsung, developers and designers can easily create high-quality, no-code watch faces. Be on the lookout for even more beautiful watch face options coming from the creative community with the next generation of Wear OS watches.
2. Interact with apps in new ways with customizable tiles.
Since the early days of Wear OS, we've seen that people interact with apps differently than they do on phones — because their time is valuable, they prefer to get things done quickly with just a glance. That's why we introduced tiles in 2019 to offer a convenient way for you to access key information and perform quick actions right from your watch's screen, without having to open the full app. Exclusive to Wear OS watches, tiles are like customizable widgets that give you quick access to apps, letting you rearrange, add or remove information to create a personalized layout that suits your needs.
Tiles provide at-a-glance updates, such as weather forecasts, fitness stats and calendar events, and are accessible with a simple swipe left or right from your watch face. You can easily navigate through your tiles, stay informed and take immediate action without having to dive into separate apps and take you away from people and moments that matter most. Beyond the tiles that your watch already comes with, you can also get more tiles provided by your favorite apps, like these new ones from Spotify and Google Keep. Look out for even richer and more useful tiles coming from our developer community as we continue to bring more capabilities to the platform.
3. See the information you need at a glance with complications.
Complications are additional snippets of information displayed right on your watch face, such as activity tracking, battery life, media controls and more. They enhance the usefulness of your watch and can be customized to suit your preferences. Explore the available complications and choose the ones that align with your daily needs. Prioritize the information that matters most to you, whether it's step count, heart rate or upcoming appointments.
4. Discover new apps that match your lifestyle.
When you have the time to do more than just get glanceable information from tiles and complications, you can expand the functionality of your smartwatch by exploring a wide range of apps that align with your interests and lifestyle. Whether you're a fitness enthusiast, a music lover or just want some help staying on top of your to-do list, there's an app for you.
Browse Google Play on your smartwatch and discover apps created by our global developer community. For example, India's KukuFM provides a collection of audiobooks and stories with controls from your watch, while South Korea's SMART CADDIE by GOLFBUDDY is a great companion for golf lovers globally. And for hiking enthusiasts, Komoot from Germany lets you plan a perfect route for your next adventure, even on the go. Check out our growing lists of even more apps that provide specialized workouts, music streaming services or task managers.
5. Express your style with different watch designs and bands.
Match your watch's design to your outfit, your mood or whatever you're doing that day. While smartwatches typically come with a standard band, you can also purchase different bands to accessorize your watch – like these options for Pixel Watch. Choose classic or modern styles in woven, stretch, active, or leather bands. Pick colors that match your mood, from bright and fun to dressy to serious, so you can choose the one that best fits your personal look. You can also choose from a variety of watch designs, from sophisticated traditional designs like Montblanc's Summit 3 to an adventure partner like Samsung's Galaxy Watch5 Pro. Whether you're after something that tees you up on the golf course like TAG Heuer's Connected Calibre E4 Golf Edition, or you want something that seamlessly fits into your every day life like the Fossil Gen 6, Wear OS watches offer a diverse range of brands and styles.
No matter what your lifestyle or interests, there are endless possibilities when it comes to personalizing your smartwatch. So get creative and have fun!