3 Google tools to help you save money in 2023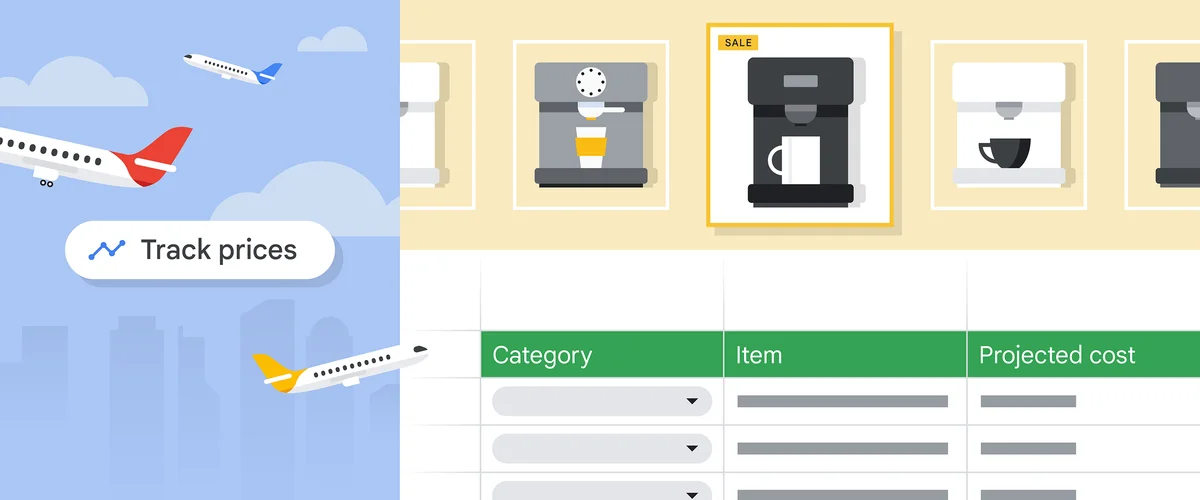 A new year is an excellent time to think about everything you want to do in the next 12 months. If saving money is on your 2023 to-do list, a good place to start is with your budget. We've got a few Google tools you can use to easily get a better idea of your finances and set yourself up to save a few bucks.
Create a budget with Google Sheets
Budgeting is one of the many things that Google Sheets is great for, and there are a few ways to create yours based on what works best for you.
Try using Sheets' personal budget template.' Smart canvas makes it easy to insert people, files and more with the '@' sign. Just type @budget to insert a personal budget template. This will automatically do all the formulas for you and set up columns for tracking your money.
Experiment with more robust templates. You can use Sheet's annual budget track template or the monthly budget tracking template (both of which you can find by selecting File > New > From template gallery, and then navigating to the "Personal" section). You could even use them together to really deep dive on your 2023 finances. And there are plenty of other Google Workspace add-ons that can help with building a budget, tracking your finances and more.
Create your own template if none of these options are quite right. There are a handful of simple formulas you can use — and if you've never worked with these before, you can click Help > Add formulas and functions to find beginner instructions. For example, an easy one you'll probably want to use is the formula to find the sum of a series of numbers and/or cells.
Find deals on your big budget purchases with Google's Shopping tools
Once you have an idea of your yearly budget, you might also be able to pinpoint some bigger purchases you'll need to make in the coming year. There are a couple of ways you can use Google Shopping to save money on these.
Enable price tracking for things you know you'll be buying. Maybe when you were budgeting, you noted that you need a new dishwasher. You can search for a few models that you like and put price alerts on them, so you'll get email alerts when prices drop.
Look at products' price history. You can also see whether a certain price is higher or lower than usual and to what degree it's a good deal. You can use this feature to analyze prices, so it's a helpful way to monitor fluctuating prices for big-budget items.
See deals side by side. Our technology analyzes various price cuts on products and shows you how they compare, and you can see them side by side.
Use Google to save on your next trip
If we're talking about big budget items, we also need to talk about travel. If you want to avoid overspending on airfare, head over to Google Flights.
Keep an eye on flight prices. Just enter your destination and potential dates and select "Track prices" — you'll have the option to get price alerts for the dates you selected. If your timing is flexible, you can opt to get notifications for any dates.
Don't forget to check out the price graph. Here, you'll see how prices change over time, and on the date grid you can see if adjusting your departure or return by a few days can save you big money. Below the flight results, you'll also see more information on the current price that tells you how much lower or higher it is than usual.
Find the best price on your next hotel. Search for hotels on google.com/travel and compare prices to find the best deals from across the web.