Don't...actually do @ me: 5 new Google Workspace features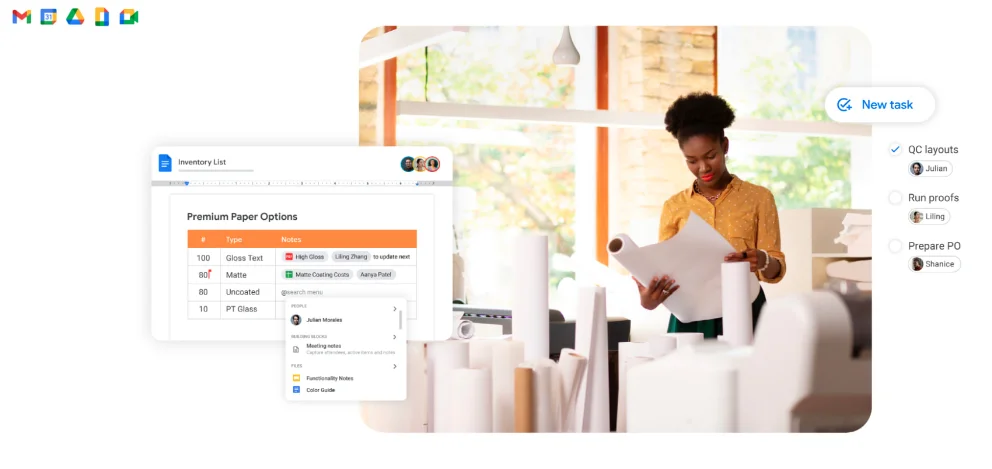 Sixteen years ago, we launched Google Docs and Sheets and introduced a new way of working. For many, it was the first time they worked in the same digital space together, in real time, without the burden — or risk — of sending documents back and forth. This has become second nature for billions of Google Workspace users around the world, and we're still finding ways to make it even better.
One of our most recent efforts includes smart canvas, which we launched last year. Smart canvas is a new part of Google Workspace that brings a whole new level of collaboration to the platform. And it must be working: Today, people use smart canvas features like adding checklists and smart chips more than they use commenting in Docs. We recently revealed some new features that make Google Workspace tools even more collaborative and helpful. Check out some of what you can now do, thanks to smart canvas:
Auto-generated summaries in Google Docs give you a quick overview of the main points in a document. This means Docs will suggest a summary so you can quickly parse the information that matters and prioritize where to focus.
Quickly grasp the main points of a document with summaries in Docs.
2. Page breaks and margins in a document editor were designed for printing — which you might not do so often these days. If you want to take back that extra space for a document that will only live online, you can choose the new pageless format in Docs, so you can view it across more of your screen. (You can switch it back if you want to print it, too.)
Remove the constraints of page boundaries with pageless format in Docs.
3. With smart canvas, you can pull people, files and meetings directly into your document using @-mentions. We recently expanded the "@" menu, making it easy to insert additional things like images, tables and templates. And in the coming weeks, we'll be bringing this capability to a common scenario at work: collaborating with others on an email in Docs that will be sent out broadly. Once it's ready, simply click to export it into a draft email in Gmail, with all the relevant fields automatically populated.
4. The recently launched meeting notes template automatically imports any relevant information from a Calendar meeting invite, including attendees and attached files.
Easily import Calendar meeting invite information with the meeting notes template in Docs.
5. You can now easily preview a Google Maps link directly in Docs, too. When you click on the smart chip, you'll see a thumbnail with information like an image of the location in Maps and the address. We also recently launched people chips in Sheets, to show you things like a person's job title and contact details.

Preview Google Maps links directly in Docs with maps smart chips.
We want smart canvas to make working together from wherever — and however — easier and better. With AI, we've found new ways to do that, and we'll continue working hard to make Google Workspace more collaborative, helpful and dare we say it…even fun. Sign up today for a Google Workspace free trial.