7 new Google Chat features to easily message friends and family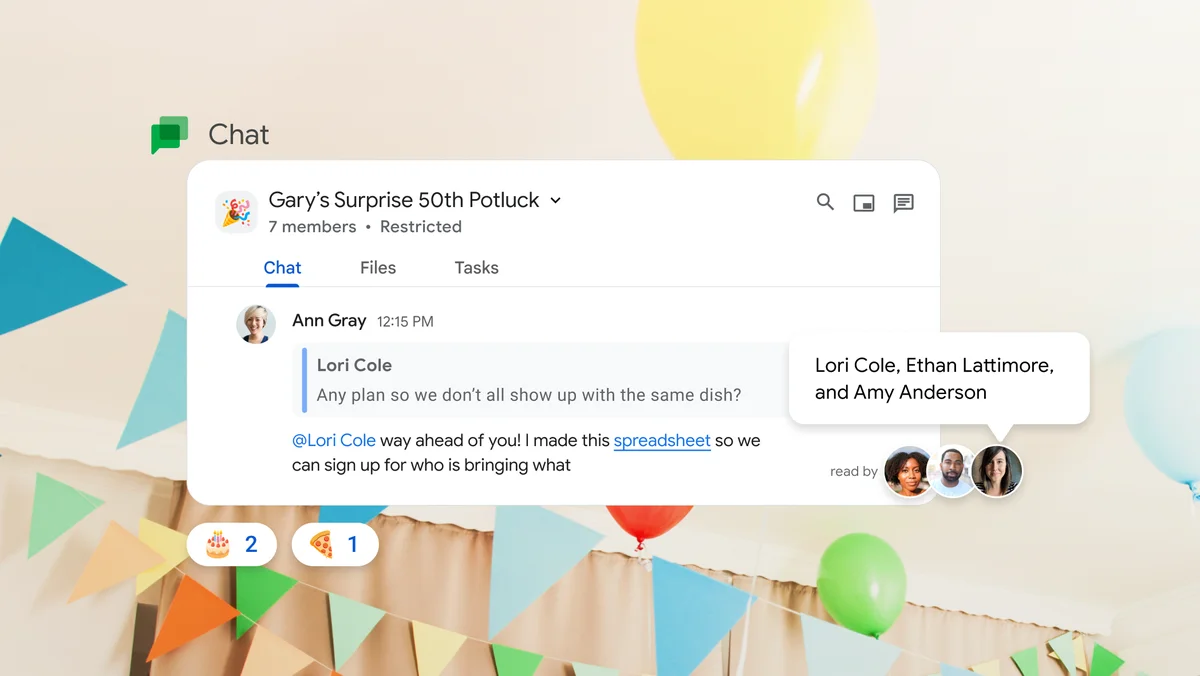 Google Chat makes it easy to connect. Whether you're organizing a practice with your softball team, brainstorming vacation spots with friends or sharing a funny video with a family member, you can always reach out with a quick ping. Today we're sharing seven new and upcoming features in Google Chat that make it even easier (and more fun) to message your friends and family.
1. Quickly craft a response with smart compose
Smart compose, also available in Gmail and Google Docs, helps you quickly craft a response in Chat, offering contextually-aware suggestions that help reduce spelling and grammar errors. When you start typing in Chat and a suggestion appears, just hit tab to accept it. Smart compose is rolling out in English, French, Italian, Spanish and Portuguese to all Chat web users.
2. Edit and delete your messages
Ever felt sender's remorse? Now with message editing, you can tweak a message you've already sent to make sure it's clear, accurate and hits the right tone. Or if it's better to start over, you can just delete your message. This feature is generally available now to all Chat users.
3. Quote a message in a group chat
It's easy to get lost in a group chat, especially if it's moving fast and covering a lot of ground. To help keep the conversation (and your thoughts) organized, you can now quote a message in your response. That way, the group can easily see what comment you're responding to without putting the main discussion to a halt. This feature is generally available now to all Chat users.
4. Check read receipts in a group chat
If your internet is acting up, you may not know if your message got through… or if your friends just haven't seen it yet. With read receipts for group messages in Chat, when someone reads a message you've sent, you'll see their avatar appear below it. For large group chats, just mouseover or tap to see the full list. Already available for direct messages on mobile and web, read receipts are rolling out for group messages on mobile and web this month.
5. Link directly to text
Say you're chatting with a few family members to plan a weekend trip. As you brainstorm ideas and lock down your plans, you may want to share links to restaurant menus, sightseeing tours or a Doc with a packing list. No need to clutter the conversation with long URLs. In the coming weeks on web and Android, you'll be able to link text in your messages the same way you can in Google Docs or Slides. Just select the text you want to hyperlink, click on the "Insert link" icon in the rich text formatting toolbar, and paste or type the URL. Or simply use the keyboard shortcut ⌘/Ctrl + k.
6. Hide inactive conversations
Clutter builds up everywhere: on desks, bookshelves, countertops and even your chats. If you have more than 10 conversations or spaces, we'll help you spruce up by hiding direct messages and spaces that have been inactive for the last seven days. You can always see your full list of conversations by toggling the "More" button, and we'll automatically resurface them to the top when a new message is posted. This feature is generally available now for all Chat users.
7. Add apps for more features
Chat apps can make it even easier to manage your conversations. Say you're organizing a surprise party with a group of friends: You can add Asana to your group chat to create to-do lists and assign responsibilities, like who's in charge of food and drinks. You can install Zapier to manage custom notifications and keep everyone updated on the plan. And of course, no chat is complete without GIFs from Giphy. The ability to download apps for your personal Chats and spaces will be generally available in the coming weeks.