How I used Google Workspace to plan my Halloween party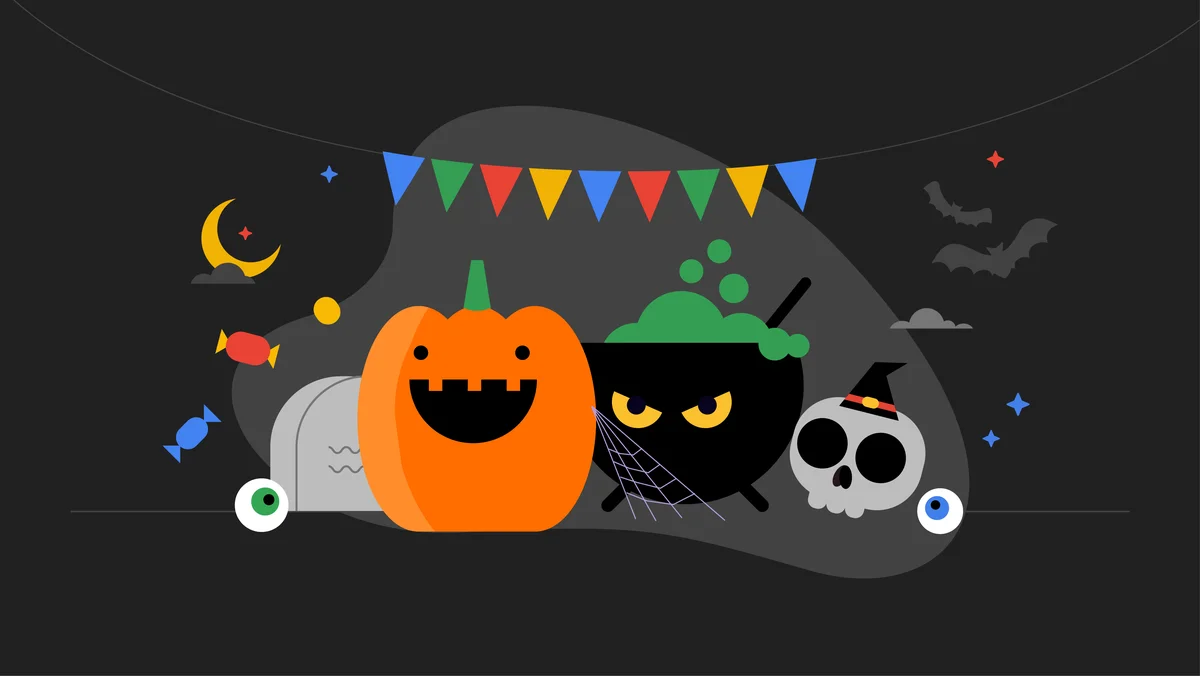 In my house, there are five seasons: Winter, spring, summer, fall — and spooky. We are well into my favorite time of the year, which means I'm also well into Halloween party planning. Between coming up with costume ideas, researching punny recipes (monster mash potatoes, anyone?) and making sure my co-planners and guests are up to date, I'm using Google Workspace to manage it all — and sharing my secrets with you. Here are five tips for using Workspace for creative (and organized!) party planning.
1. Use Gmail to keep communication organized.
There are two Gmail features I like to use when I'm putting together any sort of group event: aliases and labels. Having to enter every single email address for co-planners or invitees when I need to email the group can mean potentially missing someone or having to repeat the process if I accidentally delete or lose the thread; instead, I make an alias for the group. On the right-hand toolbar of Gmail, click the "contacts" icon, which will open a pane on the right side of your inbox. Click the "Open in new tab" icon to pop out a Contacts screen. On the left hand toolbar of this screen, hit the "+" icon next to "labels." Then you can name this group — i.e., "Halloween party 2023" or "Halloween 2023 party planners." To add your chosen contacts, select the three dots next to a contact's information and then assign the new label to them.
After refreshing your inbox, you'll be able to compose an email to this group by just typing in the label versus multiple addresses.
I also make a label for incoming emails — again, something straightforward like "Halloween party 2023" — so I can keep track of all incoming emails in one place. You can find this feature on the left hand side of your inbox's toolbar — first, create your label, then use the filter tool in the search bar at the top to apply the appropriate filter to these emails (anything with the Halloween party alias in the To: field, for example). And if you need help getting started with writing an email invite, you can use new generative AI features in Workspace using Duet AI. Simply ask Gmail to help you draft an email with a simple prompt like "write an email inviting my friends to a Halloween party." In just a few moments, Duet AI will generate an email that you can further refine in tone and style. Take a look at the Google Workspace blog to learn more about how Duet AI works and how you can use it.
2. Gather guest information with Google Forms.
It's not always necessary, but in some cases it's helpful to get some intel from guests before you even start party planning. For my Halloween party, I wanted to know what day worked best for most people, whether they planned on eating beforehand, if folks preferred going potluck-style or chipping in for pizza and most importantly, if they'd be entering the costume contest. Using Forms is far more organized than sending a group text or email and hoping you can follow answers as they roll in. On Forms, you can customize each question to be multiple choice, checkboxes, free text and more, and answers can automatically feed into a Sheet to help you keep track. Sending questions out with Google Forms allows people to answer anonymously, too, so no one feels put on the spot.
3. Keep it all in the Google doc.
It's not a Google doc; it's the Google doc. No matter what I'm planning, I've got a Google doc for it. Personally, I find it easiest to just throw it in the doc — whatever it may be: Costume ideas, recipes, links, anything. In addition to being my brain dump tool of choice, I also use it in lieu of a group chat or never-ending email thread. So instead of pinging everyone with updates about where to park or what dessert to bring, I just keep all the information in the doc and update it as it changes. This is also particularly useful if a few of us are planning things together and need to stay up to date on who's in charge of what. (Pro tip: I love using pageless formatting when I'm brainstorming in a doc.)
You can always just copy and paste things into a doc, but an even easier method is to use smart chips: Smart chips make it easy to quickly populate a doc with information like calendar events, people names, locations and more - simply type "@..." and then whatever (or whoever) it is that you want to add to the doc. You can even use smart chips to add in a voting feature, which for my purposes is very useful when gathering intel on how many people are for or against a haunted house. And if at any point I get stumped in my doc, I can use Duet AI to help me get started — I can ask it to do things like "draft a punny, spooky invitation," "create a list of Halloween party activities" or "write a grocery list for a party of about 30 people," and Duet AI will generate this content.
4. Track party spending with Google Sheets.
OK, I take it back, there is one thing I don't collect in the Google doc: expenses. I use Sheets to keep track of what to buy, how much it costs, who's buying it and how much we've spent so far in order to stay on budget. (I use smart chips to add the names of different people to divvy up who should buy something.) And fine, I guess I do technically keep this in the doc — I also use smart chips to insert the file into my doc so I and my co-planners can easily find everything in one place.
And if I'm feeling stumped entirely on how to organize my expense sheet, I can turn to Duet AI again. I can just offer a few details — like I want one column to assign roles to people, another dedicated to an item and a third to price — and Duet AI can create the table for me.
5. Vision board with Slides.
I love to vision board, and it's even easier (and tidier) to use Google Slides to do this. I use Slides to visually brainstorm ideas for decorations, colors, themes, invites — really, anything that my guests are going to set eyes on at the party. And if I'm feeling stumped, I can use Duet AI to create original images by typing in a simple prompt, like "halloween themed decoration ideas" and the generative AI tool will give me some options.
Sadly, generative AI won't be able to handle the post-party cleanup for me — and depending on how this party goes, it could be pretty scary.
Get started with Google Workspace today and learn more about using Duet AI.