Chat
Upgrading from Google Hangouts to Google Chat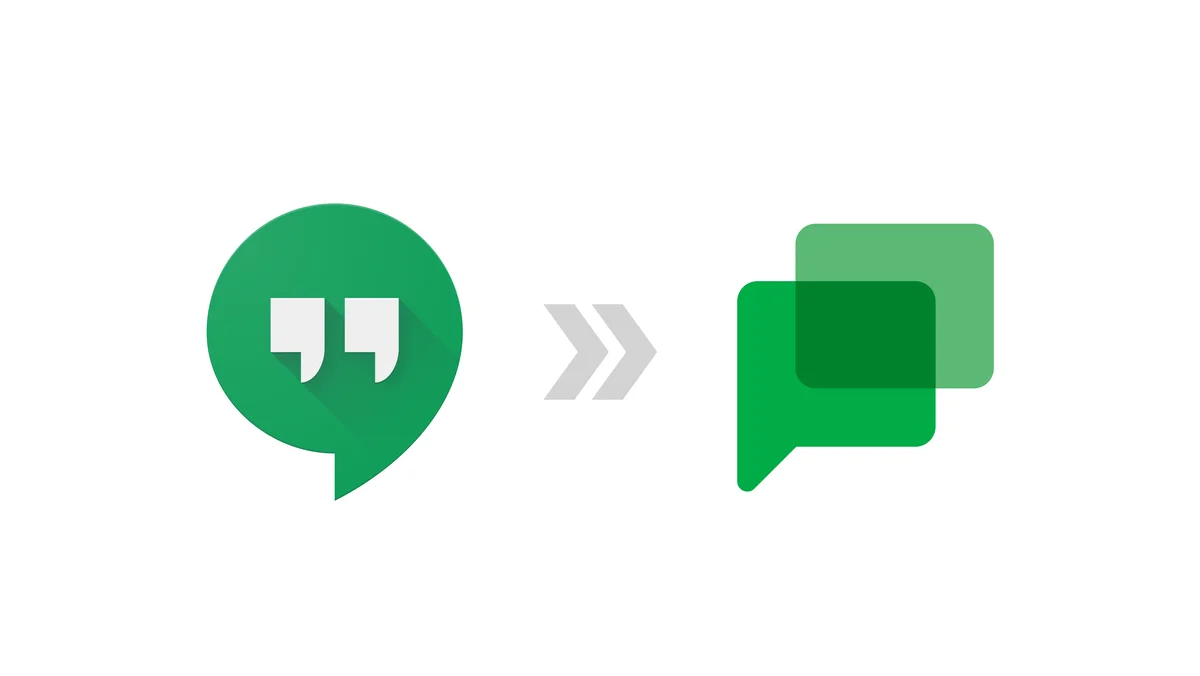 In October 2020, we announced Google Chat would be available for everyone. Since then, people could continue using Hangouts or upgrade to Google Chat — available as its own app or within Gmail — to take advantage of its modern features and integration with other Workspace products. We've continued to invest in Chat to help people better collaborate and express themselves, and now we're taking steps to help remaining Hangouts users move to Chat.
A better way to collaborate
Moving to Google Chat opens up new and better ways to connect and collaborate. For example, users can edit Docs, Slides or Sheets with side-by-side editing, making it easier to collaborate while continuing the conversation.
Google Chat also includes Spaces, a dedicated place for topic-based collaboration. Groups and teams can share ideas, work on documents, and manage files and tasks, all from a single location. And, the new integrated view in Gmail makes it easier to use Chat alongside your Gmail inbox, Spaces, and Meet.
Chat and Spaces are easily accessible within Gmail, making it easy to connect and collaborate.
Express yourself
Switching to Chat also makes expressing yourself more fun, whether you're using emojis with skin-tone selections, rich text editing to give your chats emphasis, @mentions to notify someone in the group or sending a GIF. Now everyone can find just the right way to chime in.
In Chat, people can express themselves easily with features like @mentions, emoji reactions and an integrated GIF picker.
Moving from Hangouts to Chat
Starting today, mobile users will see a screen asking them to upgrade from Hangouts to Chat in Gmail or the Chat app.
First, starting today, people using Hangouts on mobile will see an in-app screen asking them to move to Chat in Gmail or the Chat app. Similarly, people who use the Hangouts Chrome extension will be asked to move to Chat on the web or install the Chat web app. In July, people who use Hangouts in Gmail on the web will be upgraded to Chat in Gmail.
While we encourage everyone to make the switch to Chat, Hangouts on the web will continue to be available until later this year. Users will see an in-product notice at least a month before Hangouts on the web starts redirecting to Chat on the web.
For most people, conversations are automatically migrated from Hangouts to Chat, so it's easy to pick up where you left off. However, we encourage users who wish to keep a copy of their Hangouts data to use Google Takeout to download their data before Hangouts is no longer available in November 2022 by following these instructions. You can visit the Help Center for more information on the differences between Chat and Hangouts, the migration timelines, and why we recommend downloading your Hangouts data.
The future of Chat
Google Chat offers a modern and integrated experience in Google Workspace. We have big ambitions for the future of Chat, and over the coming months you'll see even more features like direct calling, in-line threading in Spaces and the ability to share and view multiple images. As we take this final step to bring remaining Hangouts users to Chat, we hope users will appreciate our continued investment in making Chat a powerful place to create and collaborate.