Make the most of hybrid work with Google Workspace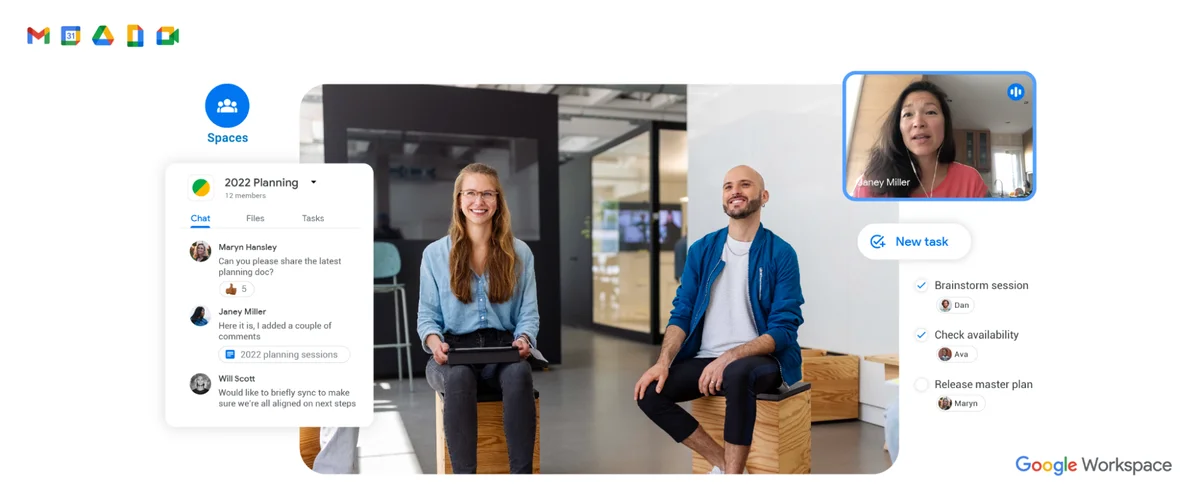 As Google's Productivity Advisor, I've spent a lot of time over the past 18 months advising people on how to be their most productive selves while maintaining their wellbeing and working from home. With hybrid work emerging as a new model for many of us, it's especially important to get the most out of each place you work.
In our recent Google Workspace Guide to Productivity and Wellbeing, I talked about how you can plan your days, and even create themes for them. For example, maybe Monday is your "ramp-up day" with lots of meetings and collaboration in the office, and Friday is your "consolidation day," when you work from home and cross things off your to-do list. The guide also gets into the importance of knowing your tools inside and out. With that in mind, here's a deeper dive on how to make the most of hybrid work with Google Workspace.
Participate from anywhere using Google Meet
Google Meet has a few new features designed especially for hybrid teams, so you can collaborate wherever you're working from — even if it's in a different time zone.
Add your location to meeting invites: When you're responding to a meeting invite, you can let everyone know whether you'll be attending from the meeting room in the office or if you're joining virtually. Knowing where people are located helps presenters set up the meeting so everyone can participate equally.
Use companion mode (coming in November): Hybrid meetings often feel like there are two different meetings happening — one in the office and one online. Companion mode lets you join a meeting in the office from your personal device, while using the audio and video systems in the physical meeting room. Companion mode also lets every in-office participant send chat messages, raise their hands for a question and vote on polls.
Start a Google Jamboard: A Jamboard is a virtual whiteboard that lets people brainstorm live with others. It's a great tool for hybrid collaboration and you can launch it directly in Google Meet.
Streamline collaboration with Spaces
Spaces (formerly Rooms in Google Chat) are a central place for teams to collaborate in Google Workspace. Spaces work with all the Workspace tools like Meet, Calendar, Drive, Docs, Sheets, Slides and Tasks.
Spaces allow people to work in real time on a project, or on their own when they have time. All conversations, context and content in Spaces are preserved for future reference, so team members can jump in and out of the project when it works best for them. This is a great way to organize your team's projects, so you can stay focused on what needs immediate attention while still making progress on group efforts.
Let people know your availability and location with Calendar
Google Calendar has been updated to meet the flexibility required for hybrid work. Working from home on Tuesday? Your Calendar now allows you to show where you will be working on specific days. You can also set your availability on specific hours of the day in Calendar, allowing you to block off periods to focus on your own projects or to take care of personal responsibilities.
Remember to take care of yourself
Remote work can sometimes feel like a deluge of meetings and notifications that never stop. And now, as many of us begin navigating hybrid work, here are a few ways to ease any pain points in the transition.
Find your focus: Meeting fatigue can be exacerbated by the fact that you have a little image of yourself on the screen during video meetings. You can turn that setting off in Meet so you can focus on presenters and their presentations.
Schedule speedy meetings: In the Calendar, you can change the default meeting from 30 minutes to 25 minutes. Or schedule meetings to end five to 10 minutes before the top of the hour. It might not seem like a lot of time, but it can often seem like an unexpected gift, letting people mentally reset before their next meeting.
Use Time Insights in Calendar: Time Insights in Calendar lets you analyze how much time you've spent in meetings over the last days, weeks or months. Understanding how you're allocating your time can help you plan ahead.
For more tips on how to optimize for hybrid work environments, visit our Workspace Support pages. And if you want to keep up with all the ways work is changing, our new Future of Work site can help.