We heart this: Behind in-meeting emoji in Meet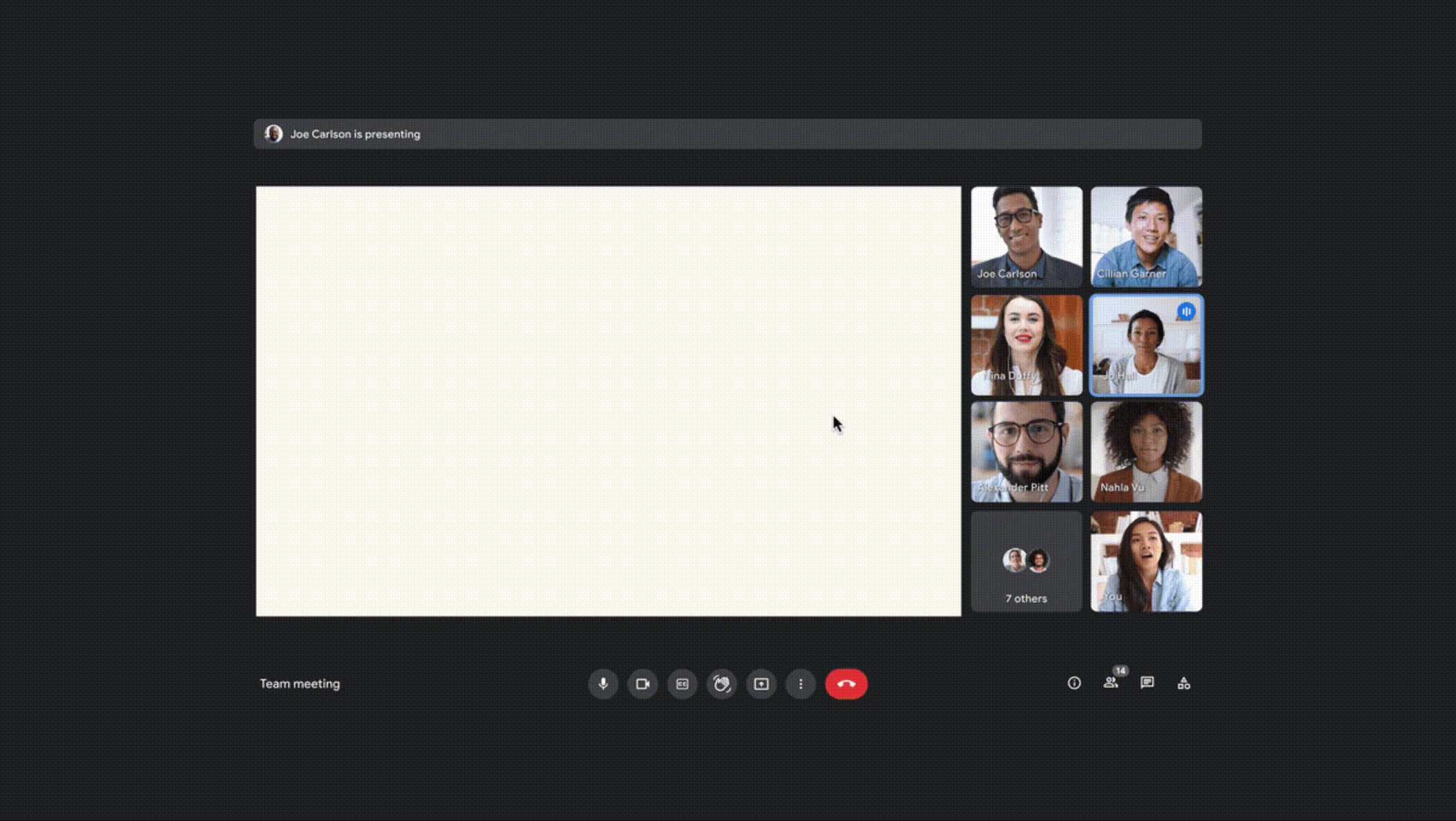 Carolien Postma is used to testing and retesting (and retesting) new features. She's a user experience (UX) researcher at Google, a role she describes as "making sure that whatever we build and create, that it actually creates value for our users and that it actually does what our users need it to do."
Over the past nine months, she's been part of the team testing the upcoming emoji reactions for Google Meet. "This release was about giving people an easy way to express their feelings and feedback in a way that helped everyone in a call feel more connected," Carolien says. "This was a fun one, too, because it's something I can point to that makes my work tangible!"
While the work was certainly fun, it was also important: Emoji help teams celebrate wins and offer support, and it's important they represent everyone. Because of this, there were plenty of research hours behind the project. Here are a few of the things Carolien and her fellow UX researchers on the team investigated, and how this work turned up in the final designs.
Emoji for all.
Carolien and her team worked hard to ensure choosing the right emoji was seamless. "We wanted to include emoji that are universally understood, and mean the same or similar things across cultures," Carolien says. Because other Google products use emoji and emoji reactions, they were able to take a look at this research to inform the new feature. You'll see that the experience is configured in a way that lets people easily give a thumbs up, clap or heart.
The whole idea behind emoji reactions is to foster a feeling of connection.
It's all in the timing.
Another design choice made as a result of testing was the emoji reactions' "rhythm." When Meet participants click an emoji, it floats up across the screen — and when multiple people do this, they all do so with specific timing. It took a while to determine what that timing looked like and felt like. "The whole idea behind emoji reactions is to foster a feeling of connection," Carolien says. "And we found that if the timing was off, the whole feeling of connectedness fell away." This research helped the design team settle on a timing that felt human instead of mechanic.
Nice place.
"We wanted emoji reactions to be expressive and convey emotions, and at the same time, not feel like they're taking over the call and distracting from the meeting," Carolien explains. The team tested how people reacted not only to the emoji popping up in their meetings, but also to things like where the feature was placed inside Meet calls. "We wanted to make sure it was easy for people to find and allow them to get to it quickly — so no one misses the moment!" In one iteration, Carolien says, the emoji bar was too close to the end call button. "We obviously didn't want someone to go send an emoji and hang up on their call, so we ended up moving it."
The pros of pros and cons.
While Carolien has been a UX researcher for more than 15 years, even she can be surprised by what testing can reveal — case in point, what her team found out about including so-called "negative" emoji reactions. "Initially we only had 'positive' emoji — like a smiley or a thumbs-up," she says. "But then we tested it more and we found that people sometimes need to use a 'negative' emoji — like a thumbs-down — to convey something."
For example, if someone in a call is describing a tough situation they're going through, a thumbs-up or smiley emoji might be seen as sarcastic, while a face with open mouth emoji 😮 could be seen as sympathetic to someone's struggles. Carolien and her team also found that positive emoji (like a thumbs up, or a heart) are used more frequently than negative emoji (a thumbs down), so they intentionally grouped the positive emoji in a way that makes them easy to get to, since people tend to use them more to show support or share kudos.
Emoji reactions in Meet are just part of the latest Google Workplace updates — in the coming weeks, Meet will be available directly in Docs, Sheets and Slides to facilitate collaborative working sessions, and inline threading in Spaces will help keep conversations organized and contextual. Be sure to check out the Google Cloud blog for everything that's new and coming soon.