Your hybrid meetings could be better — here's how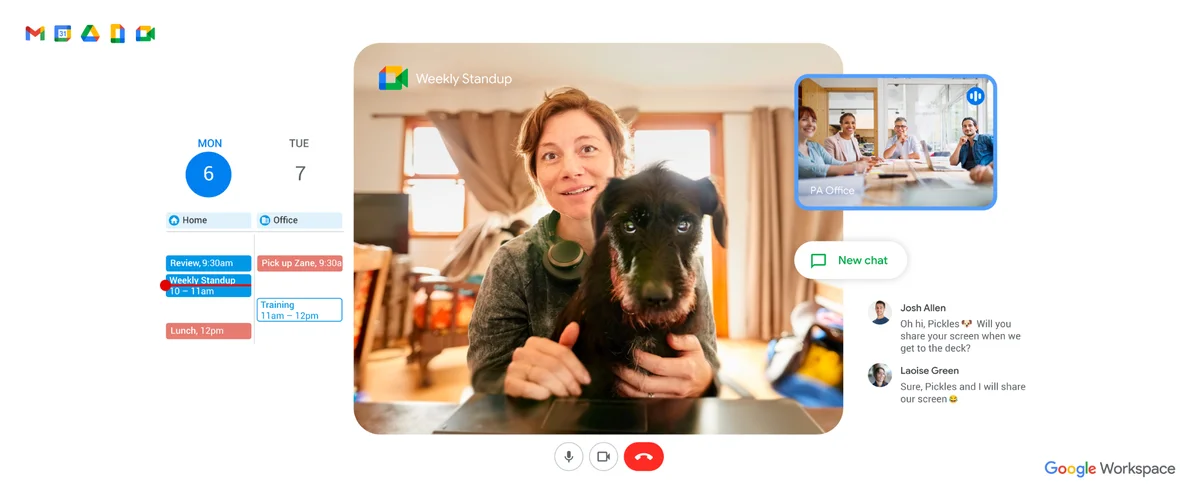 As we explored in a recent global survey we commissioned from Economist Impact, employees around the world are looking for new ways of working and connecting with each other and their organizations as remote and hybrid work models continue to evolve. Creating a blueprint for more inclusive and collaborative meetings can help teams feel more connected—wherever and however they work together.

Scheduling meetings
If you work with people in other time zones, then you know scheduling can be a logistical headache. At Google, we follow a few guidelines to optimize participation.
Share information for better scheduling: Encourage your team to add working hours, location and focus time into Calendars.
Only invite those who can contribute: If you aren't sure, invite less meeting-essential teammates as "optional."
Choose dates and times that work for more people: For teams in distant time zones, add other timezones to your calendar to schedule global meetings well in advance and discuss alternating host time zones for regular calls.
Add an agenda to the Calendar invite: Let people know at least 24 hours in advance what a meeting will be about — for example: "This meeting will be successful if we leave with four great ideas from the brainstorming session" — so participants can prepare. And don't forget you can schedule send the agenda to arrive right before the meeting or at the correct time for different timezone attendees.
Encourage RSVPing with location: Have attendees share whether they will attend "in a meeting room" or if they are "joining virtually" so everyone, including the organizer, knows what to expect.
Rotate facilitator and note-taker roles: Having team members alternate roles lessens the burden on one person and gives everyone a chance to participate more fully.

Prep with Spaces
Spaces is Google Workspace's central place for team collaboration. It works closely with tools like Gmail, Calendar, Chat, Drive and Meet so coworkers can digitally work on projects, share ideas and even connect on a personal level better. Participants can prepare for meetings by reviewing documents and presentations side-by-side and collaborate with questions and suggestions, with everything saved in Spaces for future reference.
Accessing content directly from Spaces can help meeting attendees stay up to date.
During the meeting
Good hybrid meetings shouldn't feel like two different conversations that happen in the room and remotely. To keep them feeling like a single inclusive experience, try the following:
Help virtual team members connect: Acknowledge when remote teammates join and use the first five minutes to connect. Some Google teams start by asking questions like "what was the best thing you ate this weekend?" or playing interesting YouTube videos.
Keep and share meeting notes: Notetakers can use a pre-populated notes Doc in the Calendar invite or even meeting recordings to share what happened with attendees and anyone who couldn't attend.
Collaborate with Companion mode: Google Meet's Companion mode can help everyone participate, no matter where they are. For people in the conference room, Companion mode turns off the video and audio on laptops so participants can use functions like chat, screen sharing, hand-raising, polls, host controls and more, while avoiding feedback with the conference room hardware. Additionally, team members can also enable captions and translations in their preferred language and view presentations up-close on their own device.
Foster inclusivity: Facilitators can make sure everyone feels heard by encouraging remote contributions, avoiding "in the room" side conversations and reminding mixed language teams to use translated captions.
Provide multiple ways to give feedback: Not everyone is comfortable speaking in a meeting, so make sure people know they can use the chat option, or try using the poll feature to engage everyone in offering input.
Use virtual rather than physical whiteboards: With Jamboard or the Jamboard app, remote attendees can also view and contribute.
Join Companion mode by selecting "Use Companion mode" under Other joining options.
After the meeting
Many of us have experienced meeting fatigue as our teams became more distributed during the last two years. But it's always crucial to make sure attendees feel like their time is well spent, and there are a few ways you can do that. For starters, try sending a follow-up note thanking attendees for coming, asking for feedback and sharing any notes, recordings, action items, and decisions. You can also post meeting assets to the relevant Spaces so absent team members can contribute. It's also a good idea to gather general feedback for recurring meetings — try polling people once a quarter using Google Forms, possibly anonymously — about how the meeting could be made more productive and inclusive.
Discover more tips and best practices
As hybrid meetings become the norm for millions of people, discovering and encouraging best practices that make meetings more inclusive is an essential part of the evolving future of work.
Discover more hybrid work tips and best practices on our future of work site.