The best hardware, software and AI—together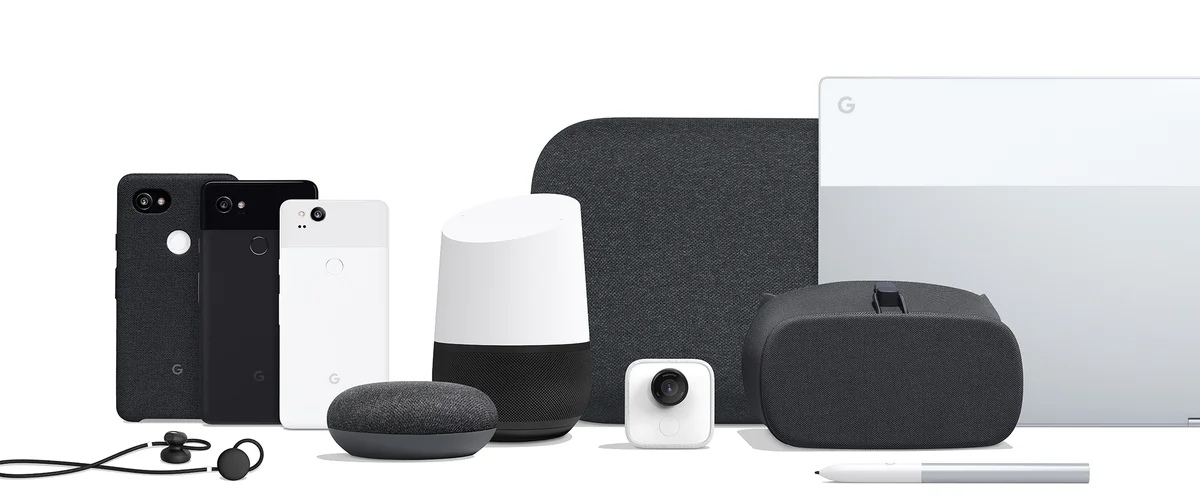 Today, we introduced our second generation family of consumer hardware products, all made by Google: new Pixel phones, Google Home Mini and Max, an all new Pixelbook, Google Clips hands-free camera, Google Pixel Buds, and an updated Daydream View headset. We see tremendous potential for devices to be helpful, make your life easier, and even get better over time when they're created at the intersection of hardware, software and advanced artificial intelligence (AI).
Why Google?
These days many devices—especially smartphones—look and act the same. That means in order to create a meaningful experience for users, we need a different approach. A year ago, Sundar outlined his vision of how AI would change how people would use computers. And in fact, AI is already transforming what Google's products can do in the real world. For example, swipe typing has been around for a while, but AI lets people use Gboard to swipe-type in two languages at once. Google Maps uses AI to figure out what the parking is like at your destination and suggest alternative spots before you've even put your foot on the gas. But, for this wave of computing to reach new breakthroughs, we have to build software and hardware that can bring more of the potential of AI into reality—which is what we've set out to do with this year's new family of products.
Hardware, built from the inside out
We've designed and built our latest hardware products around a few core tenets. First and foremost, we want them to be radically helpful. They're fast, they're there when you need them, and they're simple to use. Second, everything is designed for you, so that the technology doesn't get in they way and instead blends into your lifestyle. Lastly, by creating hardware with AI at the core, our products can improve over time. They're constantly getting better and faster through automatic software updates. And they're designed to learn from you, so you'll notice features—like the Google Assistant—get smarter and more assistive the more you interact with them.
You'll see this reflected in our 2017 lineup of new Made by Google products:
Assistant, everywhere
Across all these devices, you can interact with the Google Assistant any way you want—talk to it with your Google Home or your Pixel Buds, squeeze your Pixel 2, or use your Pixelbook's Assistant key or circle things on your screen with the Pixelbook Pen. Wherever you are, and on any device with the Assistant, you can connect to the information you need and get help with the tasks to get you through your day. No other assistive technology comes close, and it continues to get better every day.
Google's hardware business is just getting started, and we're committed to building and investing for the long run. We couldn't be more excited to introduce you to our second-generation family of products that truly brings together the best of Google software, thoughtfully designed hardware with cutting-edge AI. We hope you enjoy using them as much as we do.