Explore Kids Space: A way to nurture your kid's curiosity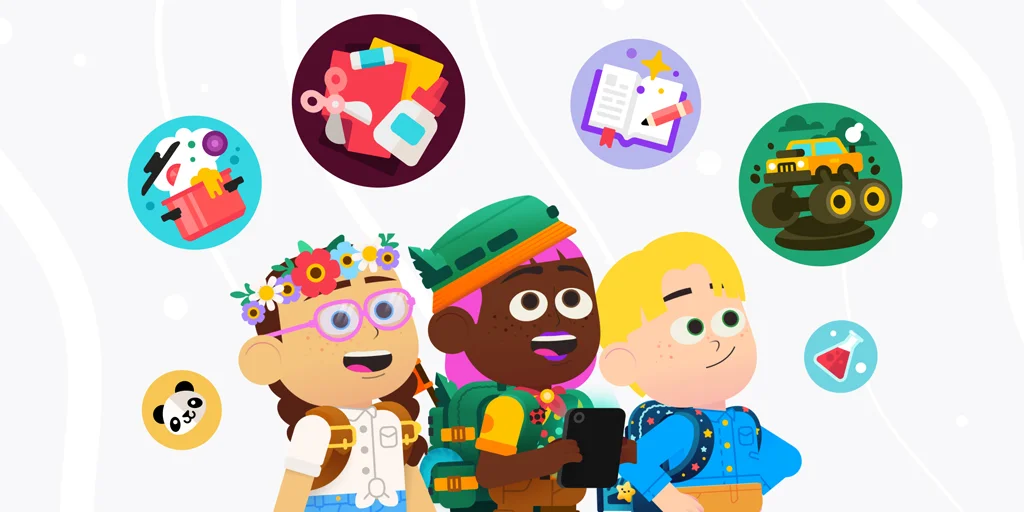 Parents have told us that they're constantly wrestling with the role of technology in their children's lives, and this is especially true for the many families who are spending more time at home. But kids are natural explorers and when they have access to great content, it can be a magical experience--they can read up on their favorite dinosaur, watch videos on how to bake a treat or discover new hobbies.
Family Link was created and built into our core products to give parents the tools they need to stay involved and help manage their child's online experiences, from setting screen time limits to content safety filters, privacy controls and more. But we've heard that parents want more than just parental controls; with so much content out there, they also need help finding things that are enriching and engaging for their kids. To help meet this request, we took a first step with the launch of a new kids tab in Google Play that helps parents easily find and pick "teacher-approved" apps for their kids.
Today, we're continuing to build upon these efforts with Google Kids Space, a new kids mode on select Android tablets that features apps, books and videos for your kids to explore, learn and have fun.* Kids Space will be available globally on certain Lenovo™ tablets first, including the new Lenovo Smart Tab M10 HD Gen 2, and will be coming to more Android tablets soon.†
Designed for nurturing your kid's curiosity and creativity
Kids Space is designed with your kid at the center of the experience and made for them to become explorers of the things they love. By selecting their interests, your kids will see new and engaging content to read, play and make. Kids can even customize their experience by creating their own character.
Kids Space features daily content recommendations, fun facts and silly jokes.

Pick and choose interests for a more customized experience. 

Build your own avatar to join in on the fun. 
Recommended library of free books, apps and videos 
To evaluate and select "teacher-approved" apps in Google Play, we worked with academic experts and children's education specialists to define rubrics. For Kids Space, we've built on that foundation and applied our quality standard to an ever-expanding library of apps and books in the Play and Read tabs. We worked with top publishers to make popular children's books free of charge, and have over 400 free books available in the U.S. alone. In the Watch and Make tabs, your kids can view creative and fun videos from YouTube Kids that are engaging and encourage off-screen activities. And if you're looking to customize even more, parents can download additional content from Google Play.
Access content that's age-appropriate, thoughtfully designed and fun or inspiring. 
Join us in our journey as we continue to create productive and healthy experiences for kids that adapt to the evolving world and needs of your family.
* Kids Space requires a Google Account for your child. Parental controls require the Family Link app on a supported Android, Chromebook, or iOS device. Books and video content not available in all regions. Video content subject to availability of YouTube Kids app. Books content requires the Play Books app. Availability of apps, books and video content may change without notice.
† Google Assistant not available in Kids Space.