New features to help keep kids and families safer and entertained with tech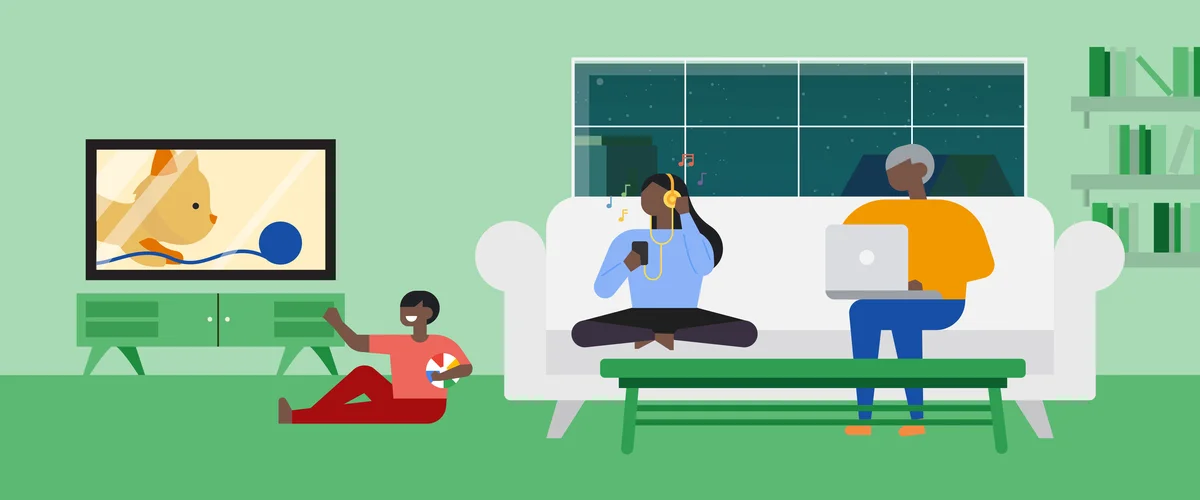 We've dedicated the last several years to creating products and services that have families in mind. Our goal is to allow kids of all ages to explore the best of what technology has to offer, in a safer way. We respect that each family's relationship with technology is unique, so we want to give parents the tools and flexibility they need to find the right balance for their families — while also delivering more age-appropriate experiences.
Today, we're updating Family Link and Google TV with experiences for parents and kids alike, to help families build healthy, positive digital habits together.
Family Link's new look and features
Over the last five years, the Family Link app on Android and iOS have been helping families stay safer online. Whether it's with your child's first Android phone or exploring content on YouTube and Google TV, we've provided parents with the tools to set screen time limits and guide children to age-appropriate content.
Based on parents' feedback, we redesigned Family Link to bring our tools to the forefront and make them easier to use. Across the Controls, Location and Highlights tabs, you'll find new experiences like "Today Only" screen time limits, alerts for when your children arrive and leave a location and recommended content from trusted partners around online safety.

For easier access, parents and their children can also access Family Link online in a new web experience. Stay tuned for these changes to start rolling out today and complete over the next few weeks.
More ways to explore content with Google TV
Google TV is an entertainment experience made for the whole family and its kids profiles are easy to use for kids of all ages. With the addition of managed watchlists, Google-powered kids recommendations and supervised accounts on YouTube, Google TV's kids profiles just got even more helpful.
Bringing recommendations and watchlists to kids profiles makes it easier to find the perfect shows and movies. Kids can easily browse top entertainment from their approved apps, and you can build a "must watch" list just for them from their TV and mobile device. And for parents with older kids who are ready to move on from YouTube Kids, their tweens can now use a supervised Google Account to start exploring YouTube on their Google TV kids profile. These updates will also start rolling out today and complete over the next few weeks.
Regardless of the brand or device, we believe you should be able to benefit from the same quality experiences. Whether it's for entertainment on Google TV or to help guide your child's online experience with Family Link, we hope you'll check out and enjoy these new updates on your devices.