When will Santa be here? Find out for yourself!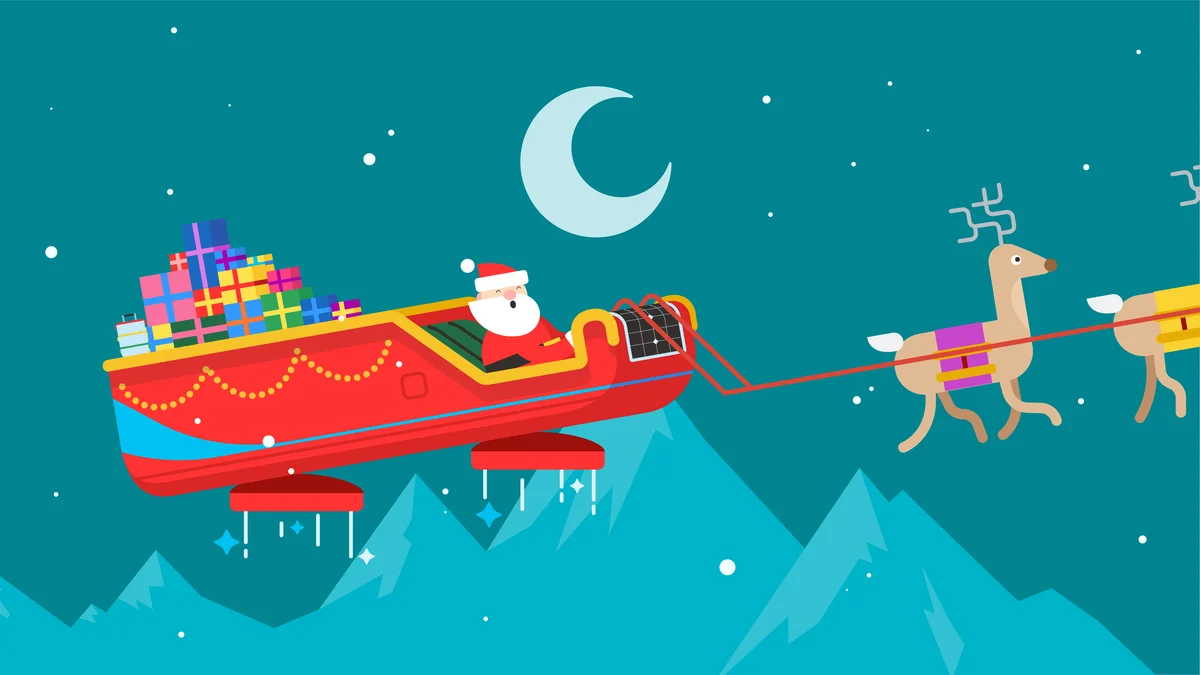 His boots are on, his coat is well-pressed and his reindeer are ready. Santa is about to start his annual worldwide tour—and you can follow along.
Take off time!
Have you ever wondered what happens right before Santa's hybrid sleigh takes off? This year, you'll get to see an exclusive video of the behind-the-scenes preparations. Join the elves while they mark the last lists, the reindeer as they warm up before the long flight, and Mrs. Claus as she helps Santa get ready for the big day!
Follow the map
Starting Dec. 24 at 2 AM Pacific time, when he heads to the first stop in far-eastern Russia a bit after 10 PM local time, everyone will be able to follow Santa's route around the world and toward their city. A live map will track the magic, showing Santa's location, moment to moment, along with photos of seasonal scenes from hundreds of Local Guides around the world. He and his reindeer will visit more than 400 locations, and the Santa Tracker will display how far they are from your town and how long it will take for them to get there. Santa is coming to town, and you'll know exactly when!
It's time for a bedtime story 
Need a little help winding down? Try reading our new bedtime story called "Ollie Under the Sea." This richly illustrated rhyming story follows a narwhal named Ollie on his quest for an underwater celebration. Mary Bear, a group of elves and some helpful sea friends will join your visions of sugar plums.
Invite Santa into your home
You can invite Santa into your living room by searching for "Santa Search" on your phone and clicking "View in 3D." He'll magically appear, rocking around your own tree, patio, or wherever you are! You might want to take a screenshot to prove that Santa made a pit stop at your home 😉.
The jolliest place on the internet
While you're visiting our village and tracking Santa, scroll down to check out the clumsy penguins, make some gingerbread friends, and even meet a friendly Yeti. Keep exploring, and you'll find some of the new surprises hidden around the village, including the newest game, Build and Bolt. Bring the family together and take turns with this new two-player game where you race to be the fastest gift wrapper. Ready, set, wrap! 
A final note… from your hosts! 
Real magic happens when we spend time together. Start the countdown with your family, read a bedtime story together, put a smile on your friend's face with a funny video or sing some carols with your loved ones. 
We're excited to spend a little time with you and your family as the holidays approach, and of course we also can't wait to watch Santa as his travels begin!