Meet David Feinberg, head of Google Health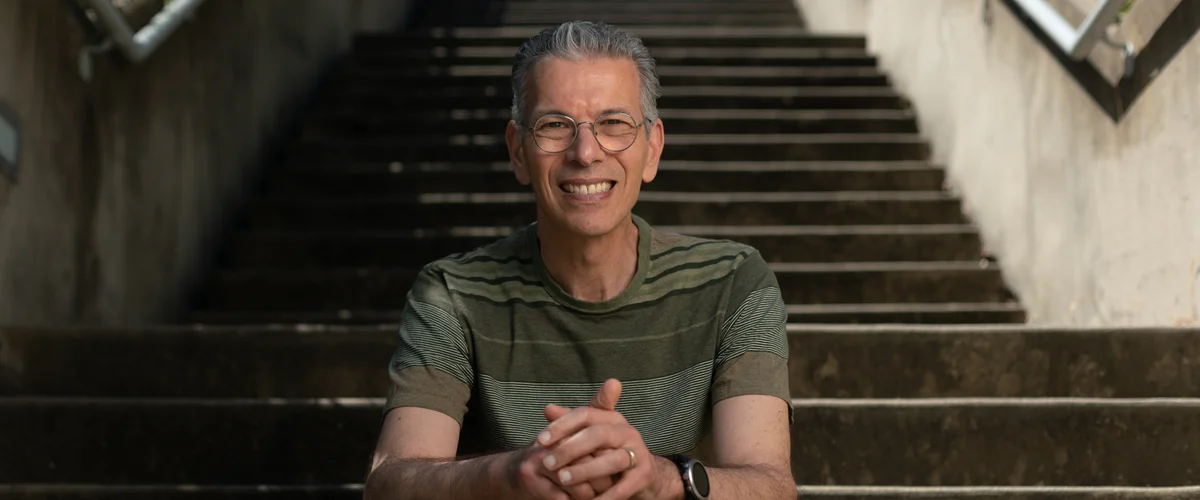 Dr. David Feinberg has spent his entire career caring for people's health and wellbeing. And after years in the healthcare system, he now leads Google Health, which brings together groups from across Google and Alphabet that are using AI, product expertise and hardware to take on big healthcare challenges. We sat down with David to hear more about his pre-Google life, what he's learned as a "Noogler" (new Googler), and what's next for Google Health.
You joined Google after a career path that led you from child psychiatrist to hospital executive. Tell us how this journey brought you to Google Health.
I'm driven by the urgency to help people live longer, healthier lives. I started as a child psychiatrist at UCLA helping young patients with serious mental health needs. Over the course of my 25 years at UCLA, I moved from treating dozens of patients, to overseeing the UCLA health system and the more than a million patients in our care. Then, at Geisinger, I had the opportunity to support a community of more than 3 million patients.
I recall my mom being very confused by my logic of stepping away from clinical duties and moving toward administrative duties as a way of helping more people. However, in these roles, the impact lies in initiatives that have boosted patient experience, improved people's access to healthcare, and (I hope!) helped people get more time back to live their lives.

When I began speaking with Google, I immediately saw the potential to help billions of people, in part because I believe Google is already a health company. It's been in the company's DNA from the start.

You say Google is already a health company. How so?
We're already making strides in organizing and making health data more useful thanks to work being done by Cloud and AI teams. And looking across the rest of Google's portfolio of helpful products, we're already addressing aspects of people's health. Search helps people answer everyday health questions, Maps helps get people to the nearest hospital, and other tools and products are addressing issues tangential to health—for instance, literacy, safer driving, and air pollution.

We already have the foundation, and I'm excited by the potential to tap into Google's strengths, its brilliant people, and its amazing products to do more for people's health (and lives).
I believe Google is already a health company. It's been in the company's DNA from the start.
This isn't the first time Google has invested directly in health efforts. What has changed over the years about Google's solving health-related problems? 

Some of Google's early efforts didn't gain traction due to various challenges the entire industry was facing at the time. During this period, I was a hospital administrator and no one talked about interoperability—a term familiar to those of us in the industry today. We were only just starting to think about the behemoth task of adopting electronic health records and bringing health data online, which is why some of the early projects didn't really get off the ground. Today we take some of this for granted as we navigate today's more digitized healthcare systems.

The last few years have changed the healthcare landscape—offering up new opportunities and challenges. And in response, Google and Alphabet have invested in efforts that complement their strengths and put users, patients, and care providers first. Look no further than the promising AI research and mobile applications coming from Google and DeepMind Health, or Verily's Project Baseline that is pushing the boundaries of what we think we know about human health. And there's so much more we can and will do.

Speaking of AI, it features prominently in many of Google's current health efforts. What's next for this research?
There's little doubt that AI will power the next wave of tools that can improve many facets of healthcare: delivery, access, and so much more.

When I consider the future of research, I see us continuing to be deliberate and thoughtful about sharing our findings with the research and medical communities, incorporating feedback, and generally making sure our work actually adds value to patients, doctors and care providers.

Of course, we have to work toward getting solutions out in the wild, and into the hands of the pathologist scanning slides for breast cancer, or the nurse scanning a patient's record for the latest lab results on the go. But this needs to be executed safely, working with and listening to our users to ensure that we get this right.

Now that you've been here for six months, what's been most surprising to you about Google or the team?
I can't believe how fantastic it is to not wear a suit after decades of formal business attire. When I got the job I ended up donating most of my suits. I kept a few, you know, for weddings.

On a more serious note, I'm blown away every day by the teams I'm surrounded by, and the drive and commitment they have for the work they do. I'm thrilled to be a part of this team.

What's your life motto?
I know this sounds cheesy, but there are three words I really do say every morning when I arrive in the parking lot for work: passion, humility, integrity. These are words that ground me, and also ground the work we are doing at Google Health.

Passion means we have to get this right, and feel that health is a cause worth fighting for, every day. We need humility, because at the end of the day, if we move too quickly or mess up, people's lives are on the line. And integrity means that we should come to work with the aim of leaving the place—and the world—better than when we found it.