HLTH 2023: Bringing AI to health responsibly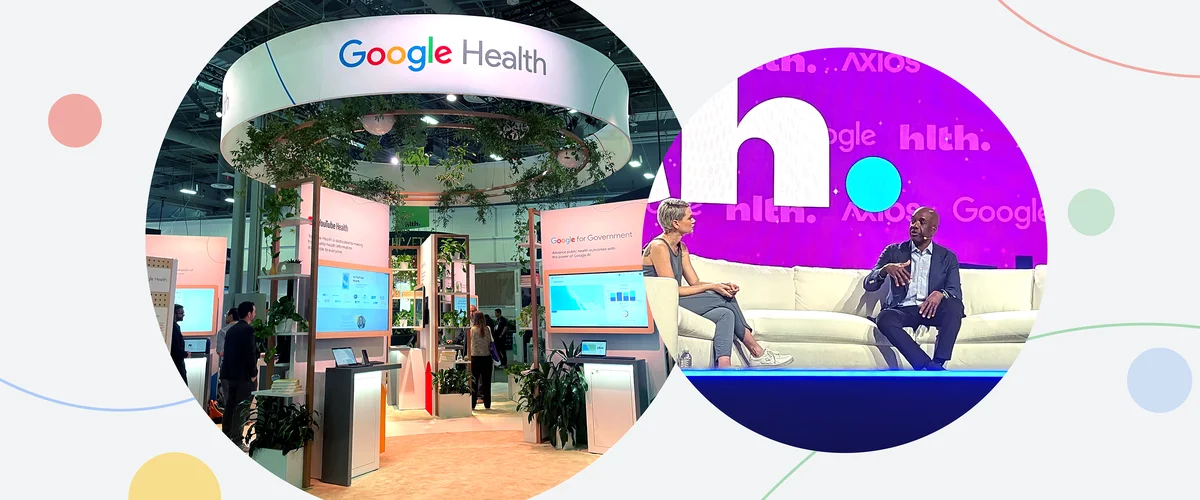 Health is a team sport, and so is AI. No one person and no one company will change healthcare alone. That's why our efforts at Google to improve the health of billions of people globally are centered around partnership. When we work together, we can do more, go faster and solve the right challenges for people and organizations.
It's also why this week Google Health is taking part in HLTH, a major industry event that brings together more than 10,000 people from across the industry to look at how we can build a healthier future for everyone, together. This year, everyone is talking about AI. And while we know that technology won't solve many of the challenges in healthcare, we also know that AI is the most profound technology we are working on right now. It's been top of mind as I've been talking to chief medical officers, healthcare CEOs, and boards of directors around the country over the past several weeks — and it's top of mind at HLTH this week, too.
But our work in AI is not new.
We have been using this technology across our products for years — from making sure the hundreds of millions of people who turn to Google with health questions every day find high-quality health information, to helping people monitor their heart rhythm on their watch or their respiratory rate on their phone. We've worked with partners like WHO to provide credible health information to millions. And our research teams have made rapid progress building medically-tuned large language models, like Med-PaLM and Med-PaLM 2, which reached expert-level performance on questions like those on medical licensing exams, and multimodal medical AI, which can handle not just text but also medical images like x-rays and other types of input.
Generative AI to support healthcare and life sciences
Patients' health records are sometimes scattered across multiple systems, making it difficult for healthcare workers to quickly find the information they need. Today, Google Cloud introduced new Vertex AI Search features for healthcare and life science companies to help users find relevant information over a broader spectrum of data types. Building on the tool's current ability to search many different kinds of documents and other data sources, the new capabilities will help organizations find accurate clinical information more efficiently.
Our bold and responsible approach
Alongside talking about how we are supporting the industry, our SVP of Technology & Society James Manyika took to the main stage at HLTH to highlight our bold and responsible approach to our work in AI and the principles that underpin how we operate.
He spoke about the transformative potential of AI to advance the health of people on a global scale, from supporting scientific breakthroughs to solving everyday problems for clinicians and people. The ingredients to make this possible include a breadth of expertise that informs our work from clinicians, computer scientists, researchers, health equity specialists and many more. We're continually challenging ourselves and asking: How can we maximize the societal benefit of AI, while also being responsible and assessing the risks?
To move research from the bench to the bedside James emphasized how partnerships are central to understanding what technology could and should do. Working hand-in-hand with partners will ensure AI has a beneficial impact on people and society, for example our partnership with iCAD to scale our mammography AI model to speed up breast cancer diagnosis globally.
Being bold doesn't mean moving fast. Being bold means doing big ambitious things that benefit people. We are not in a hurry but we are in a race to get it right.
Convening with industry experts
We know we are better when we partner together. And that when we put equity and inclusion at the heart of our work, we get solutions that work better for everyone.
Listening to and hearing experts' ideas, approaches and experiences from across the industry can help us all get it right and make sure AI happens with healthcare, not to healthcare. This is some of the thinking behind Google's Dialogues on Technology and Society series, which focuses on technology's impact, place in society, and our collective responsibility to get it right. In our latest episode, Greg Corrado, Head of Health AI at Google Research chats with the President of the Mayo Clinic Platform, Dr. John Halamka. They discuss the long-term potential of generative AI for health including the benefits, risks, considerations, and collaboration required to create a positive impact for everyone.