Group effort: How we helped launch an NYC vaccine site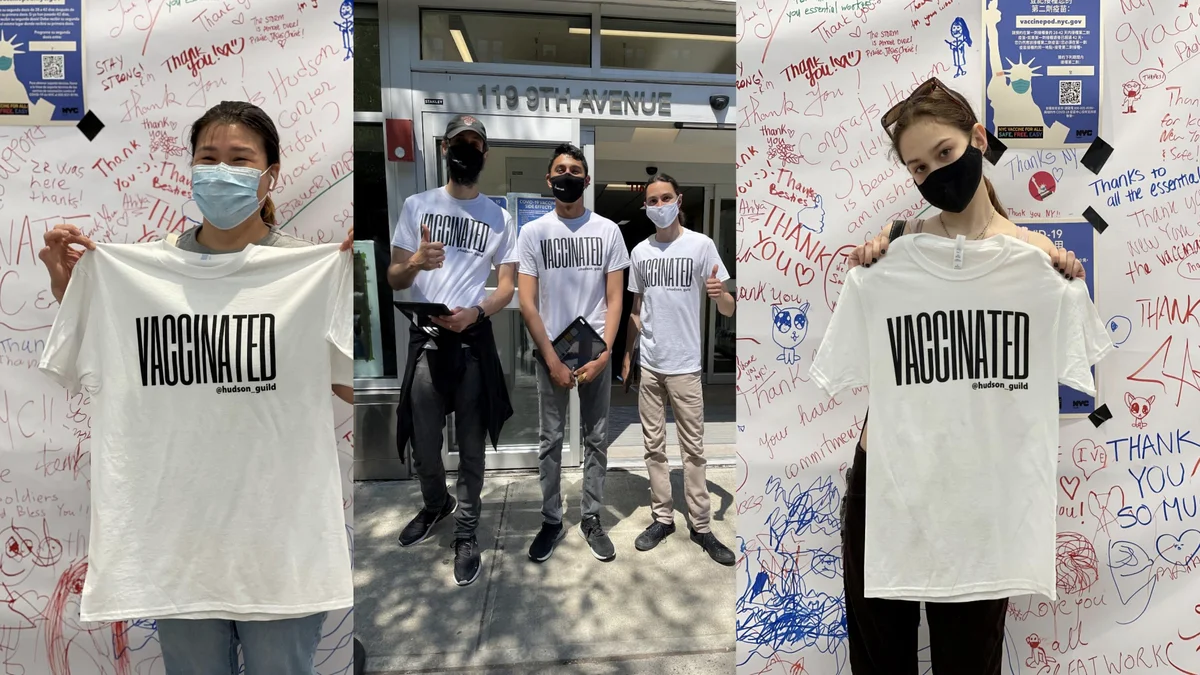 In March 2021, Google initiated a considerable project: helping to distribute COVID-19 vaccines to New Yorkers in the Chelsea neighborhood of Manhattan.
Google's New York City office is located in Chelsea, and the neighborhood is also the home to two New York City Housing Authority (NYCHA) developments, the Fulton Houses and the Elliott-Chelsea Houses. The city had identified NYCHA residents as hard-to-reach populations for vaccines — so to help, Google provided a total of more than $1 million in resources to the city to support more vaccine education and to Hudson Guild toward the creation of a local vaccination center.
"Google recognizes that equitable population vaccination is a complex problem to solve," says Dr. Karen DeSalvo, Google's chief health officer, "and we're committed to doing our part." That commitment led us to partnering with the Hudson Guild, a local nonprofit founded in 1895. Hudson Guild, which Google has worked with as a community partner for more than a decade, is a settlement house that serves 14,000 New Yorkers every year, mostly members of the Chelsea community. The nonprofit has a special relationship with local residents, and organizers and volunteers have taken their grassroots, one-on-one approach to make sure residents have the information and support they need to get vaccinated.
"The reputation you have in the community means everything. Residents who were very hesitant to get the vaccines eventually came around because we took the time to explain the science, give them reliable information and build trust," says LeeAnn Scaduto, Hudson Guild's chief operating officer.
From left to right: Googlers Connie Choi, David Goodman, Dale Allsopp, Duncan Wood, Hudson Guild's Daisy Mendoza, Googlers Wenjie Sun and Thomas Coleman
"We've been able to be a consistent force in the neighborhood," says Daisy Mendoza, director of community building for Hudson Guild. She says the team has walked the streets of the communities daily, knocked on doors, made phone calls and even stopped by local businesses to encourage owners and workers to get vaccinated. "The residents see us everyday and know we care about them," Daisy says.
Googlers got involved in this grassroots effort, too — knocking on doors, helping in the registration efforts and serving as translators to help the vaccination site get up and running. "Many people were still isolating at that time," says Stavroula Maliarou, a program manager at Google who helped organize the volunteer efforts. "There was a fear of being close to people who could potentially be sick. But so many Googlers showed up to help in any way they could. We know this community — and we knew they needed our help, especially at that moment."
Of course, there were challenges. The Hudson Guild organizers said they've had to combat vaccine hesitancy and residents' lack of access to technology. But they've overcome these obstacles thanks to relying on community volunteers and Hudson Guild staff to share information in plain language, dispel misinformation and make the vaccination process as simple as possible for recipients.
Since April 7, 2021, Hudson Guild's Fulton Vaccine Hub, funded in part by Google, has helped vaccinate 21,250 people, 1,700 of whom are NYCHA residents. The vaccination site has been so successful it was initially extended to October 2021, and then extended indefinitely to continue bringing vaccines and boosters to the local neighborhood.
"Without Google's help, this isn't something we would have been able to do — this isn't our area of expertise," LeeAnn says. "Google gave us the opportunity to be part of the solution in a really meaningful way for our community. This allowed us to really find a solution that worked."
If you're interested in learning more about Hudson Guild and helping those who live, work or go to school in Chelsea and the west side of New York City, with a focus on those in need, visit hudsonguild.org.