Mental health resources you can count on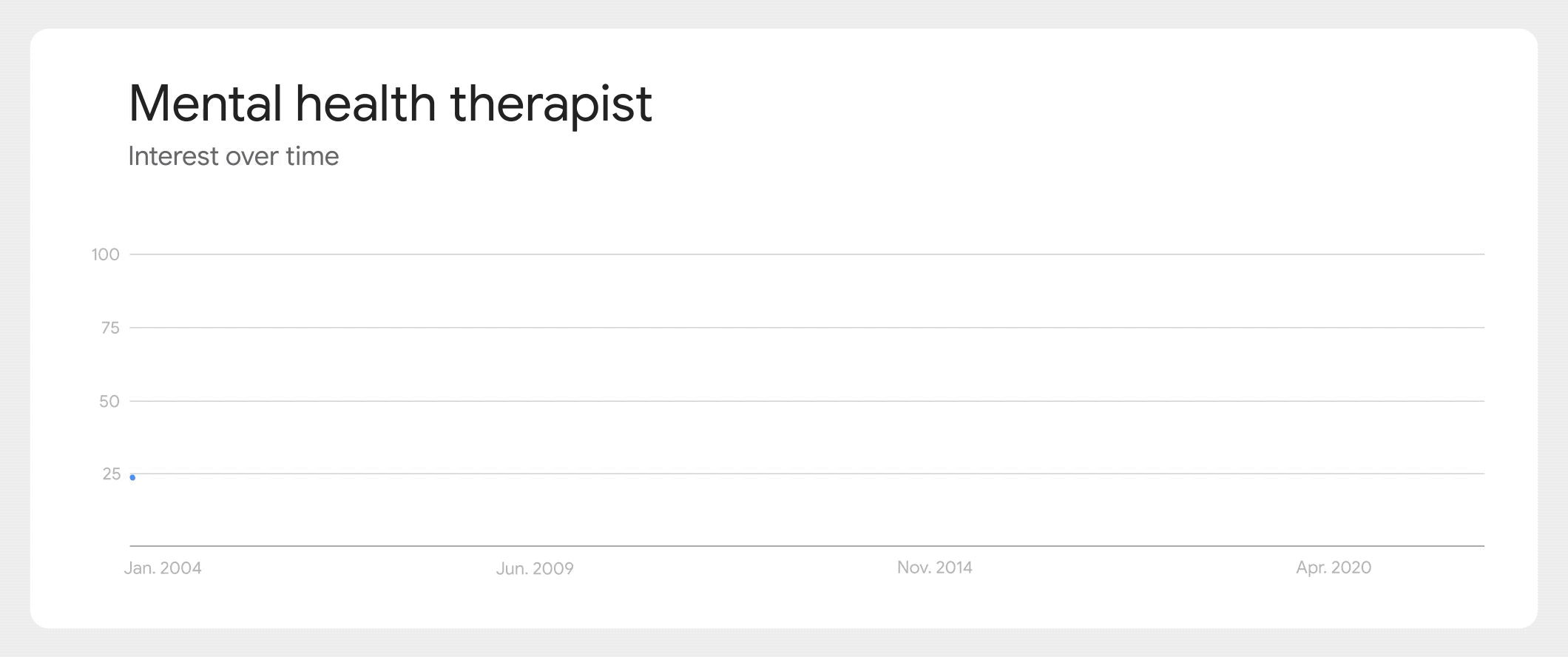 When you or someone you care for is going through a mental health situation, it can feel isolating, overwhelming and distressing. To get through those moments, access to the right resources can make all the difference.
Anxiety and depression increased by 25% across the globe during the first year of the COVID-19 pandemic, and hospitals and doctor groups recently called mental health a national emergency for adolescents. With these issues on the rise, searches for "mental health therapist" and "mental health help" reached record highs this year in the U.S.
Against the backdrop of the global pandemic, geopolitical crises and economic concerns also hit home for many Americans. To help support mental health challenges stemming from these issues, our goal is to surface authoritative information you can trust, create access to helpful resources you need in the moment and show empathy for everyone facing mental health issues. So in recognition of Mental Health Awareness Month in the U.S., here are tools built to support you when you need it most.
Resources for those in crisis
We know that many people turn to Search to get actionable information during a personal crisis, whether it's related to suicide, sexual assault, substance abuse or domestic violence. In the coming weeks, we'll update Search to use our AI model MUM to automatically and more accurately detect personal crisis searches in order to show you the most relevant information when you need it.
We've also made it easier to access clinically-validated mental health self-assessments from Search for conditions such as depression, anxiety, postpartum depression and post-traumatic stress disorder (PTSD). These self-assessments, frequently used by medical professionals, are meant to help people understand how their self-reported symptoms might map to known mental health conditions.
On YouTube, updates to our crisis response panels better connect you with timely and important resources. For years, YouTube has shown crisis resource panels on certain search queries to connect people with local organizations that can help them through a moment of critical need. Now, crisis resource panels appear on the Watch Page and in search results. The number of topics that display crisis resources in YouTube search results has also expanded to include issues like depression, sexual assault and substance abuse.
In the past month, searches for "local drug rehab centers near me" reached an all-time high in the U.S. As part of our ongoing commitment to help people find useful and accurate information related to addiction and recovery and to support the newly instituted Fentanyl Awareness Day, our Recover Together resource has a new section. Here you can find more information about the prevalence of fentanyl in illegally-made pills and the importance of naloxone, a legal drug that can reverse overdose from opioids like fentanyl, heroin, morphine and oxycodone.
Building empathy and reducing stigma
Sharing stories about mental health can normalize the issue and reduce stigmas that deter people from getting help. Working with the National Alliance on Mental Illness, YouTube created a guide for creators with tips on how to speak from personal experience, work with experts and use inclusive language.
To listen to supportive community stories and helpful information on mental health, you can watch videos in this playlist on YouTube. For younger audiences, the YouTube Kids app features mental health content on expressing emotions and building coping skills through music, art and more. For more on what YouTube is doing when it comes to mental health, check out this blog.
Personal moments of managing stress
In moments when you need a hand managing your stress levels, Fitbit can help. Select Fitbit devices include a Relax app for deep breathing or an EDA (electrodermal activity) sensor so you can better understand how your body responds to stress — which is especially important as we all cope with the stress of the pandemic. From there, you can take steps to adjust your activity levels, improve your sleep or practice mindfulness to help manage the impact on your wellbeing.
Over the past year in the U.S., searches for "5 minute meditation for anxiety" more than doubled. Using Google Assistant, you can find and play meditations from Calm on your Google Nest display to help relax during the day or fall asleep at night. Just say, "Hey Google, show me meditations from Calm" or "Hey Google, start a meditation."
Contributing to community wellbeing
Beyond providing resources to people using our products, we're also helping organizations and researchers that contribute to mental health.
Since 2019, we've provided $2.7 million and nearly 30 Google.org Fellows to help The Trevor Project use AI to support LGBTQ+ youth in crisis. Most recently, Trevor and a team of Fellows built the AI-powered Crisis Contact Simulator (CCS) that lets volunteer trainees practice realistic conversations with digital youth personas. The Trevor Project recently introduced a new persona to expand their counselor training.
Ask for help when you need it
It is always okay to ask for help — whether that's going to Google or YouTube with questions you're not comfortable asking anyone else or opening up to your friends and family or connecting with experts who can help you through the difficult moments. We need to support each other however we can.