Google for Brazil: expanding access to technology and information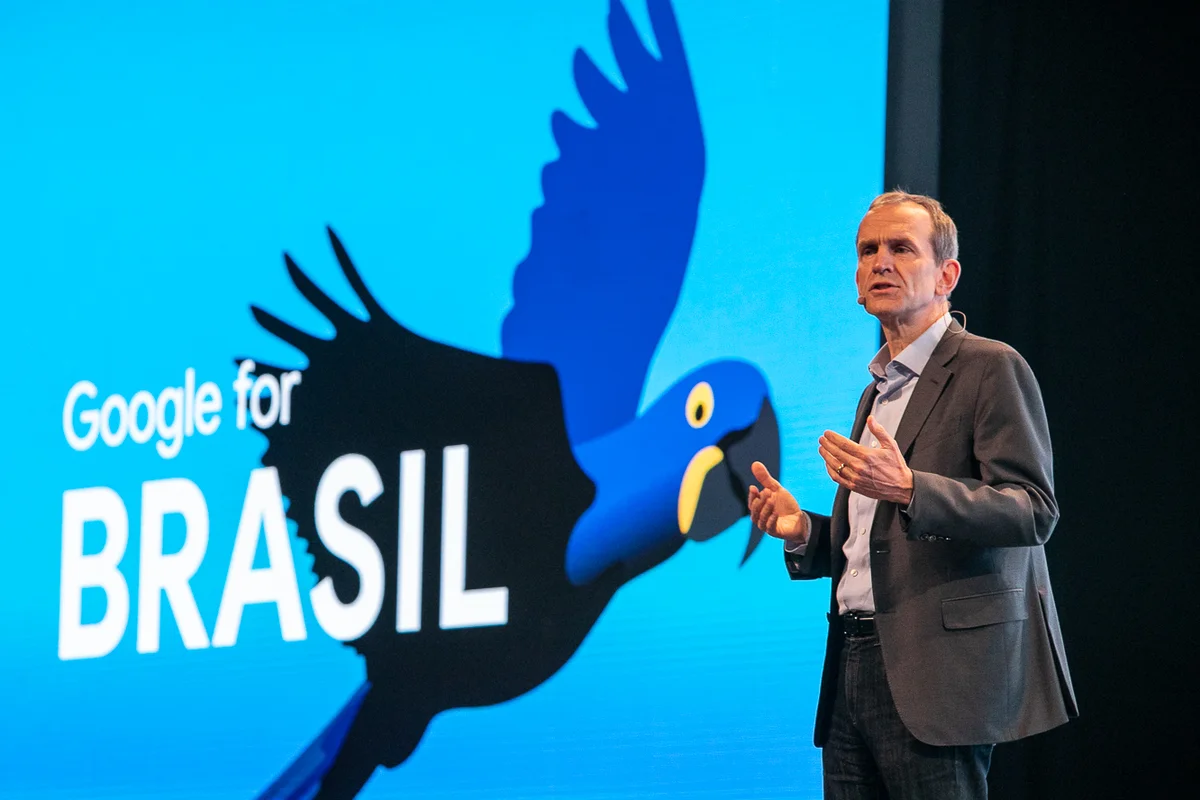 Access is at the core of everything we do at Google, going back to our mission statement. Without access to a decent internet connection or digital skills, people can't use technology to make their lives easier.
With that in mind, we made a series of announcements today at our annual Google for Brazil event in São Paulo to help Brazilians get more out of the internet, ranging from fast and free Wi-Fi hubs to educational programs. And as part of our commitment to responsible innovation, we also shared how we're building privacy and transparency tools into our products to give people clear, individualized choices around how their data is used.
Google Station arrives in Brazil
Google Station aims to connect people to a fast, free and open internet. We have 80 locations up and running in public squares, parks and train stations across São Paulo already, thanks to our partners America Net and Linktel and our first sponsor, Itaú. We plan to keep working with partners to launch hundreds more Google Station locations across Brazil by the end of 2020.

Privacy for everyone
As our technology evolves, so do our privacy protections to ensure that people have control over their data. Today, two new privacy tools went live in Brazil, where people can now use Android phones as security keys, adding an extra layer of protection to their information. They can also check how data is being used in Maps, Search and the Assistant, by accessing the apps menu and choosing the option "Your data in …" There, you can review and delete your location activity in Maps or your search activity in Search. Soon, the same feature will be accessible on YouTube.
Auto-delete controls for Web and Apps Activity are also now available globally, allowing people to easily manage the amount of time their data is saved. Choose a limit—3 or 18 months—and anything older than that will be automatically deleted on an ongoing basis. Auto-delete controls are coming soon to Location History. And Incognito Mode for Maps and Search is coming later this year.

Strengthening the news ecosystem
To connect people with high-quality information and news, we're working closely with journalists and publishers. Here are three ways we're helping to fuel innovation in journalism in Brazil and Latin America:
Google News Initiative grants will support training programs and events for Brazilian journalism associations, including continued funding for Comprova, a coalition of more than 20 news organizations to combat misinformation online.
We put out a call for applications for the first GNI Innovation Challenge in Latin America, an initiative to fund projects that bring new ideas and sustainable business models to digital journalism. We'll fund proposals with up to one million reais. Registration is open until July 22.

We're starting an incubation program for journalism startups, in partnership with Google for Startups Campus São Paulo. The Digital Native News Incubator will support early stage teams with products, tools, and mentorship as they build their organizations.
Waze for Cities
Now all Waze for Cities Data partners can store data for free via Google Cloud and access best-in-class tools including BigQuery and Data Studio. This will enable Waze's city partners to access historical data, conduct data analysis, and create visualizations, making it even easier to see mobility patterns and make better planning decisions. 
This new integration with Google Cloud is just the latest offering in our Waze for Cities suite of mobility solutions, which includes:
Waze Beacons, which powers navigation in tunnels.
Waze Carpool, which empowers people to share their cars and eliminate traffic.
Voice and helpfulness
Brazilians love using their voices to get things done on their phones. The Assistant in Portuguese has been around for almost two years, and Brazil is already among the top three countries in active users. Brazilians will soon have another way to keep the conversation flowing—local tech company Positivo is set to roll out a smart feature phone running KaiOS, with an Assistant button. It's an entry-level device that can help you through the day, using voice to search, send messages and much more. Positivo is also introducing a new line of devices like lamps, plugs, cameras and alarms that can be controlled by voice, another example of how the Assistant can serve as the backbone of a smart home.
We're also partnering with developers and brands to build relevant Actions. One example is Galinha Pintadinha, a popular Brazilian content creator for families, which launched a set of news games that revive our childhood with traditional plays like "freeze dance". Starting today, experiences like this will also be available on entry-level Android Go phones.
Media literacy, digital skills and more
Navigating the deluge of information online can be challenging. A Google.org grant of 4 million reais is going to Palavra Aberta Institute to create EducaMídia, media literacy program which will help Brazilian teachers and students develop skills to distinguish online misinformation from reliable content.
In addition, a 4.5 million reais grant for Junior Achievement Brazil will fund 2,000 scholarships for the IT Support Professional Certificate, an online training program developed by Google and hosted on Coursera. Through the grant, we will prepare young Brazilians from underrepresented communities to become the next generation of IT Support Specialists, and help connect them with potential local employers upon completion.
Change the Game, a Google Play initiative to support and empower women as game players and creators, is also coming to Brazil. We'll ask women to submit ideas for games, and together with partners we'll help develop and launch two winning projects. We'll also offer training for 500 young women who want to make their mark in the mobile gaming world.

Speaking of games, the Women's World Cup is upon us. Whether you call it soccer, football, futebol or fútbol, you can keep up with all the action in this year's tournament in France using Google tools such as Search and the Assistant.
Last but not least, we pulled back the curtains on a retrospective for one of Brazil's most celebrated artists, Cândido Portinari. After "Faces of Frida," "Portinari: Painter of the People" is the second large collection dedicated to a Latin American artist on Google Arts & Culture.
We feel privileged that people turn to Google for help in their daily lives. We're doing our best to match that trust with responsible innovation that serves people everywhere, wherever they may be.