One researcher's take on Google's mentorship program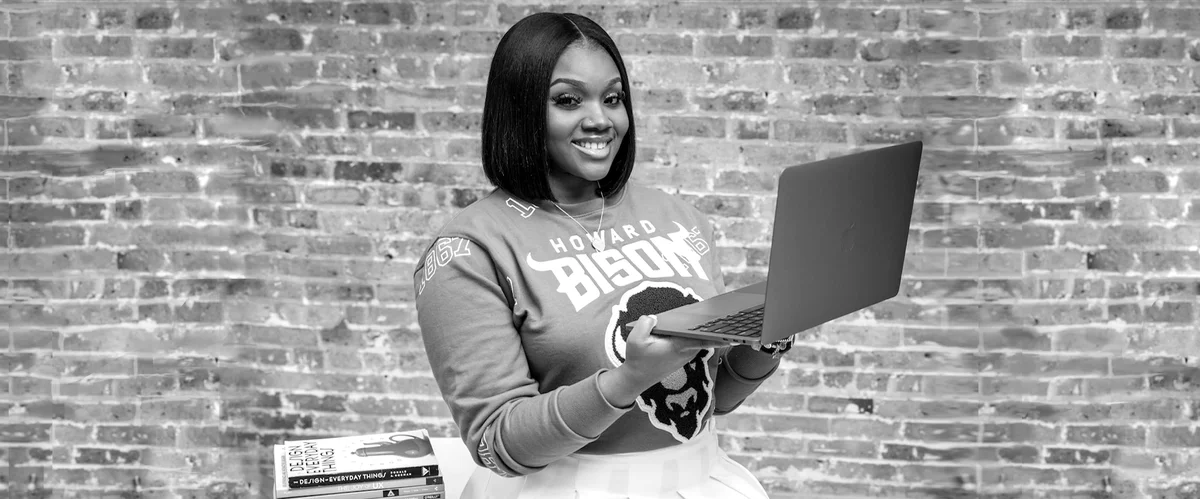 As a sophomore at Howard University, Leslie Coney discovered what would soon become her "superpower" while she and a friend were washing their hands in the bathroom. Attempting to use the hand dryer, they noticed it worked without issue for Leslie, but not for her friend, who had darker skin. Leslie shared this experience with a professor, who introduced her to the field of Human-Computer Interaction (HCI), the study of how humans interact with technology.
Leslie started questioning who was actually considered when designing, building and testing technologies. This kicked off her computer science (CS) research journey in Human Centered Design and Engineering, specifically exploring how Black people can influence and are impacted by technology.
Today, Leslie is a PhD student at the University of Washington with a focus on Black maternal health. She's also a recent graduate of Google's CS Research Mentorship Program (CSRMP). Through mentorship and peer-to-peer networking, CSRMP supports undergraduate and graduate students from historically marginalized groups pursuing computing research. The program aims to increase the diversity of PhD graduates in computing-related fields and ensure the broader community of CS researchers includes the experiences, perspectives and concerns of people worldwide. Since 2018, CSRMP has hosted more than 730 students across more than 230 institutions. And our next class of nearly 300 students starts in just a few weeks.
Reflecting on her CSRMP experience, Leslie shared more about its impact on her career and her advice for future participants.
How did you get into the research field?
I focused on building community, seeking guidance from my professors and taking advantage of as many resources as possible both on and off-campus. For example, I received funding through Google's Conference Scholarships program to attend conferences like Tapia and Grace Hopper Celebration, where I connected with other Black women researchers.
How did CSRMP prepare you for the next step in your research career?
My mentor helped me think critically about my research interests and what makes a program and advisor a good fit for me. He encouraged me to ask the tough questions when figuring out where I could be most successful in graduate school. He also helped me better understand what rigorous research looks like in academia and what to expect as a PhD student.
Were there any challenges you had to overcome during your time in CSRMP?
I wasn't the most comfortable in my pod at first, given that I was the only Black woman in the group. My experience at a Historically Black University influenced me to focus my research efforts on the Black community — which was something I was proud of but nervous to share with folks who aren't Black. There is an unnecessary pressure placed on researchers from marginalized groups to validate why centering marginalized experiences is sufficient and valuable. However, my CSRMP mentor and podmates reaffirmed this decision and supported my pursuit. Also, there are very nuanced experiences in academia that are specific to Black women, and while my mentor couldn't fully prepare me for them, he still encouraged me to seek relationships that could close that gap.
You just published your first piece! Tell us about it.
Yes, I did! My article, "Why you being WEIRD to me?: reflections of a black researcher on WEIRD-ness in HCI," started out as a final assignment last fall. I was tasked with writing about common threads throughout readings on diversity, or the lack thereof, in HCI. Afterward, a peer and fellow Black woman researcher invited me to write something for the next edition of the Association for Computing Machinery XRDS series. Writing the paper was so much fun — I got to exercise my critical thinking muscles, incorporate cultural references and prioritize accessibility so people outside academia could engage, too.
What advice do you have for students who are underrepresented in CS research and getting started in this field?
More likely than not, you gravitate toward your lived experiences. So be confident in your identities and take advantage of programs like CSRMP to help you back up those lived experiences with practical knowledge. Next, treat the graduate school application process like dating — once you're accepted, the ball is in your court to decide whether or not that program is a good fit for you. You have to be sure that you will feel safe and supported being yourself and conducting your research. Lastly, pace yourself and have fun! A PhD is a long commitment, so be sure to find a balance between work and play.
Congratulations to all the students who graduated from CSRMP in the first half of 2022. We look forward to supporting future students like Leslie, who are taking charge in computing research. Applications are now open for the January 2023 mentorship cycle — spread the word and apply by October 26, 2022.