A first look at Project Starline's new, simpler prototype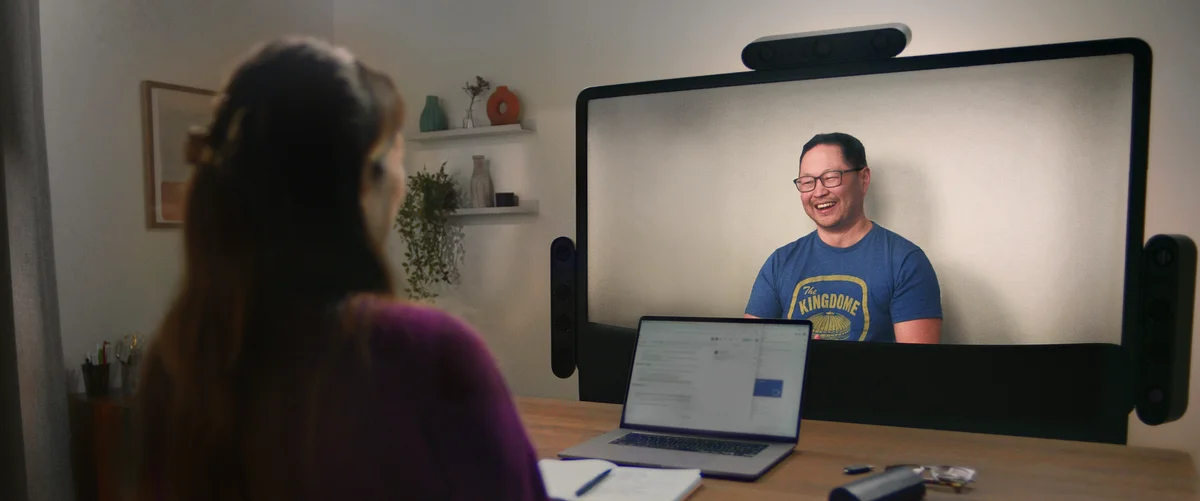 In 2021 we introduced Project Starline, a technology project that helps people feel like they're together — even when they're cities (or countries) apart.
Project Starline works like a magic window where you can talk, gesture and make eye contact with another person, life-size and in three dimensions. The system uses advanced AI to build a photorealistic model of the person you're talking to, and projects that onto a light field display with a unique sense of volume and depth. The result is a lifelike image of the other person as if they were right in front of you.

We want to help more people around the world share, collaborate and connect. So today we're unveiling our newest prototype, which has a simpler design to fit more spaces.
Our new prototype got smaller thanks to advancements in AI.
A simpler prototype, enabled by AI
Our earlier Project Starline prototypes took up an entire room, requiring complex hardware such as infrared light emitters and special cameras to create a live 3D model of the person you were talking to. While the results were impressive, the size and complexity of the system made it challenging to bring to many of today's offices.
So for our latest prototype, we developed new AI techniques that only require a few standard cameras to produce higher quality, lifelike 3D images. Thanks to these advancements, our prototype now resembles a more traditional video conferencing system — going from the size of a restaurant booth to a flat-screen TV — that's more deployable and accessible.
Video format not supported

Gif of two people having a virtual meeting on Project Starline. The person in the foreground is gesturing to the person on screen, who is wearing a blue suit and smiling.

Video format not supported

Gif of a woman in a purple sweater revealing her pregnant stomach. The person on the screen is wearing a blue t-shirt and cheering.

Video format not supported

Gif of two colleagues having a virtual meeting on Project Starline. The person on the screen is wearing a black sweater and gesturing.
Early feedback from our partners
As part of our early access program, we've shared these new prototypes with Salesforce, T-Mobile and WeWork — gathering real-world data on how Project Starline can help distributed workforces stay connected.
So far, we've seen promising results that Project Starline helps build stronger personal connections, reduces meeting fatigue and increases attentiveness. "Trust and innovation are at the heart of Salesforce's values," says Andy White, SVP of Business Technology at Salesforce. "Project Starline has the potential to help create authentic and immersive connections that foster deeper relationships with both our employees and customers, enhance trust and transparency, and drive productivity and efficiency."
With Project Starline, we're getting closer to a world where distance is no longer a barrier to connection. Our newest prototype is our latest step toward this goal — allowing us to help more people feel connected, no matter where they are.