7 ways Google Health is improving outcomes in Asia Pacific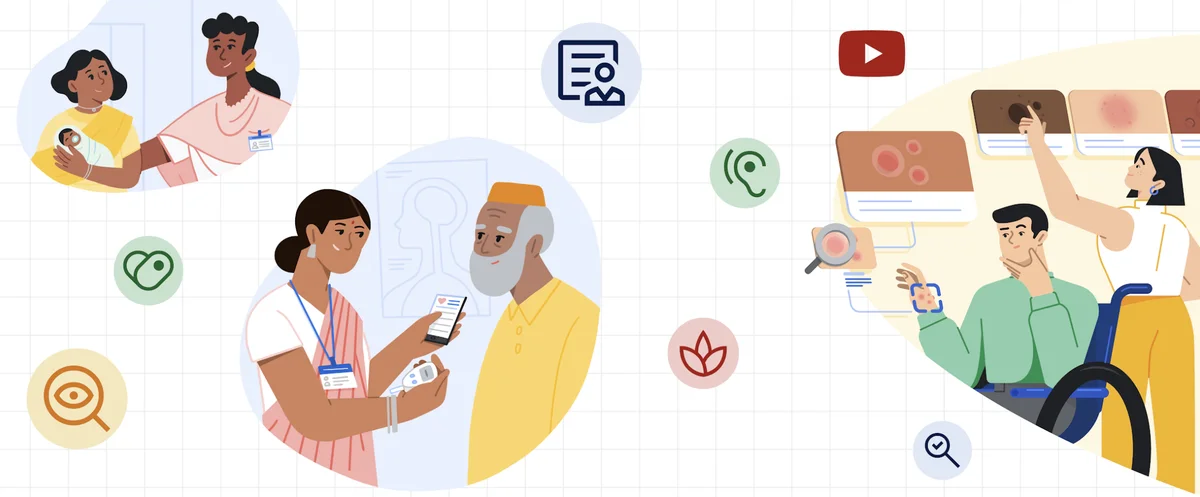 Knowledge is key to maintaining good health— so we take seriously our responsibility to make health information more accessible for individuals, caregivers, and communities around the world. In Asia-Pacific, the diversity of cultures, languages, and healthcare systems means it's critical to do this in collaboration with local organizations.
Here are seven ways we're partnering with experts to create health solutions in the region.
Providing authoritative health content on YouTube
The YouTube Health mission is to make authoritative health information both more accessible and engaging. Last year, we added health source information panels and health content shelves to help people more easily navigate and evaluate credible health information. These features make it easier to find relevant videos from a range of sources in local languages, and are available in partnership with local health organizations across the region— including Japan, India, Indonesia and Korea.
Expanding access to diabetic retinopathy screening in India
There are more than 220 million people with diabetes in Asia-Pacific, with a third at risk of developing diabetic retinopathy— an eye condition that can cause vision loss if left untreated. Using our Automated Retinal Disease Assessment (ARDA) tool, we are expanding access to diabetic retinopathy screening by equipping clinicians with an AI system that interprets retinal scans, enabling them to screen thousands of patients each week. To date, we have used ARDA to enable more than 250,000 eye screenings in India.
Informing healthcare workers in Indonesia
We are partnering with the Indonesia Ministry of Health to provide Google Cloud Platform (GCP) services to support the ministry's Digital Health Transformation Strategy. GCP infrastructure will provide secure data storage and analytics to help Indonesia integrate information from 8,000 health facilities to a single national health data system.
Frontline health workers are the connective tissue between a community and the healthcare system, including in Indonesia. Unfortunately, they often face challenges around care coordination and data quality. We're partnering with the Summit Institute for Development and Ona to pilot a digital health solution using the Fast Healthcare Interoperability Resources (FHIR) standard. Using OpenSRP, an open source, FHIR-native health solution built on Google's Open Health Stack, these partners will explore how to empower healthcare workers to deliver more coordinated care to improve the health of pregnant women and their children.
Helping people know more about their skin in Japan
Describing a rash or a mole on your skin can be hard to do with words alone. Earlier this year, we announced that Google Lens can help people search for skin conditions through images rather than words in the US. Now, this feature is made available in Japan— all you have to do is take a photo and upload it to Lens to find visual matches. This feature also works if you're not sure how to describe something else on your body, like a bump on your lip, a line on your nails or hair loss on your head.
Creating a more interconnected health experience in Japan
Health Connect by Android —which launched in Japan earlier this year— helps people share data between their various apps and get a single holistic view of their health and fitness data. For example, AI-powered symptom checker Ubie can obtain glucose monitoring data from Health Connect to provide more accurate analyses and recommendations.
Improving breast cancer AI research in Japan
In Japan, nearly 95,000 people are diagnosed with breast cancer every year, and breast cancer mortality is on the rise. Developed in collaboration with experts from the US and the UK, Google's AI mammography model analyzes mammography scans to look for early signs of breast cancer. Through our partnership with the Japanese Foundation for Cancer Research (JFCR), we're evaluating the effectiveness of this technology with the hopes of improving breast cancer screening in Japan.
Making hearing healthcare more accessible in Australia
Hearing loss affects 1.5 billion people globally, but AI solutions offer a way to make hearing healthcare more accessible and useful for everyone. That's why as part of our Digital Future Initiative, we're partnering with five Australian health organizations to explore new applications of AI and machine learning to pave the way for more customized hearing healthcare.