Answering 3 top questions on online safety in Asia-Pacific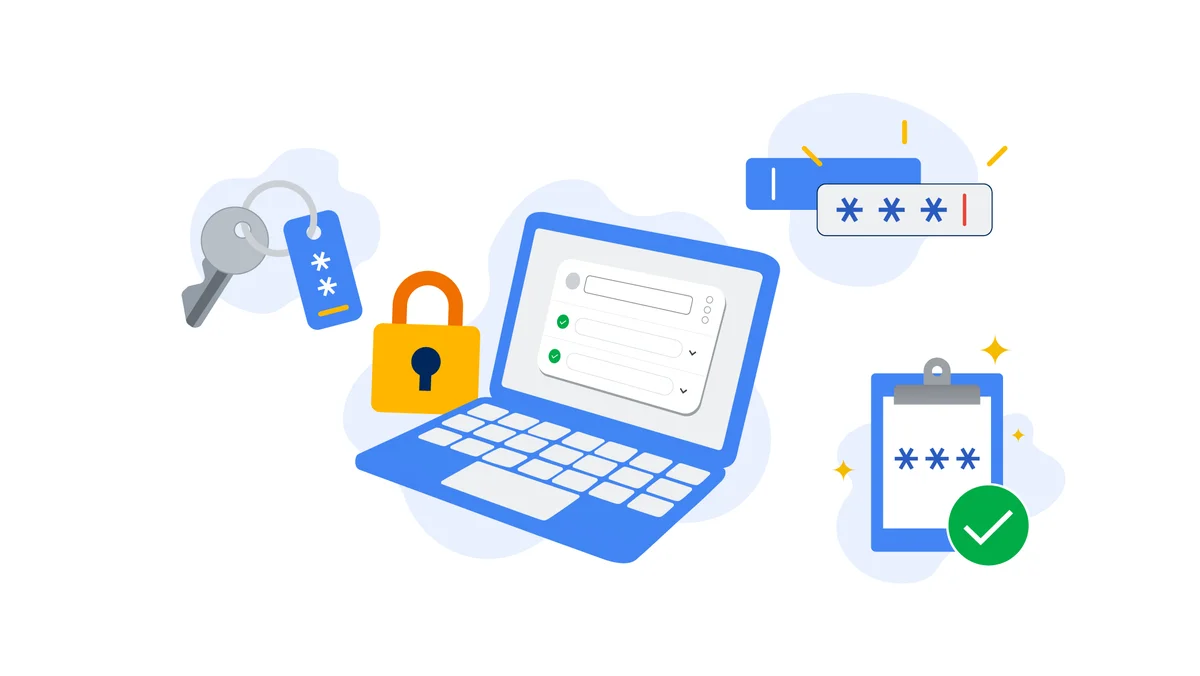 The internet is embedded in every part of our day-to-day life— from online classes to paying bills to shopping online. But as digital activity increases, unfortunately digital threats do as well. And over this past year, we saw concerns around online safety reflected in the rise of related searches across Asia-Pacific.
Across the region, some of the most commonly searched questions revolved around how to better secure online accounts, how to avoid phishing and malware, and what resources exist for online safety education.
Let's take a look at these top three online safety concerns.
What's the best way to secure my online accounts?
Your password is always the first line of defense. This is why it's important to use strong, unique passwords for each of your online accounts. Security experts recommend using a password manager to create and save passwords so you don't have to remember them— and this is a much safer way to store passwords, too.
Google Password Manager is already built into the Chrome browser and any device that runs on the Android operating system. Its autofill function provides another layer of protection by performing an exact match on the domain name. In other words, if it determines that a website URL is fake, it won't allow your password to be autofilled.
2-step verification (2SV) is another proven way to reduce risk of compromised accounts. If you have 2SV enabled, Google will ask you to complete a second step to verify it's really you when you sign in— like sending a unique code to your email or phone. In 2021, we saw a 50% decrease in compromised accounts among 2SV-enabled users compared to those who didn't use the feature.
And for all Google account users, the Security Checkup tool helps you get an overview of your account security status— just like an annual doctor's health checkup. This includes information like which devices are signed into your account, any unusual activity on your account, or which non-Google apps are linked to your account, and helps prepare your account for recovery if there's any compromised passwords.
How do I avoid scams and phishing attempts?
With a rapid increase in digital activity during the pandemic, online scams reached an all-time high in 2020 and have continued to peak— particularly in Asia-Pacific. In fact, Singapore had the highest search interest in scams globally last year, followed by many countries across the region.
Scammers often use deceptive messages with phishing links to steal your online account information. To help prevent that, Google's products and platforms have anti-phishing features built-in by design.
For example, Gmail's spam filters, powered by AI, protect people from nearly 15 billion unwanted messages a day, auto-blocking more than 99.9% of spam, phishing and malware. Or if you are using an Android mobile device, the built-in Google Play Protect — the world's most widely deployed anti-malware solution — scans 125 billion apps every day. And Google Safe Browsing, built into Chrome and used by other browsers, examines billions of URLs every day to help you spot unsafe websites by showing warning messages for potentially risky domains.
How can I learn more about online safety?
To prevent falling into those traps, it's essential to learn how to use security tools and respond to suspicious messages or potential threats. That's why we put together resources on Safety Center for you.
Technology alone cannot solve these challenges, which is why we help educate and equip people with online safety knowledge. Through Google.org, Google's philanthropy arm, we've supported many social impact organizations across Asia-Pacific to help people learn more about online safety and what they can do to protect themselves. Those organizations include the ASEAN Foundation, Taiwan Factcheck Centre; Hong Kong Council of Social Service in Hong Kong; Mafindo in Indonesia; Safer Internet Association in Japan; and Collective Good Foundation, HelpAge India, and Point of View in India. We're proud to support these social impact organisations to help create a safer internet for all.