Japan
In Tokyo: New commitments to Japan's digital future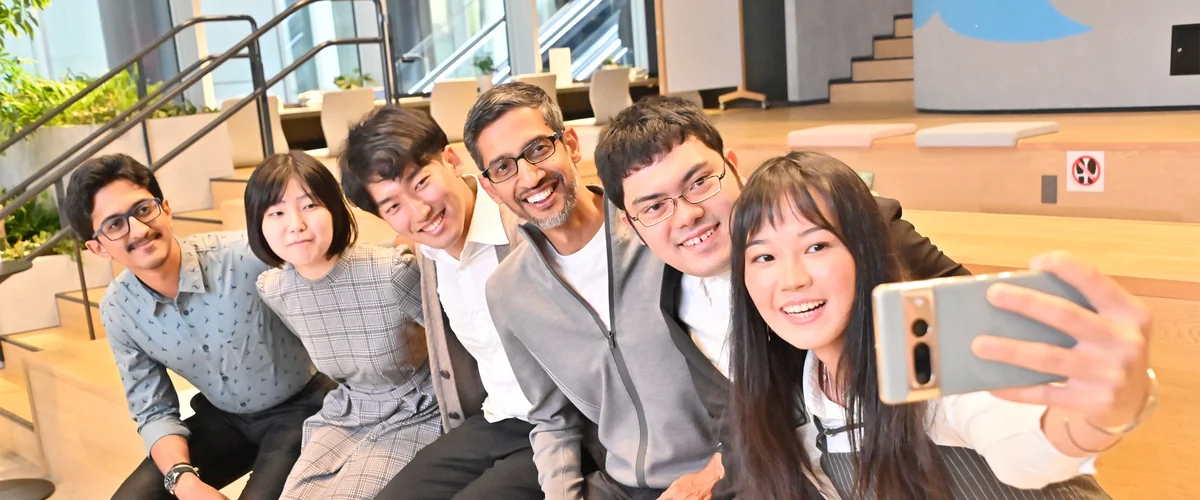 Google opened our first office outside the United States in Shibuya, a neighborhood in Tokyo, back in 2001. Last year marked 20 years in the city — and in the Asia-Pacific region more broadly — and I am excited to be back this week. While here, I helped launch our new Pixel devices and met with leaders to share more about how Google can support Japan's digital future.
Sundar presenting at the Tokyo Pixel launch.
Something that's always inspired me on my visits to Japan is how people of all ages are using technology to improve their lives and help others. The last time I was here, I helped open our Campus for Startups, part of our efforts to support generations of entrepreneurs. And today I met with student developers from local universities. Some have already started their own companies, and others are using Pixel and Android to bring their ideas to life.
Our goal is to ensure everyone benefits from the innovation happening in Japan. Today, I was pleased to share the details of our new Japan Digitization Initiative with Prime Minister Kishida. We're expanding our commitment to build infrastructure, provide digital training and opportunity, and support partners and nonprofits working to bring the benefits of technology to more people.
Investing in technical infrastructure
We'll be opening our first data center in Japan — in Inzai City, Chiba — in 2023. This will give people in Japan faster, more reliable access to our tools and services, support economic activity and jobs, and connect Japan to the rest of the global digital economy.
The Chiba data center is part of a $730 million investment in infrastructure that began last year and will continue through 2024. That includes the Topaz subsea cable, which we expect to be ready for service in 2023, and will become the first fiber cable to connect Japan with the west coast of Canada. Our existing Google Cloud Platform regions, in Tokyo and Osaka, provide storage and services for Japanese businesses. And according to a recent Analysys Mason study, Google's network infrastructure investments in Japan, both past and present, could enable an additional $303 billion in GDP between 2022 and 2026.
Google's first data center in Japan is in Inzai City, Chiba Prefecture.
As we build this infrastructure, we'll keep working to support Japanese businesses in other ways. Our Tokyo startups campus is helping Japanese founders build new kinds of businesses, many motivated by solving social and economic challenges — like helping with health diagnoses or increasing access to education.
Providing digital training and opportunity
We want to help Japanese people learn the skills they need to use technology confidently. Since 2019, we've supported 10 million people in Japan through Grow with Google, and adapted our training programs to people and businesses affected by the pandemic.
We've seen in Japan and around the world how the pandemic has accelerated the need for skills in specific, high-growth jobs, and we've created new kinds of training models to meet the increased demand. That includes the Japan Reskilling Consortium, which we launched in June. It's a collaboration between business, governments and the nonprofit sector, providing skills training in areas like artificial intelligence and digital marketing and a job-matching service to help trainees find work opportunities. The consortium already offers more than 300 training programs with more than 90 partners.
We've also launched a new program to help Japanese companies develop a workplace culture that fosters innovation — with support from Google tailored to different businesses' needs. We'll keep building on these initiatives and partnerships from here.
Expanding the benefits of technology
Through Google.org, Google's philanthropic arm, we're committing $6 million to support Japanese nonprofits working to expand the benefits of technology.
As part of this effort, we're providing grant funding to the Japan Foundation for Aging and Health to help them reach 50,000 older people, with a mix of programs focused on digital training, community building and employment support. We're also supporting the Safer Internet Association in its efforts to increase media literacy in Japanese communities. Other organizations to receive support will be announced soon.
These new commitments complement the important work our teams in Japan do every day. We'll continue to bring the best of our products, platforms and devices to the millions of Japanese people who use them, from making Google Maps more immersive to helping Japanese developers on Google Play. And we'll continue our partnerships with Japanese governments and institutions harnessing AI to confront challenges like climate change and disease.
We look forward to helping more people in Japan benefit from the opportunities technology brings, over the decade ahead and beyond.