Making privacy personal with Files by Google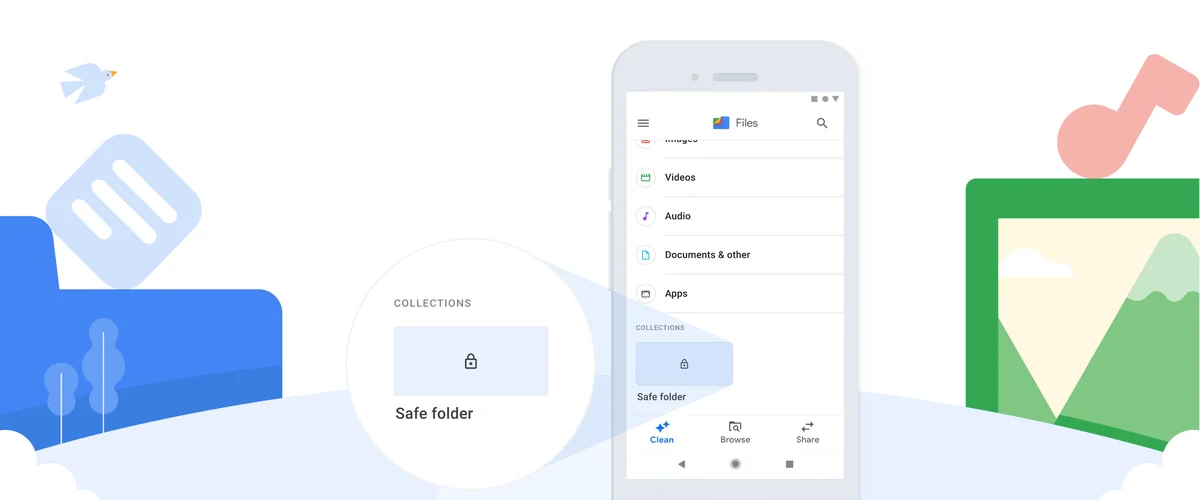 In many places around the world, sharing a personal device with spouses, siblings or children is often a cultural expectation, especially for women. Sharing a device can be beneficial, but it comes with the risk that others might access your personal files.
As part of Google's research, we hear the perspectives of people like Shaina—a woman in Bangladesh whose children use her phone after school, both to learn and to play. Shaina worries that her important files could be accidentally shared or deleted. For Rashid, a father in India, the lack of privacy means he can't keep his identity documents on his phone, even if he needs them for job applications. 
Building privacy features that make sense for different needs is a
top priority for us
as we
continue
to work towards a more inclusive internet. To keep personal content more safe, we're launching Safe Folder, a new feature in
Files by Google
.
How Safe Folder works
Safe Folder
is a secure, 4-digit PIN-encrypted folder that protects your important documents, images, videos and audio files from being opened or accessed by others. The folder is securely locked as soon as you switch away from the Files app, so none of its contents can be accessed when the app is in the background. As a security assurance, it will ask for your PIN again on reentry.  Even people that don't share devices can benefit from keeping the most important files safe.
Managing files for 150 million people
We launched the Files app in 2017 to help people free up space, manage content and share files. We wanted to help people who live in countries such as India, Nigeria and Brazil and often run out of space on a daily basis. Now, more than 150 million people around the world regularly use Files each month, reducing the stress of managing content on their phones.
And for the things you no longer need on your phone? Files can continue to help you with that. Since launch, the app has:
Deleted over 1 trillion files of digital clutter, which would take over 30,000 years if you were to manually remove a duplicate, old meme or junk file every second.
Saved 400+ petabytes of space on people's phones—around 1,400 years of nonstop HD video recording.
Freed about 12GB of space every second, equivalent to 5,000 photos per second, allowing you to save more photos that mean a lot to you.  
The Safe Folder feature will start rolling out in beta for Files by Google today and we'll gradually expand its availability to more people over the following weeks. You can get the app at g.co/getfiles to keep your content safe, free up space and make your phone feel like new.