Reinforcing our commitment to online safety in Singapore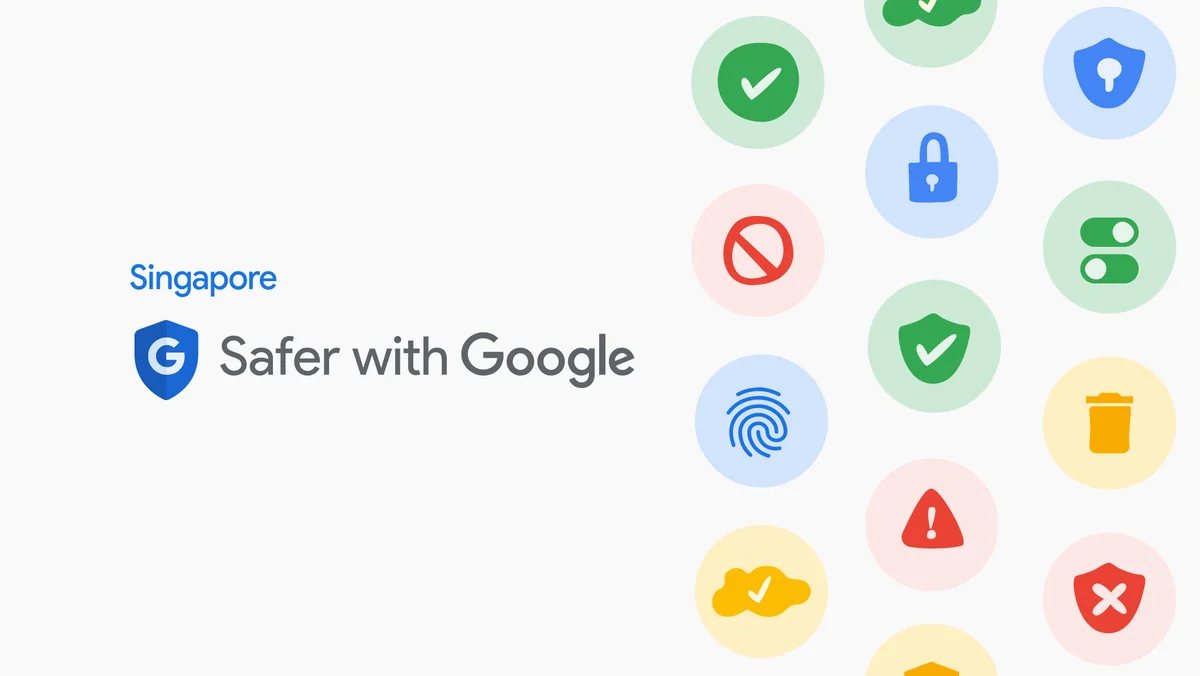 Whether it's finding information or booking medical appointments, the internet is an indispensable part of daily life for millions in Singapore. But with increasingly sophisticated cyber threats on the rise, it's more important than ever to stay vigilant online.
As a technology company, it's our responsibility to protect our users. That's why we've invested heavily in a secure-by-default approach and providing tools like Security Checkup and Passkeys to help people strengthen their security and privacy. Beyond our own technology, we have a shared vision for every Singaporean to feel empowered with the knowledge to use technology safely and confidently.
At our first Safer with Google event today, we were joined by Guest-of-Honour Minister for Communications and Information and Second Minister for Home Affairs, Mrs. Josephine Teo, as well as the Minister of State, Ministry of Home Affairs and Ministry of Social and Family Development, Ms. Sun Xueling, along with other industry leaders and partners. Partnering with the government, industry and nonprofit organizations for a collaborative approach is key to our initiatives. Read on for the new and expanded initiatives we announced that reaffirm our commitments to keeping Singaporeans safer online.
Online safety education for families
For children growing up in a technology-first world, developing healthy digital habits at an early age is critical. Last August, we committed to training 50,000 parents and kids on cyberbullying, misinformation and privacy through our Be Internet Awesome program and Google Online Safety Park. To continue our impact, we're expanding our commitment to train another 50,000 parents and children in our continued partnerships with IMDA and the Media Literacy Council— bringing the total to 100,000 by 2024.
Tackling scams and misinformation
The rise in scamming incidents shows that we need to reinforce digital literacy efforts— particularly among those most vulnerable. Through Google.org, we're supporting the ASEAN Foundation's Digital Literacy Program, partnering with Bamboo Builders to build a team of youth and elderly who will train 2,000 beneficiaries to recognize misinformation online.
Other efforts include our partnerships in Project PRAISE, an initiative with RSVP Singapore: The Organisation of Senior Volunteers and the Singapore Police Force that trains volunteers to raise scam awareness among seniors. Google will further train those volunteers, who will then train 2,000 seniors to better spot scams. In partnership with the Ministry of Home Affairs and supported by the Ministry of Communications and Information, we're also working with local YouTube creators in our second Creators for Impact program to raise awareness on scam prevention through their content.
Working together to curate content
Collaboration across sectors can be quite effective in fighting bad actors online. Our YouTube Priority Flagger Program provides tools to over 300 government agencies and non-governmental organizations (NGOs) worldwide who are particularly effective at flagging content that violates our Community Guidelines. Their deep knowledge in topics like suicide, self-harm, harassment, cyberbullying, and child safety help inform their decisions. To expand this program, we're onboarding four local organizations —Limitless, Samaritans of Singapore Ltd , SG Her Empowerment and TOUCH Community Services— who will lend their expertise in identifying policy-breaking content with the awareness of local cultural contexts.
We also have our newly launched Google Cloud Priority Flagger Program, which aims to identify potential phishing websites and malware hosted on Google Cloud platforms by prioritizing the review of priority flagger submissions. We have enrolled the Singapore Police Force into this program, and will continue to enroll others globally in the future.
Training the next generation of cybersecurity professionals
In the face of a growing volume of cyberattacks, it's more important than ever to help people, businesses, and governments alike equip themselves with the knowledge and tools to stay safer online.
We're working with the Cyber Security Agency of Singapore to offer 5,000 Google Cybersecurity Certificate scholarships to an estimated 100 enterprises at no cost. Built by cybersecurity experts at Google, the certificate can be completed online in under six months of part-time study. Employees will learn to identify common cyber risks, threats and vulnerabilities, and mitigate them by protecting networks, devices, people and data from unauthorized and malicious access.
Thank you to all of our industry partners. There's always more work to be done, but together, we can build a safer digital world for everyone.