40 European startups selected for the Black Founders Fund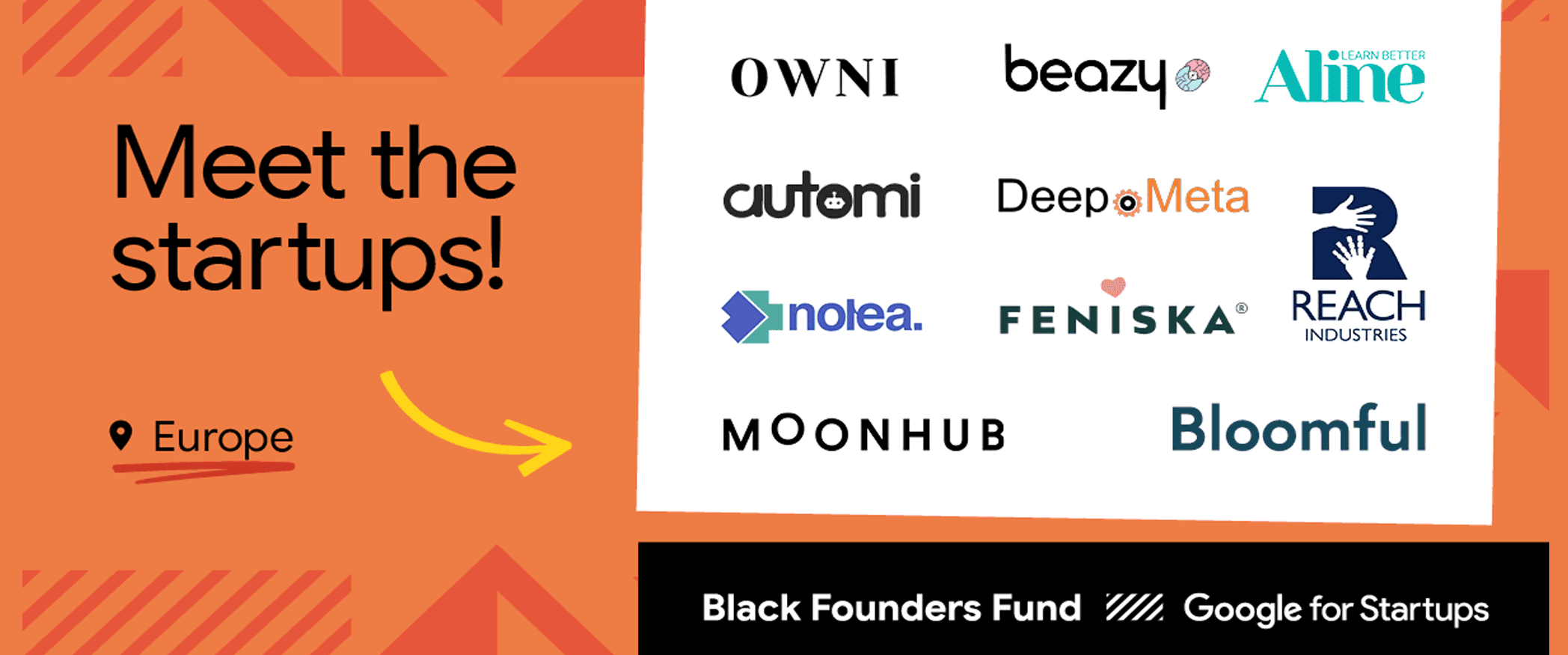 It has been clear for many years that Black founders do not have the same opportunities and support as many others, particularly when it comes to funding. This is despite the fact that, according to the upcoming Black Report 2022, 67% of Black-led tech startups in Europe generate revenue and create an average of 8.2 jobs each. That's why we opened a second round of investments in the Google for Startups Black Founders Fund in Europe earlier this year, a $4 million fund and access to the best of Google — people, products and best practices.
Today we're announcing that 40 startups from the U.K., France, Germany, Netherlands, Sweden and Spain have been selected to receive funding and support. These include Sojo, the U.K.'s first clothing alterations and repairs app; Feniska, a Berlin-based pet tech startup creating devices to help cat and dog owners track critical health data, and Kuorum in Spain which provides software for secure and legal online voting. The full list can be found on our website: https://www.campus.co/europe/black-founders-fund/.
Almost a third of the founders are women, and the selected startups cover all types of industries from health and fashion, to security, fintech and education. While we often hear the lack of diversity in tech is a pipeline problem, the variety and strength of this list for the second year running shows that this is not the case.
Established in 2020, the Google for Startups Black Founders Fund provides cash awards — without requiring equity in return — and hands-on support to help Black entrepreneurs build and grow their businesses. The Black Founders Fund has awarded more than $20 million in Europe, Brazil, Africa and the U.S. to help Black-led startups secure funding, strengthen communities and create generational change.
In addition to $100,000 (approximately 89,000 Euros) each in non-dilutive cash awards, Black Founders Fund recipients receive ongoing Google mentorship and product support to help them navigate every stage of their startup process — including up to $200,000 (approximately 179,000 euros) in Google Cloud credits. Founders will also be introduced to each other and to the global Google for Startups community of experts for leadership and growth. They will also benefit from partnerships with leading firms for technical support, plus legal, marketing and capital expertise.
Last year's recipients went on to raise over $63 million (approximately 59 million Euros) collectively in funding, and hired more than 100 people within six months. Today these numbers continue to grow, totaling $81 million. We can't wait to see what this next group of founders achieves – because given the right opportunities, Black founders thrive.