Helping local journalism in the UK thrive online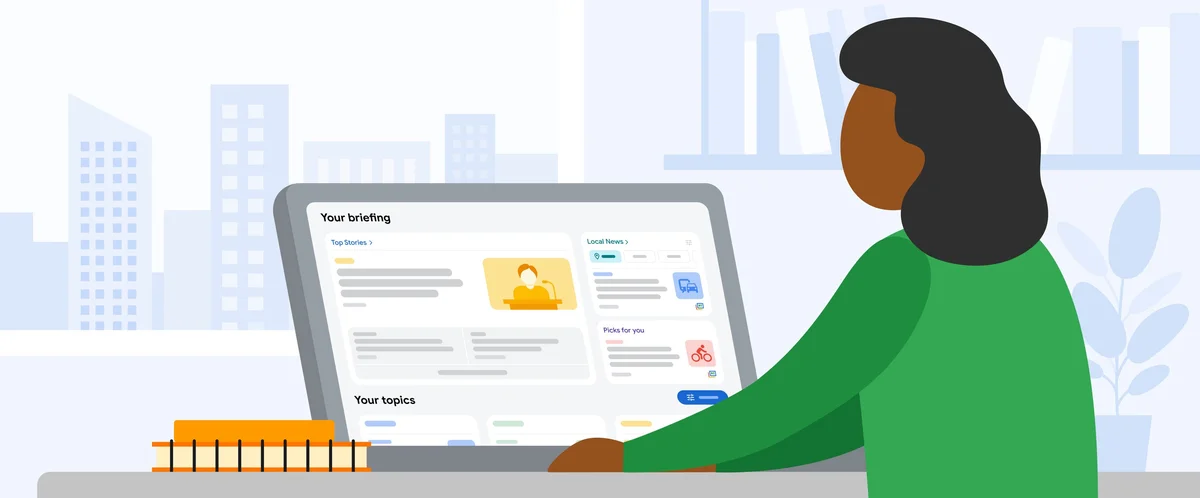 Local news is at the heart of all communities – even in big cities. It's often said London is a 'city of villages' and as someone who has grown up, studied and worked in different parts of the capital, I've always learnt a lot about my various neighbourhoods through the lens of the local newspaper. From the 'Surrey Comet' in Kingston, to the 'Ham & High' in Haringey, local journalism shines a light on issues as diverse as local government, culture and important new developments.
Today, thanks to the internet, readers can choose from an incredible array of news sources online. Anyone with a passion can set up a specialist blog and find a following. This is great news for creators and readers like me with a niche interest in anything from arts to architecture. But the online environment and changing audience habits have disrupted traditional business models. Today, local papers and news sites have to work harder than ever to capture – and monetise – audiences' attention with news they'll enjoy.
One way we support local publishers to meet this challenge is by driving online audiences to their journalism via Google News and Search. In 2021, we sent more than 2.4 billion organic clicks to local news publications in the UK from global users on Google Search and News. A 2019 study by Deloitte in Europe valued each visit between €0.04-0.06 —which equates to more than £84 million in value going to British local news publications from Google traffic alone.
We've been working to give local news greater prominence on Google Search and News in recent years, and our latest changes to Google News will help readers discover local content even more easily.
Local publishers often tell us they want to strengthen their digital skills and build on their expertise to further cut through to online audiences. That's why with the Google News Initiative we are focused on helping local journalism to thrive. We partner with local publishers on new products like Google News Showcase, or the digital portal we developed with the NMA to protect revenue from public notices. On partnerships that support experimentation and innovation in new sustainable business models, and on training to upskill journalists with digital tools and techniques. Our training includes digital verification to tackle misinformation, data journalism and tools that strengthen investigative journalism.
Many local publishers across the UK are already innovating with new digital strategies to pull in new readers and revenues. Today we're announcing three new programmes that build on this long standing work, and there is more to come.
Supporting local publishers with subscriptions
To be successful in the long term, publishers must have a sustainable digital revenue model. As part of our Digital Growth Programme, we partnered with the NMA and FT Strategies to help 12 local publishers develop the expertise they need to build a blueprint for the future. Local partners like Barnsley Chronicle, Rotherham Advertiser, and Iliffe Media took part, and it's been great to hear the response:
Jeremy Spooner at the Maidenhead Advertiser said: "The extremely high level of expertise delivered by the FT Strategies team, coupled with their access to insights on how to grow digital subscription revenue would not have been accessible by Baylis Media Ltd, had it not been funded by Google News Initiative. The programme has given the team the confidence to accelerate its Digital Subscription Strategy with a clear methodology now in place and a challenge goal set. Without doubt the programme has provided a significant boost to the Digital Revenue Strategy."
Today, we're announcing that we're expanding the programme for another 12 months in response to feedback from the publishers involved.
A new nationwide training partnership with the National Union of Journalists
As a former journalist, I can begin to understand the pressure to stay across a range of new tools. The team I lead has trained 16,500 UK journalists and journalism students since 2015, with a focus on providing workshops outside of London.
Our new partnership with the National Union of Journalists will build on these efforts, and focus on helping local journalists across the UK and Ireland develop both their journalism and leadership capabilities. They'll deliver 13 in-person workshops nationwide, and 30 virtual digital skills workshops to ensure the training is fully accessible to all.
Michelle Stanistreet, NUJ general secretary said: "This partnership is an opportunity to improve the digital skills of our members, in particular by using technology to verify the authenticity and accuracy of images, videos and reports on social media and elsewhere online – an essential skill for a modern and ethical journalist. The training will also help mid-career members to progress towards leadership roles, with a particular emphasis on groups under-represented within the industry's management – women, black and minority ethic, disabled and working class journalists."
Partnering with PA Media on digital skills
Ensuring training programmes reach groups that are underrepresented in journalism is important if UK newsrooms are to better reflect the communities they serve. That's why we're proud to sponsor the NCTJ's Journalism Diversity Fund and to have helped support 200 aspiring journalists from diverse backgrounds through their training and into local newsrooms such as WalesOnline, Barnsley Chronicle and Newcastle World.
Today we're launching a new partnership with PA Media to offer more targeted support for underrepresented groups across two key areas: digital skills and misinformation. First, we're sponsoring 25 places on PA Media's four-week summer school for students from underrepresented backgrounds, with a particular focus on reaching students in Westminster and Camden – as well as a series of training festivals for 500 journalists. Secondly, we're supporting PA Media to develop a new training curriculum to help journalists tackle misinformation as part of their daily news gathering processes.
Alongside these partnerships, we provide direct funding to support innovation in local news via the GNI innovation Challenge for Europe, our YouTube Creator Programme for Independent Journalists and our newly announced Global News Equity Fund.
We're excited to see the impact these news projects have and to keep working with our local partners to help ensure a vibrant future for local British journalism.