In Warsaw: Announcing more support for Ukraine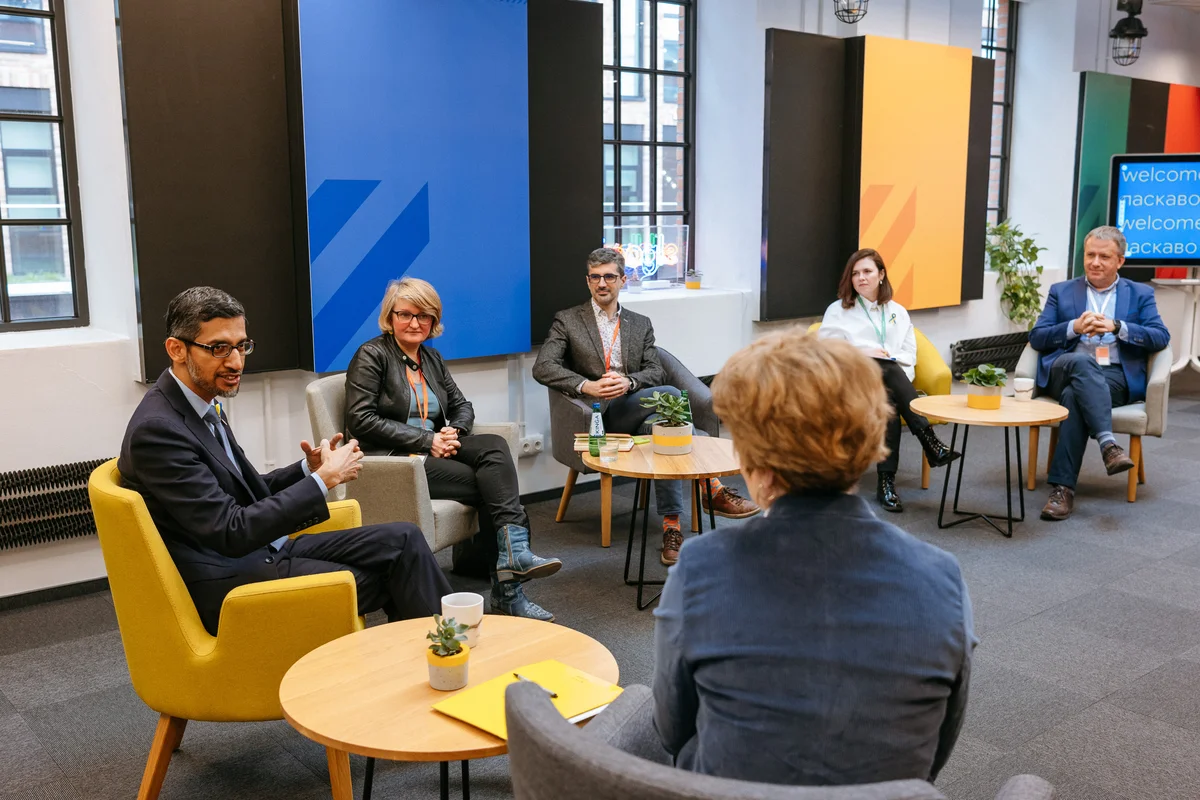 Today I am in Warsaw, Poland, a city that's become a symbol of safety and hope for so many Ukrainians fleeing the war. In my mind, the shared collective history of Central and Eastern Europe represents an ideal of freedom, resilience and community. So it wasn't surprising to me that so many people across the region had opened their homes to take in refugees or stood in train stations to welcome them with food, clothing and kindness.
I spent my morning visiting our Google for Startups Campus in Warsaw, which we opened three weeks ago to NGOs supporting refugees as well as Ukrainian startups. I met with the NGOs to hear how Google can best support the needs of refugees, now and in the future. I also heard from some of the first entrepreneurs working from the campus and was inspired to see their strength and resolve in the face of such personal tragedy and loss.
While in Europe, I've also been meeting with government officials to discuss the humanitarian crisis and the need for continued public-private partnerships to support refugees and fight disinformation in the region. Today we announced several additional initiatives to help with these efforts, and to support the post-war recovery of Central and Eastern Europe.
Supporting the refugee crisis
Already more than 3.7 million refugees have fled Ukraine — the majority of them women, children and the elderly — making this Europe's biggest refugee crisis since World War II. To help the humanitarian aid efforts on the ground in Central and Eastern Europe, Google.org and Googlers have committed over $35 million in funding and in-kind support. This includes support for organizations focused on people in Ukraine, like Nova Ukraine and Fight for Right, as well as nonprofits supporting refugees in bordering countries, such as The Polish Center for International Aid, Hungarian Interchurch Aid, Romanian Red Cross, and People in Need in Slovakia.
Today we're also announcing a new grant for refugees with disabilities, as well as a grant and Google.org Fellowship to Tech to the Rescue, a young Polish nonprofit that connects tech companies and expert volunteers with humanitarian aid organizations to help solve technical needs. A team of Google.org Fellows will work on a pro-bono basis to help build and scale their platform and efforts.
Fighting misinformation
As an information company, we take our responsibility seriously to provide reliable, trustworthy information to people when they need it. We saw how many Ukrainians turned to Search to find up-to-date information, including where to find shelter or humanitarian aid, and relied on air raid alerts on their phones. To help, we're also rolling out new features that enhance access to trusted information, including Info Panels in local languages and Transparency Labels for publisher content on YouTube.
A big part of the challenge is addressing the misinformation that is spreading about the realities and facts of the war in Ukraine. Today we're committing an additional $10 million for this effort, including new partnerships with think tanks and civil society organizations to conduct region-specific research into misinformation and disinformation, as well as cash grants to support fact-checking networks and nonprofits. Jigsaw, a unit within Google that builds technology to counter threats to open societies, will partner with local experts and academics to develop approaches to both directly counter disinformation and help people more easily identify disinformation.
Investing in the future of Central and Eastern Europe
We believe in the strength and future of Central and Eastern Europe. Just last year we opened our new office in Warsaw, hired over 350 people and launched a Google Cloud region in Poland. And earlier this month we announced a $700 million investment in the purchase and development of The Warsaw HUB, a modern office complex in the heart of Poland's capital city.
We'll continue to invest in the region and support people and businesses affected by the war and its hardships. And when this war ends, we will be here for Ukraine and the region for the long haul.