How car-loving Googlers turned a "lemon" into lemonade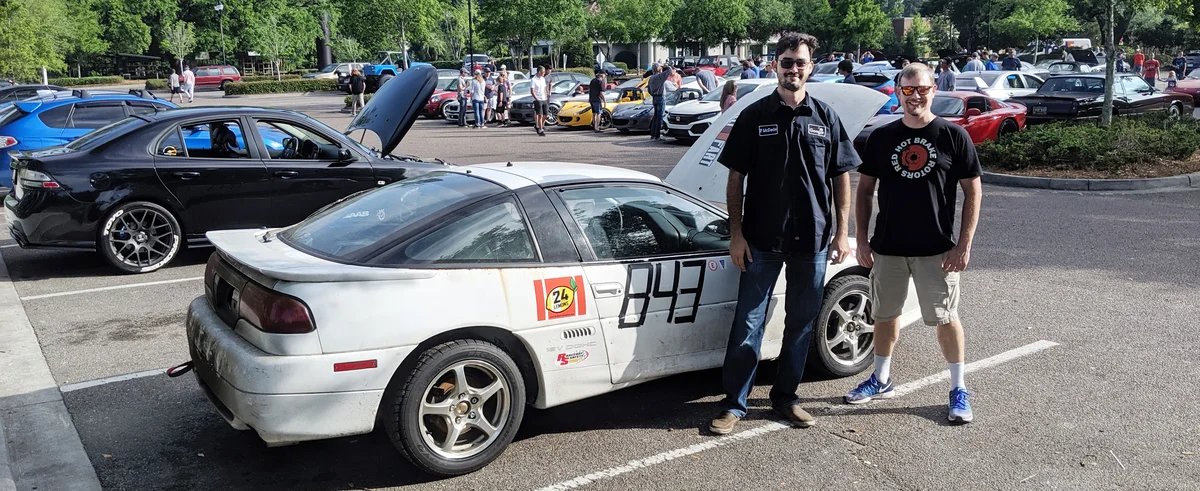 This April, Googlers Peter McDade and Clay McCauley spent an entire day trying to keep a $300 car running. No, they weren't stuck on a nightmare of a road trip. They were competing in the 24 Hours of Lemons race, the culmination of eight months of blood, sweat and tears—and a whole lot of grease.
Peter and Clay work at a Google data center in Moncks Corner, S.C., located about 20 miles from Charleston. Like many Googlers, the two find joy in taking things apart and putting them back together to see how they work. The data center has a maker space for employees, where colleagues tinker with brewing, electronics and 3D printers, as well as an auto repair station, with a car lift and tools to let people work on their vehicles. But their "lemons" race was way more than an after-work hangout.
Here's how a lemons race works: Participants must team up in groups, and each group must spend no more than $500 on a car. Then they fix it up, give it a wacky paint job and race them. This particular race, nicknamed Southern Discomfort, is a full-day race at the Carolina Motorsports Park; it's one of the 24 Hours of Lemons races that take place across the U.S. throughout the year. Peter, Clay and two other friends each took one-hour shifts driving, while the rest of the group stayed on call as a pit crew, taking action in case anything broke. Which, given the price of the car, was pretty likely. "The point is not to win," Peter says. "The point is to finish and have fun."
Peter first came up with the idea of participating in the race, and spread the word at work. Clay was immediately interested and signed up to help, but didn't think it would work out. "I was thinking, Oh, it probably isn't that serious, it probably will never happen,'" Clay says. But they stuck with it once other friends outside of Google stepped up to join.
Their "lemon" car, which they purchased for $300.
Their first challenge? Find a car for under $500. It took them months, but Clay ended up finding a listing for a $300 car, which had been sitting in a field for a long time. "It was actually sinking into the ground, it had been there for so long," Clay says. "It had grass overgrown around it, and it had mold growing on the paint." Though the car barely rolled, thanks to a badly bent wheel, they decided they could figure something out.
That was the beginning of five months of work. They stripped the car down, fixed elements like the brakes and the wheels and added required safety features like a roll cage. At first, they tinkered with the car on site at the data center, but soon moved it to Peter's driveway, where it remained until the race. They spent Tuesday and Thursday evenings, plus weekends, working to get it in shape, and kept track of what they had to do with Google Sheets.
Peter worked on the car in his driveway.
On the big day, other teams didn't even expect them to finish because of issues with the car's fuel system and what Peter calls "electronic gremlins." But they did, and they bested even their own expectations. The team, nicknamed "The Slow and Spontaneous" as a nod to the "Fast and the Furious" movies, made it the full 24 hours, doing 309 laps and finishing in 49th place out of 84 participants.
The car gets refueled mid-race.

The car at tech inspection.

The "Slow and Spontaneous" crew signed the car.
Emerging victorious wasn't really the point, though. It was to work on a project with friends, and learn new skills to boot. "We're not satisfied with something being broken and having to throw it away and buying something new," Peter says. "It's better to get something you know you might be able to fix, trying to find it, and realizing that yeah, I could fail, but if I fail, I'm going to learn something." And they'll apply those lessons to their next lemons race, taking place this fall.