Meet the Googler in charge of all things I/O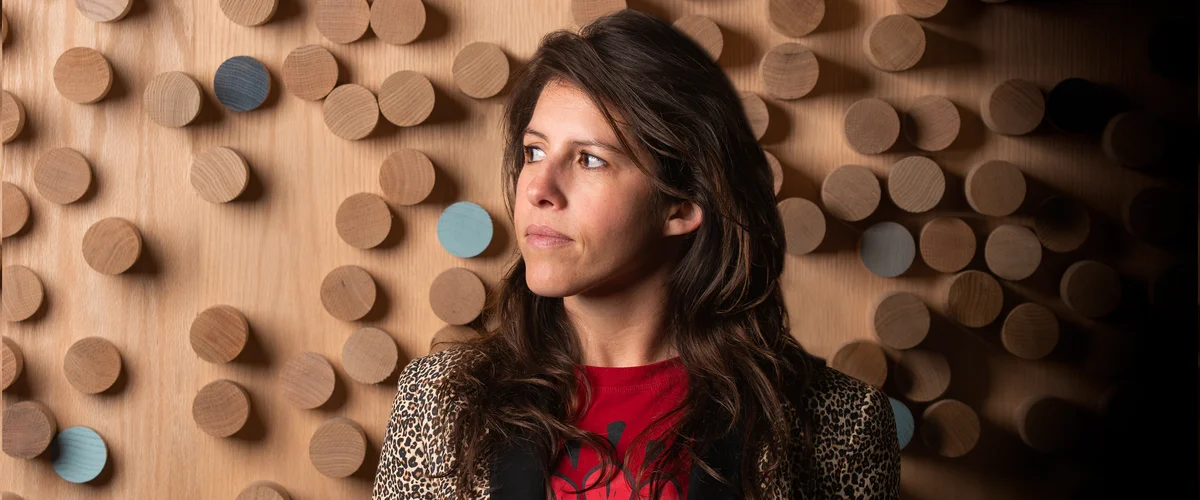 From May 7 through May 9, more than 7,000 developers will head to Shoreline Amphitheatre in Mountain View for I/O, Google's annual conference—and take part in talks and events in an area that's usually a parking lot. In charge of turning that blank space into a festival-like atmosphere is Amanda Matuk, who has been part of the team running the conference for the past 10 years.
Amanda, who is the event's executive producer, has been in charge of I/O for the past four years. The process takes six to nine months to plan every year, and ends with three hectic days on site. For this installment of The She Word, I asked Amanda exactly how she gets it done—and the songs she blasts in her car to get her pumped up for the big day.
How do you describe your job at a dinner party?
I build things: teams, processes and ideas. My role at Google is split. As the Head of Hardware Experiences, I manage all our hardware activities that take place in real life, from press moments to consumer installations where folks can get hands-on with our products. As the internal executive producer of I/O, I look after an 80+ person team, taking I/O from an idea on paper in November to a three-day live experience in May.
Attendees at Shoreline Amphitheatre in 2018.
You were on the team that moved I/O from San Francisco to Mountain View. How did that change the event?
The change of location was a very core moment to the company. It was late 2015 when we decided to make the move, as Sundar Pichai had just stepped up as CEO of the company. We wanted to connect back to our roots with the developer community who are based in Silicon Valley.
We physically connected back with our roots, and celebrated the developer community in a venue typically reserved for concerts. In doing so, we challenged the standard conference format, and also put developers—our core users on many of our platforms—at the center of the conversation.
Sundar Pichai delivers last year's keynote at I/O.
Your schedule must be jam-packed, especially the week of I/O. How do you stay calm throughout the madness?
I operate under the principle that if you can do something now, do it now. Procrastination is a really natural thing I think we all do, but especially on site when there are a thousand tiny micro-decisions that come up in a given day, it's important to do what you can in the moment.
Also, it's super cheesy, but I make a playlist that I listen to on the drive in on I/O days. Last year's playlist included "Unstoppable" by Sia, "Run the World (Girls)" by Beyoncé, and "I'm Every Woman" by Whitney Houston. There's nothing like starting the day with a bit of musical female empowerment. (Told you I'm cheesy!)
I average 28,000 steps a day during I/O.
What's your schedule like the week of I/O?
Once we get to the week of I/O, my job is to support the team. Nobody builds a conference of this scale and level of creative detail alone. My only true solo moment is on the first day. I like to arrive at 6 a.m. and walk the grounds before we open the gates. I started this ritual on the first I/O at Shoreline to remind myself that what once was a parking lot is now effectively a city layout ready for thousands of developers to occupy for the following three days.
A typical day is spent checking in with teammates, managing the various production teams who operate on a rolling schedule, and monitoring potential challenges like the ever-present lunch rush. I average 28,000 steps a day during I/O.
After Dark, our nighttime setup, at I/O 2018.
What's one moment you'll remember from your years on the team?
Something I'll remember for years to come is the opening moment in 2016. To have Sundar, a former product manager, stand on the stage as the CEO and open what felt like a rock concert of a conference was something really special. We had our new leader, speaking to the developer world, making them feel celebrated in a very real and genuine way, and we ushered in a new style of conference.
Did you always want to run big events like this? What advice would you have for women starting out in their careers?
I started my career thinking I was going to be a lawyer. I was working in a law firm, studying for the LSAT, but I wasn't energized by the work. I took a hard left turn and got into tech, starting in sales and eventually moving into marketing on the events and experiences team. My main advice is something I have to remind myself everyday: the path's not linear. Just because you're on a certain path now does not mean it is "the path." When you're starting out in your career, keep your eyes open to possibility, really listen to your intuition and if an opportunity speaks to you, it's probably worth a listen. Your career is not necessarily going to be a straight line, but it can absolutely be a fun journey.