Engineers are girls: the Googler behind "Ara the Star Engineer"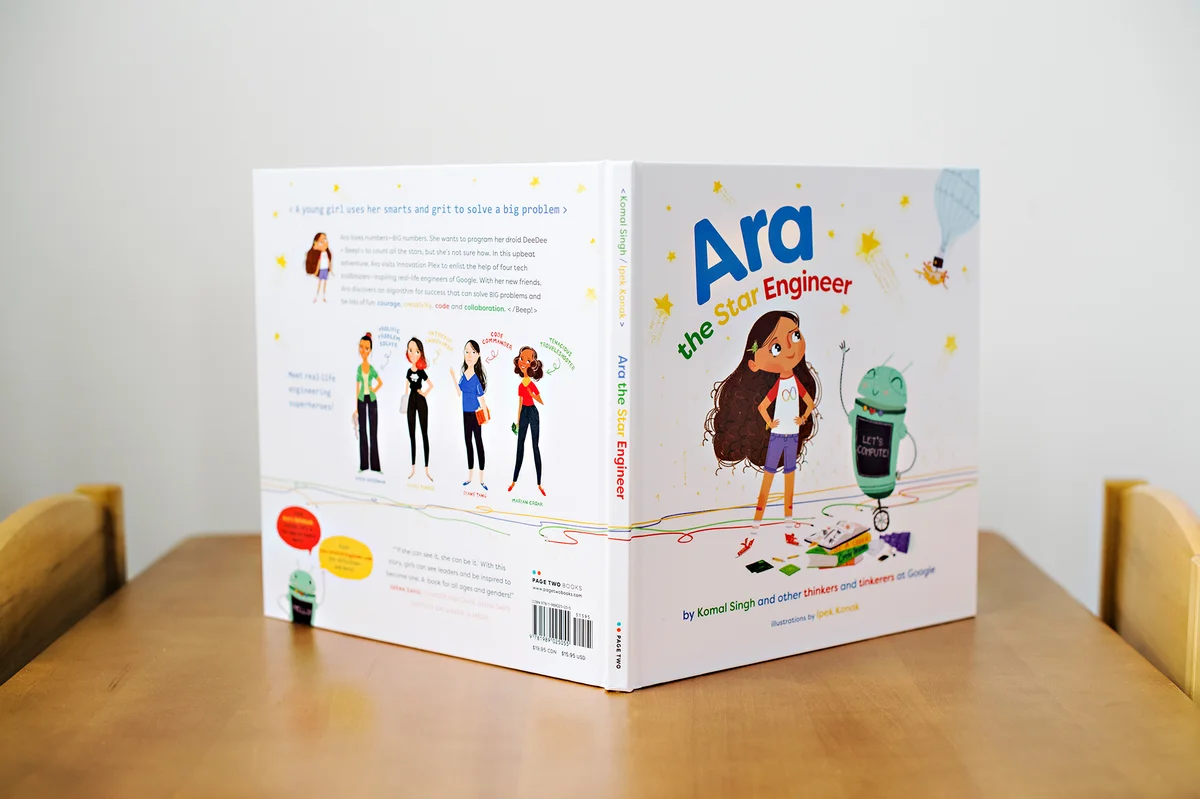 Tell us about what you do at Google.
Komal: I'm a program manager on the Ads Infrastructure team, based out of Waterloo, Canada. I act as the glue between various engineering teams to ensure we're designing and building systems cohesively for the world.

Komal and her daughter, Araiya
What inspired you to write "Ara the Star Engineer?"
One day I was working from home, and my daughter was with me while I was on a video call. She asked me about the various people on the call, so I pointed at the screen and said, "That's Alex, that's Kurt, that's Eric, that's Mike." She responded, "Oh, engineers are boys." I was shocked (and really bummed) by her reaction, so that same day, I wrote the first proposal for the book.
Without giving away too much, what's the story about? 
Ara is a six-year-old girl who wants to count all the stars in the sky but doesn't know how. She has a sidekick droid named DeeDee, and they go to DeeDee's birth land, the Innovation Plex. There, they meet real life female engineers from Google, all from diverse backgrounds (in the book, we call them sheroes). In the end, they learn about an algorithm of success: courage, creativity, coding and collaboration.
I love Ara already. Is there a story behind her name?
It's a palindrome, just like her favorite expression, "aha!" It was also inspired by Ada Lovelace (considered to be the mother of computing) and my own daughter's name, Araiya.
Had you ever dabbled in children's books before?
It was totally new to me. The original script took me about two months (and then I iterated with the sheroes for another couple of months) but it's very different now. In an early version, there was an alchemist who gave Ara four stones that represented the four c's: code, courage, creativity and collaboration. But we realized that was passive, we wanted Ara to have a more active role and discover those things on her own.
Here's a behind the scenes look at how the book's illustrations (by Ipek Konak) were done. This is a mood board of Ara.

Evolution of DeeDee, so hard to finalize one!

Coding pods coming to life.
Why is this story important?
Women make up half of the world's population but only 15-20 percent of women are in the tech workforce. If we don't have representation across the board, we're not going to solve problems or design products for the world. Girls are naturally technically minded and good problem solvers, but we don't encourage them in that direction because of our implicit biases. I want this book to propel girls in the direction of exploring coding and engineering—maybe the young girls who read this book will be the next generation of innovators and inventors!
The book features prominent Googlers—what was their reaction to this idea?
Marian Croak, Diane Tang, Kripa Krishnan and Parisa Tabriz are all well-known in their fields, and it was important for me to show leaders of diverse backgrounds. When I sent the women the proposal, two replied back within an hour. They wanted to be a part of a project inspiring girls in tech.
While writing the book, did you ever question yourself or lose your nerve to do this?
There were many times when I almost gave up. I was pregnant with my second child when I was writing the book, had to jump through many hoops to get this book done, and did it all as first time writer. When I felt like giving up, my sister-in-law said, "You're a techie, a mother and a person of color—if you don't write this book, who else would?" It reminded me that I had to find the courage to live the message of the book I was writing.
Do you think the book can have an impact on adults, too?
A lot of people who helped me with "beta user testing" of the book—my husband, friends and publishing team said they learned about coding from it. Though the book is technically geared toward 5 to 9 year olds, I think could actually be for ages 5 to 99. It has an upbeat message of chasing your dreams, taking risks, and collaborating with people—we can apply all of that to our day-to-day lives.
What were your favorite books as a kid?
My all-time favorites are "The Alchemist," "Charlie and the Chocolate Factory" and "The Little Prince." And I think they all subconsciously inspired Ara's journey in some way.
What's next for you and Ara?
Right now, I just want to soak in everything that's happening with the book. If I were to write another one, I'd love to explain concepts—like computational numbers and artificial intelligence— to kids. Anyone want to collaborate on that? :)