For this Googler, teaching code is a "drag"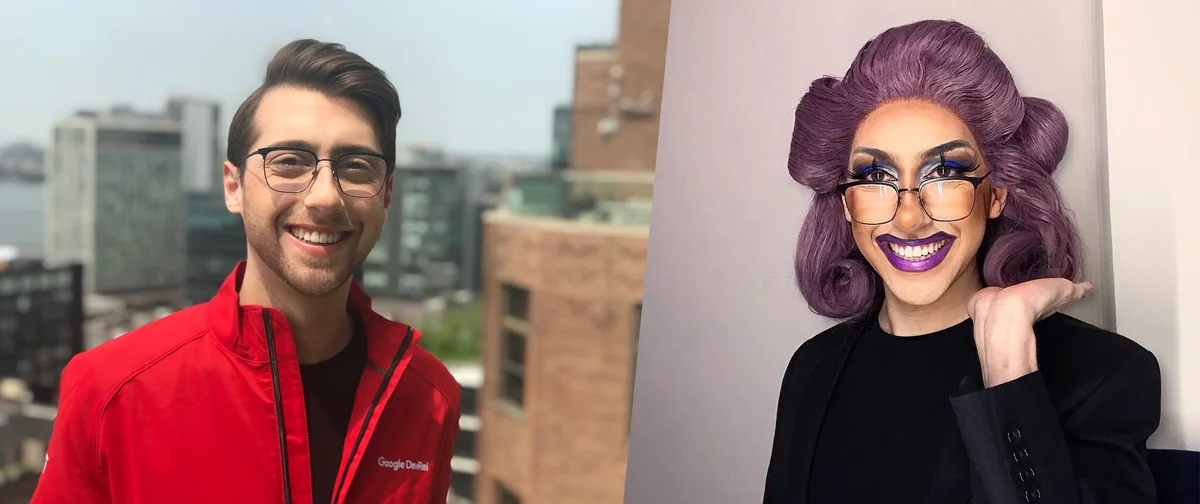 If you're looking to learn how to code, there are tons of tutorials on YouTube—but only a few star a wise-cracking drag queen in a candy-colored wig. That's Anna Lytical, who was dreamed up by Billy Jacobson, an engineer at Google's New York office who wants to bring some drag to the tech world—and bring some tech to the drag world, too. 
Billy's interest in drag and computer science started around the same time, in high school. He got into drag as a fan, through watching the show "RuPaul's Drag Race" after school. By the time he moved to New York after college, the show had become an Emmy-winning hit and he was inspired to give drag a try himself. "I had been looking for a new creative outlet, because I had done a lot of theater in high school and I was not doing any of that in the city," he says. 
So he watched makeup tutorials on YouTube, and took a class to refine his skills. About two years ago, he performed for the first time as Anna Lytical, a name he says describes his personality on and off stage. "I'll always be analytical even if I'm not Anna Lytical," he jokes. (He briefly contemplated another math-inspired name, Carrie the One, but it was already taken.)
This year, Billy decided to take Anna Lytical to YouTube, with an unexpected twist: a channel dedicated to teaching people about computer science. With nods to famous drag queens, Anna's videos teach people how to code, with lots of projects and pop-culture references to keep viewers interested.
The channel is a departure from other educational videos, which can sometimes be dry and academic. "If you want to make fan art for your favorite drag queen, why not turn it into an interactive website?" Billy says, explaining how he uses projects to teach people about CS. "That's a way you could get introduced to coding." This month, Anna Lytical's channel started an in-depth series that serves as an introduction to computer science, "all dragged up." 
"I'm trying to bring tech to people who are interested in drag, and show them you can be queer and flamboyant and be an engineer and code and that's totally fine," Billy says. "I'm also showing people in tech you can be a guy who wears makeup, and you can be an engineer who does drag and performs and expresses yourself."
Billy says it's important to boost LGBTQ+ representation in the tech world, because the industry should reflect the people who use tech products. (That's everyone, after all.) "If there aren't people like you building the technology around you, you're not going to get represented in it," he says. "There could be a form asking you to fill out information about yourself, and maybe there's not a gender option that lines up with you. Or a name field that doesn't accept a character in your name. Representation all around is really important."
Through Anna Lytical, Billy has found more than just the creative outlet he was looking for. "I don't totally think of Anna Lytical as a separate person, but more of a space," he says. "A space I'm free to express myself however I want, wear whatever I want and feel comfortable with it." Not all Anna Lytical's videos feature full wigs and dialed-up glamour—one, for example, is a casual tutorial, filmed in a bathroom, demonstrating how to create the Chrome logo using eye makeup. 
Regardless of the glam factor, Billy says it's all drag. "I think drag means a lot of different things to a lot of different people," he explains. "A lot of drag we see in the media is about exploring femininity, but I see a lot of people explore masculinity with drag, too. I like to go in both directions and play with all these things." 
Billy (left) presenting at I/O 2019.
Billy took the stage at I/O this year to discuss storing Internet of Things data. And though the audience may not have noticed, he brought a little bit of drag with him. He wore foundation and concealer, and played up his eyebrows with makeup, which gave him an extra dose of confidence on stage. "It's kind of having a lucky charm. Maybe not everyone's going to see it if you keep it in your pocket, but it's there for you," he says. "People probably won't notice I'm wearing makeup, but I know. It's not for them, it's for me."