4 projects Google interns are working on this year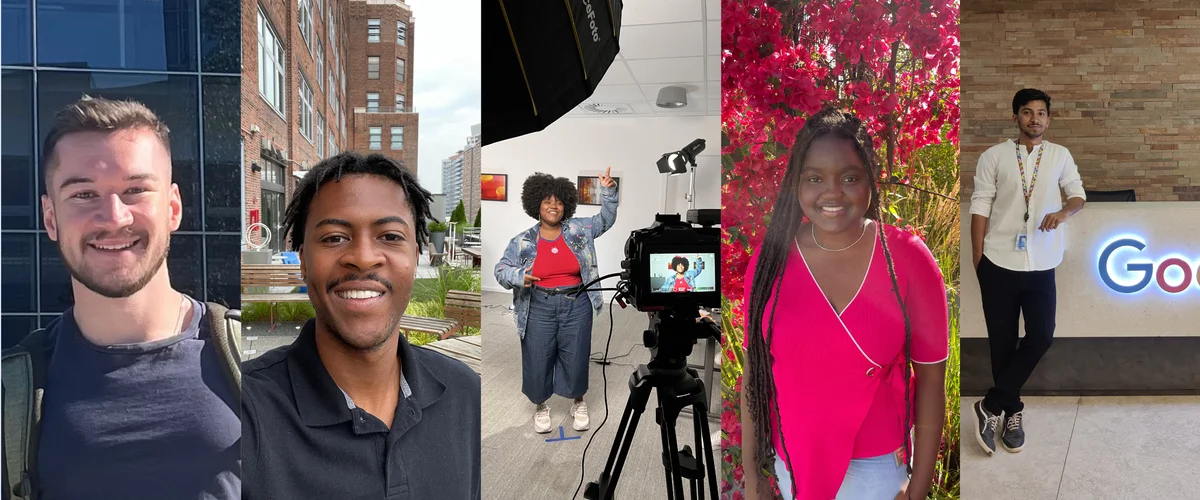 When I was choosing where to intern this summer, I knew I wanted to join a company where I'd do meaningful work. That seemed like the best way to develop my skills, figure out which career path to take and decide if that organization was the right fit for me.
At Google, I've been able to contribute to some of my favorite products. As an Associate Product Management intern, I work on Google Play Console, the platform where Play Store developers publish apps and access tools and insights that help them reach and engage their users. One of my projects is to build and launch a new feature that helps developers better understand how their business is performing in different markets.
While Google interns work across many different locations and teams, something we all have in common is taking on interesting projects like these. So for International Intern Day, I asked a few of my fellow interns what they're working on and what they like most about it. Here's what they shared:
1. Jared (New York, NY) builds new features for Google Maps
When interning at Google, you might end up working on a product used by more than a billion people globally. It could even be a product you use every day. For Jared Farrior, a Software Engineering intern, his work's wide reach has been the most rewarding part of his internship. On the Google Maps team, he's developed his technical skills and learned how to deliver an entire feature. "I'm gaining more experience each day and continuing to craft the pieces of this process, which results in developing an entire end-to-end feature," Jared explains.
2. Dafne (São Paulo, Brazil) helps businesses make a bigger social and environmental impact
Maria Dafne, a Next Step Business intern, joined Google to put her passion for the environment into action. This summer, she's working on Impact! ESG, a platform that helps businesses in Brazil understand and improve their brand perception when it comes to environmental, social and governance (ESG) issues. Dafne helps with the project's research and narrative, and presents insights to customers. This work is particularly meaningful to her because "it influences brand managers and creative leads to build a better world through creating a positive environmental and social impact."
3. Chenille (Sunnyvale, CA) preps for an API release
The new TensorFlow Quantization API, announced at Google I/O this year, helps machine learning developers make their models more cost and resource-efficient without compromising accuracy. Chenille Lawrence, a Technical Program Manager intern, is spending her summer supporting the API's open source release. "I'm responsible for driving the release of the API by working with multiple engineering teams and aligning on key deliverables," Chenille explains. "I also develop technical documents, such as code guides and other documentation, to support the release." When I asked Chenille what the internship has meant to her, she shared, "The challenging scope of my project has been very empowering. I've grown personally, professionally and have solidified my interest in machine learning."
4. Hisham (Bangalore, India) develops tools to help devices run more efficiently
Teams across Google are always working on ways to make our devices run more efficiently and improve performance, battery life and security. Hisham Hadi, a Hardware Engineering intern, is working on the Google Tensor team. In his own words, Hisham has helped "develop a consistency check framework for the configuration of the chip so that issues can be identified and rectified early on." When asked what excites him most about this work, Hisham explained, "Knowing that my contribution directly goes into making products that our users love is my biggest motivator."
Happy International Intern Day to my fellow interns!