How Googlers helped Afghan newcomers seek asylum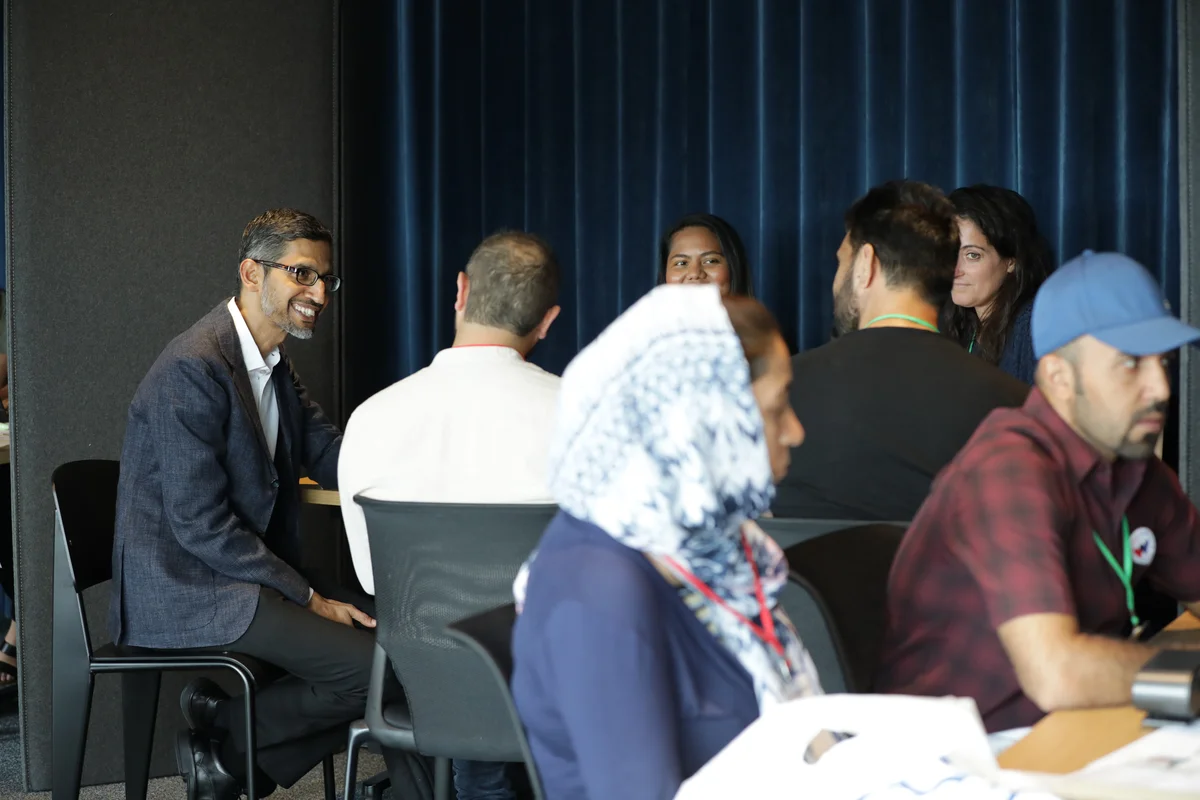 Abdul1 has spent the past two hours filling out paperwork. "Today, I woke up at 7 a.m. because I was so excited," he says. (He didn't have to be here for six and half more hours.) "It's been going really well. The process has been very organized, and everyone is very nice."
We're at a legal clinic, which was held at Google's Pier 57 office in New York on September 20. Staffed by volunteers from Google and Accenture, the goal is to help Afghan newcomers like Abdul fill out Form I-589, a key document in the application for asylum in the United States.
The clinic is being hosted by the CEO Council for Welcome.US, an organization that supports people seeking refuge in the U.S. Earlier this year, Google CEO Sundar Pichai and Accenture CEO Julie Sweet took on the roles of co-chairs, and they've stopped by to meet Afghan newcomers and thank the volunteers for their efforts.
Form I-589 is a dozen pages long and includes questions about whether an applicant has experienced threats or mistreatment and fears being harmed if they return to their home country.
So, at a table surrounded by people he's only just met — including Sundar — 20-year-old Abdul shares his story. He speaks English well, but opts to have a translator present to ensure the details are communicated as accurately as possible.
Together, they explain that in 2021, Abdul, a student and dental assistant in Afghanistan, was approached by members of the Taliban who tried to force him to work for them. They knew he had relatives working for the U.S. government, which made him a target. They threatened to kill him if he didn't do as they asked. Still, Abdul refused. He searched for safe haven outside of Afghanistan, and arrived in the U.S. when the country airlifted thousands of Afghans out in August last year. Since then, the Taliban has repeatedly interrogated Abdul's parents about his whereabouts, which has forced his family to move to another district in Afghanistan.
"It was incredibly moving to hear his story," says Ariel Devine, the Google attorney volunteer helping Abdul capture this information in his application. "Applying for asylum is an overwhelming process to navigate, and lending my legal skills is one way I can provide support. We're part of welcoming these Afghan newcomers into our country, and showing Abdul there are people invested in his application was a tremendous honor and responsibility."
Volunteers helping Afghan newcomers fill out Form I-589 at Google's Pier 57 office.
More than 80 people from Google and Accenture volunteered for the legal clinic and participated in a comprehensive training created by partner organization Human Rights First, to familiarize them with the situation in Afghanistan, the asylum application process and special considerations for this community.
"Attorneys are paired with non-attorney volunteers, who can help provide administrative and logistical support, as well as an interpreter," explains Googler Mistral Myers, one of the lead organizers of the event. "We have newcomers joining in person and virtually on Meet. When the application is completed, it's dropped off to additional volunteer attorneys in a separate room for an extra review. This allows them to remain unbiased, having never met the applicant, and ensure the information is filled out correctly."
Google and Alphabet CEO Sundar Pichai speaks with Welcome.US leaders, including CEO Nazanin Ash (left) and President and COO Anya McMurray (right).
Then, applicants have their picture taken. On the other side of the room, Googler Thani Chettiyar is snapping passport photos of newcomers, a necessary component for each person on an asylum application.
He shares what brought him here today. "I found out about it on the internal volunteering opportunities site," he says. "Though I didn't have to do anything like this, the immigration process was extremely complicated. I wanted to do what I could to help."
He takes the passport photos on his Pixel and prints them on a compact photo printer. Next to it is a list of typed instructions — and another page full of handwritten ones. "The person who did this in the morning session wrote these out to make the process easier," Thani says. "It's complicated — you have to download two different apps — but I figured it out eventually. Did you see the one I took of the baby?"
He points to an adorable photo paperclipped to the top of an application form. A few feet away, the baby is still there — sound asleep in her stroller beside her mom in an area surrounded by children's toys. The Pier 57 events team had set up the area for kids to play while their parents participated in the legal clinic, getting toys, books and games donated — and even donating some toys from their own children.
The play area at the legal clinic.
By the end of the clinic, volunteers had helped 22 Afghan applicants and their families with their asylum applications. "We're hopeful that Welcome.US and Human Rights First can use this clinic partnership as a model to help future newcomers, including those from Ukraine when they arrive on our shores," Mistral says.
Google.org is continuing to provide support to Welcome.US with funds, volunteers and digital tools. "We're contributing an additional $250,000 and technical assistance to help Welcome.US build a legal platform to scale much-needed asylum application support to vulnerable new arrivals," says Google.org Senior Manager Kelsey Ford. "And, we're already planning to host more virtual legal clinics and hiring fairs where Googlers can volunteer." Google.org has also contributed 30,000 Pixel devices and 10,000 laptops that are being distributed to resettlement agencies to be given to newcomers.
It's something that makes you a better Googler, a better team player and better at the work that you do every day.
As Googler Rana Ibrahem reflects on the day at the clinic, she's proud to have been able to make an impact, especially as a non-attorney: "My parents are Egyptian immigrants, and when they came to New York, they were aided entirely by other regular people just doing their bit."
Rana's "bit" was assisting a newcomer with their asylum application virtually. "I knew the Afghan people were resilient, but what I saw so clearly was people who have suffered so much and still have so much hope and courage to fight for their right to live a life of self-determination and freedom," she says.
The experience has taught her a lot about Google, too. "I recently hit my one-year mark here, and the thing that impressed me the most is that this company really values taking opportunities to give back," Rana says. "It's something that makes you a better Googler, a better team player and better at the work that you do every day."